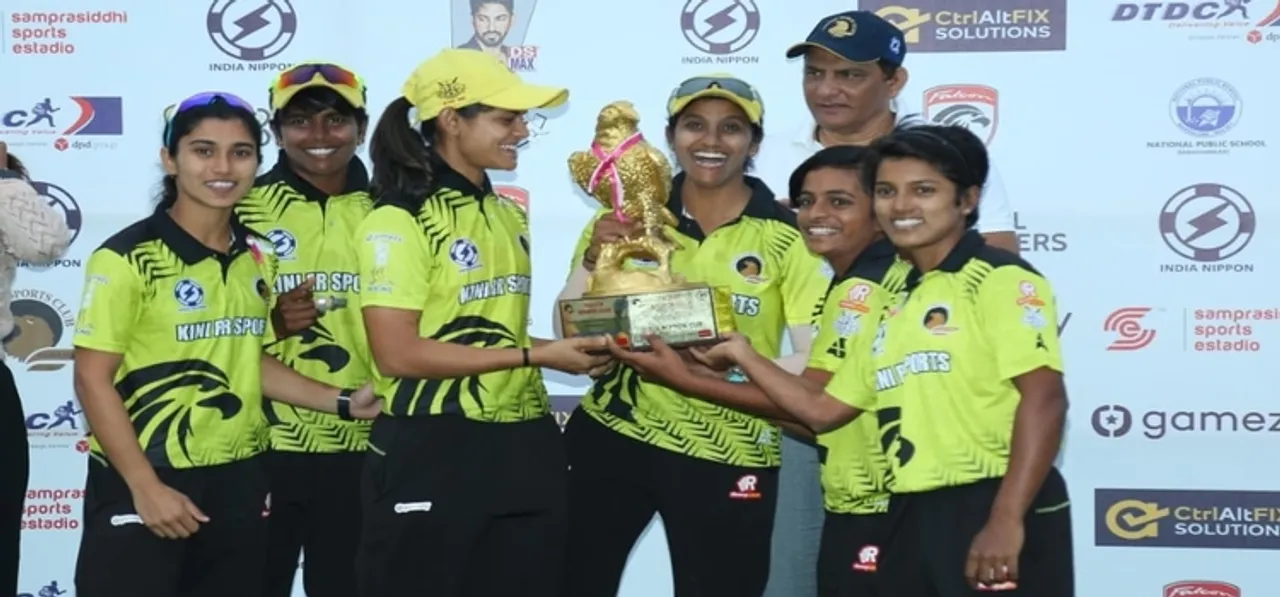 "Finally banthu,"
Vanitha VR screamed at her team while walking back after receiving the player of the match award in the final of the Falcons Golden Jubilee T20 Tournament. It literally translates to '
Finally, it has come'.
And Vanitha had every reason to be elated.
Coming into the final, Vanitha's scores in the tournament read 0, 48, 36, 6 and 12. She did not play their fifth match, and in the last league game, the 12 runs she scored came off 24 balls. It is not how she plays. Something was troubling her.
It is no secret that she is coming back from a knee surgery. After four matches, Vanitha missed a game, and in the following game, she batted, but did not take the field. Earlier, Vanitha explained the impacts that injury can have on a player's game even after recovery.
"It always holds you back and doesn't allow you to go out there and express yourself fully. You are not sure whether you want to go for it or not. And that holds you back a lot," she told Women's CricZone.
For KiNi Sports, it was essential for her to do well as they needed that start from her. With Arundhati Reddy fracturing her finger, Vanitha's contribution with the bat became particularly crucial in the final.
As the old adage goes, 'when the going gets tough, the tough get going'. All Vanitha needed was three balls to show what she can do. She drove the first ball to the cover fielder and left the second one alone. The third - she made a preliminary shuffle followed by a front foot stride and unleashed a textbook extra-cover drive between cover and mid-off. She tried to shuffle and swing the fifth ball across the line, over mid-wicket, only to miss it completely. Off the sixth, she almost edged one to the keeper.
ALSO READ: Rakshitha Krishnappa – the serene leader who flies under the radar
When Pushpa Kiresur pitched it a tad short in the second over, Vanitha quickly rocked on to her back foot and pulled it to the leg side boundary. The next ball, Pushpa overcompensated with a full delivery, it was dispatched over deep midwicket by Vanitha. She was in her zone, and KiNi were off to a flier with 19 runs in two overs. 
For the next few overs, Vanitha's onslaught continued. She hit Minnu Manni for three consecutive boundaries and a six. She swept, punched off the back-foot twice - one through extra-cover and another through cover, jumped out and slog-swept over the boundary. After playing out Aditirajesh Shimoga's first over cautiously, Vanitha smashed three fours off her second, cruising her way to a half-century in 28 balls.
She was on a mission. Vanitha tried to pace her innings while putting away the bad balls. Off the next ten balls after reaching her fifty, she scored only seven runs. But when an opportunity presented itself, she made the most of it. 
Once they got past the twelfth over, she took on the Herons bowlers with no second thoughts. It has been the hallmark of her game plan throughout the tournament. When there is delivery to be hit, she did that irrespective of the match situation. Even on Tuesday (January 12) during the final, she could have played a few more balls and scored a century. But that is not how her game works. 
ALSO READ: Maria Fahey's tryst with Andhra – the bond that changed women's cricket in the state
She felt that they had a chance to capitalise and she took it on. She believed in the batters who followed her in the batting line-up, to do the job even if she got out. Vanitha eventually did get out trying to slog Murali Anagha across the line. Was she disappointed? Maybe. Did she regret it? Absolutely not. She had done her job. By the time Vanitha got out for a 49-ball 77, KiNi RR Sports had crossed the 100-run mark with five overs to go.
Although they managed to score only thirty runs in the last five overs on this occasion, it is not a reflection of how Vanitha could or should have played. She played her natural game and put the team in a strong position before she got out. Either that is how T20 works or at least that is where the game is headed.
During the post-match presentation, Vanitha said that she had a sore knee during the last two league games. "I was not sure whether to play this tournament or not. Thanks to Shantha (Rangaswamy) for this opportunity. She pushed me to play in this tournament. In terms of the knee, I think I am holding up pretty well. Hopefully, it is going to get better from here," she said.
An athlete can be assessed better depending on how he or she responds under pressure. On the big day, when the team needed her the most, Vanitha put her hand up and did the job for them. From the way she has responded so far, it would be fair to say that this could be just a start of something big for the upcoming season.