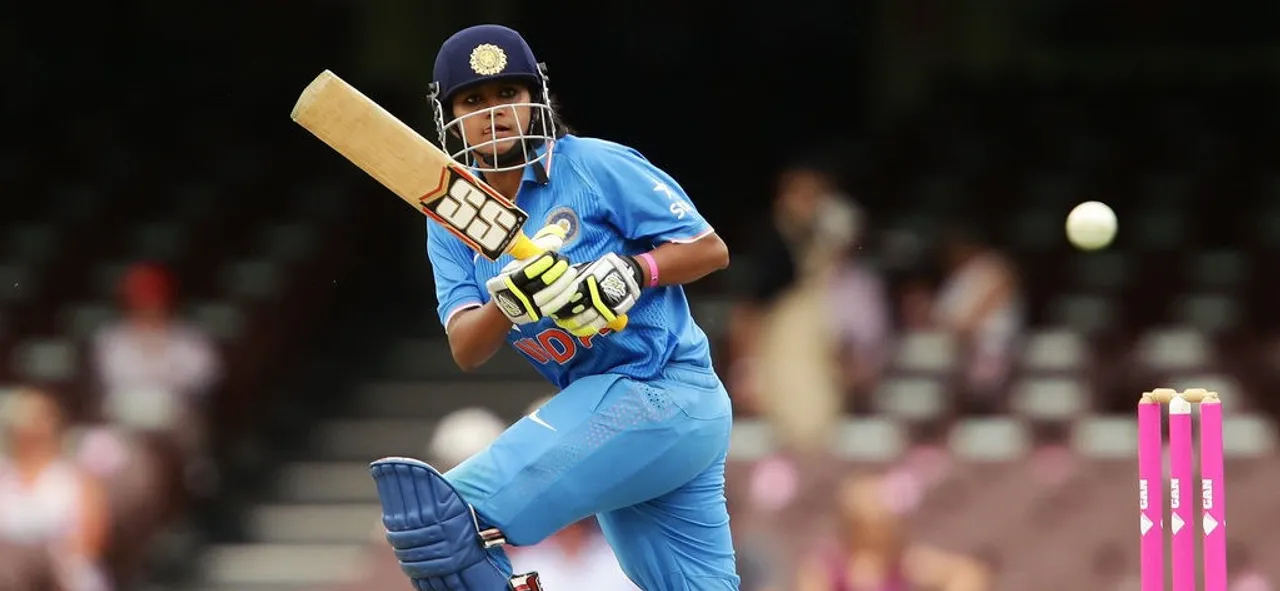 Coming back from an injury is never easy. Even the best athletes who have proven themselves at the highest level tend to take some time to get back into their groove. For someone who has been waiting for an opportunity to make a comeback to the national team, it gets even harder. However, the gruelling wait does not seem to tire Vanitha VR, who made her debut for India in 2014 and has featured in 22 internationals.
The last match she played before the new year began was during the Senior One Day Tournament in March 2020. Much like everyone else, the year has not been easy for her. She had to sit through the lockdown and wait for an opportunity to play. When it appeared like Vanitha was going to a part of the
Sheela Shridar Rangaswamy Memorial Tournament
that happened in September, she got injured.
She had to undergo surgery in her right knee, and that meant she had to miss the Women's T20 Challenge in Sharjah and the Inter-Academy T20 Tournament in Bangalore in 2020. The wait continued.
When the opportunity to participate in the
Falcons Sports Club Golden Jubilee T20 Tournament
came through, Vanitha wanted to grab it with both hands. It is her first tournament in nine months.
In her
first match
for KiNi RR Sports on Monday (January 4), Vanitha was up against India seamer Niranjana Nagarajan, who was playing after eleven months. Both of them were desperate to return to the cricket field. The difference though was that Vanitha was coming off an injury and it is not easy for an athlete to play their A-game immediately, no matter how hard they trained during rehabilitation.
ALSO READ: Divya Gnanananda, Niranjana Nagarajan provide cool quotient on a warm Bengaluru day
Vanitha was batting a couple of yards outside the crease, and she wanted to get her eye in as early as possible. The first three deliveries she either defended or tried to work it on the offside. On the fourth, Vanitha tried to hit Nagarajan on the rise over the mid-off fielder. She mistimed the shot and holed out to Padmaja E at cover.
She was disappointed, but not disheartened. "Everything is a habit. You are out of practice also. No matter how much you practice, it is a different feeling to come out and bat in the middle," Vanitha told
Women's CricZone
about the first match.
In the
second match
, however, she was determined to make it count. Up against Herons Sports on Tuesday (January 5), Vanitha decided to give herself some time to settle in and play according to conditions, as they were batting first, and there wasn't any scoreboard pressure.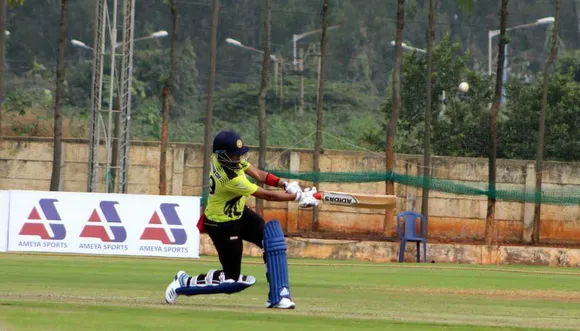 Vanitha VR hits one out of the park. © Hithaishi Basvaraju
Off the first nine balls she faced, Vanitha scored only two runs, and had already witnessed the run out of her opening partner Roshni Kiran at the other end. Joined by another experienced campaigner in Punam Raut, Vanitha wanted to make sure that they did not let the Herons bowlers settle.
In the third over, she shuffled across and flicked the left-arm seamer, Monica Patel, over the deep-midwicket boundary. She was middling almost every delivery, only for most of them to go straight to the fielders. When Vandana Mahajan bowled one outside the off stump, Vanitha stepped out and tried to hit her over the cover region. It was only a single, but it had played in the mind of the bowler. The very next delivery she faced was a little bit straighter; Vanitha stood still and launched it over the long-on boundary.
It looked like the fact that she gave herself some time in the middle helped after all. When the spinners came on, Vanitha was all over them. She pulled off-spinner Aditi Rajesh through mid-wicket and followed it with a couple of sweep shots off leg-spinner Asha Joy, one to square-leg and the other to the deep mid-wicket boundaries.
ALSO READ: More than just the game: Sana Mir's true legacy
One could say that she took her chances against the spinners as there were a couple of mistimed lofted shots, which could have resulted in her dismissal, especially, when she came down the track and tried to slog Joy over mid-wicket. But it did not worry her at all.
Vanitha said that the pitch was not conducive to batting early on in the innings, adding, "you just have to come in and get acclimatized to the conditions." It seemed like she had understood the conditions, as Vanitha raced her way towards a half-century. In the first over after drinks, she smashed off-spinner Minu Mani wide of the long-off boundary. At this point, Vanitha was batting at 48 from 33 balls. The next delivery she came down the track to hit Mani over long-on only to miss it and off the following one, Vanitha tried to sweep a delivery that was fuller than she expected and was bowled.
Her stay in the middle had come to an end. Though she did not get a big score, Vanitha was out there in the middle, doing what she does best. Off the 48 runs she scored in 35 balls, 38 runs had come in boundaries in just eight deliveries. On a pitch where other batters struggled, she had made a mark with her stroke-play and big hits.
Those massive sixes were a result of the hard work she had put in developing her power-hitting in recent years. "In the next few years down the line, this is how the game is going to be. T20 is the forum. It is something I have been exclusively working on. That is one of the reasons why I am able to hit them with ease now," she said.
Speaking about coming back from an injury, she felt that it teaches a person a lot of things. "It teaches you the value of time. The consistency in T20s, I don't know if that is also a part of it. Injury teaches you to be a lot more disciplined," she said.
"It is not easy to come back from an injury. It always holds you back and doesn't allow you to go out there and express yourself fully. You are not sure whether you want to go for it or not. And that holds you back a lot. To break that barrier in your mind, itself is a big battle. If someone can overcome it, I think it is a big battle won."
ALSO READ: The year that wasn't
The last time Vanitha played for India was in 2016. Since then, she has elevated her game to a level where she feels that this is the best phase in her cricket career. Her numbers in domestic cricket from the last two years reflect the same.
"When you are dropped for certain reasons, it hits you hard in your mind. Especially, when you really have the hunger to go out there and wear those India colours again. That drives you crazy and thrives you to do well. Okay, this is what it requires to compete at the highest level. So, you grab every opportunity that comes your way. That is what I have been doing in the last three-four years. I am confident that it is just around the corner. I am positive, and that is what keeps me going."
Watching Vanitha bat out there, it is hard not to agree that she had succeeded in winning the mental battle. And as she said, it could be only a matter of time before she turns things around with consistent performances and makes a comeback in the Indian team again.
https://open.spotify.com/episode/1nuYQNNgJ1GM6FyDdzQoCC?si=B0aJuCQdQ5exEnjDZkL7pw