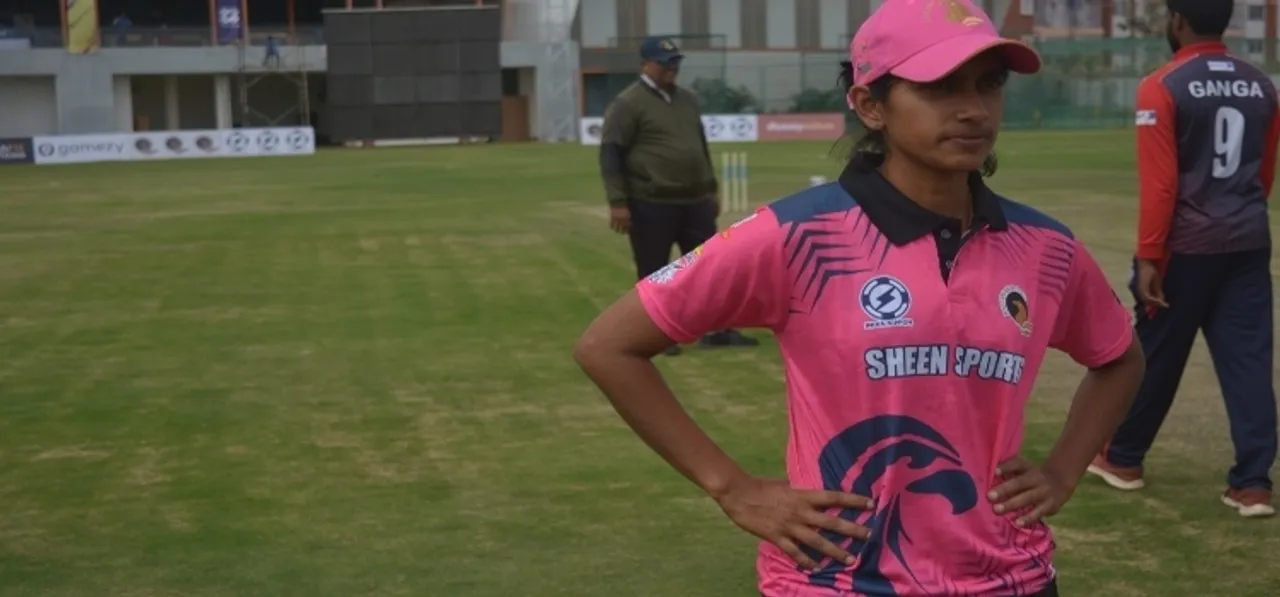 Often people tend to think that cricket is not as good a team-sport as others like Football, Hockey, etc. But unlike the other sports, in cricket a player has to do things that go unaccounted for and even it is accounted, the player might fly under the radar more often than not. For Rakshitha Krishnappa, the captain of Sheen Sports, the Falcons Golden Jubilee T20 Tournament is one such case.
Captaining a team filled with the household names like Jemimah Rodrigues, Niranjana Nagarajan, Deepti Sharma and Rajeshwari Gayakwad, Krishnappa has not grabbed the headlines enough despite her performance in the tournament so far. When the well-known players have been the talk of the town, Krishnappa has quietly become the leading wicket-taker with eight scalps in four matches.
In the
match
against KiNi RR Sports on Friday (January 8), when it looked like Roshni Kiran and Punam Raut were taking the game away from the Sheen, Rakshitha broke the partnership by dismissing Kiran in her first over. She followed it up with the crucial wickets of Raut and Arundhati Reddy. If not for the breakthroughs, the KiNi could have easily scored close to 150 unlike their final score of 128/9. By the end of the innings, it was Sharma, with a wicket more than Krishnappa, who stole the limelight.
ALSO READ: Constrasting tales of two captains on a typical rainy Bengaluru day
When asked about her performance with the ball in a star-studded bowling line-up, Krishnappa did not make any fuss about it. "I am just keeping it simple. They are the lead bowlers for us. I am just trying to bowl dot balls and contain the game. That is what I am trying to do, and I am just getting those wickets at the moment," she told
Women's CricZone.
Maybe, it is this attitude, and the calmness she brings to the table is what makes her stand apart as a leader. She might not come off as one of the most expressive players on the field, but Krishnappa ticks all the other qualities including leading from the front, tactical acumen, athleticism and her serene presence on the field as a captain.
It is not just about this ongoing tournament. Even in the Karnataka state team filled with India internationals, Krishnappa has grown into a genuine allrounder and a reliable captain for the state over the years.
ALSO READ: Valiant Vanitha keen on making strong strides towards India return
In fact, when she started out in the state under-19 team, Krishnappa was picked originally for her fielding. The fact that she used to be a kho-kho player in her early days helped her to be agile on the field and gained a place in the playing eleven. Over the years, Krishnappa has developed herself into a genuine allrounder who could hurt any opposition on a given day.
"If you are a batter, you have to contribute as a fielder or you have to bowl. If you have to become an allrounder, you have to be strong in all three areas of the game. That's why I started working on my bowling, and now, I am here," she said.
In a team that have had players like Vanitha VR, Veda Krishnamurthy, Karuna Jain, Gayakwad and others, Krishnappa has grown leaps and bounds as a cricketer and a leader. From someone who was initially picked for her fielding, she has significantly raised the bar, especially after taking over the captaincy of the state team in 2017.
In the last Senior One Day Tournament that was cut short by the pandemic, Krishnappa was in good form with the bat. She scored three half-centuries before they came back home. She seems to be neither overwhelmed by responsibilities nor disappointed about flying under the radar.
"The team needs good performances from the captain so that everyone will get the confidence to do well. It definitely makes a difference. I like leading from the front. It does not matter if my name is there or not. If the team is winning, it is good enough for Karnataka."
It did not come as a surprise when Krishnappa said that Rahul Dravid was her favourite cricketer while growing up. One could see a lot of resemblance in the way she carries herself both on and off the field. In a time when the in-your-face aggressive attitude could be seen as the symbol of young Indian athletes, it gives warmth to watch someone like Krishnappa, who exudes serenity through and through.
ALSO READ: Divya Gnanananda, Niranjana Nagarajan provide cool quotient on a warm Bengaluru day
She might not be a commercial blockbuster, kind of, a player who entertains the spectators with some big shots or fiery pace bowling. She could be someone who brings the players together as one while contributing to the situational demands of the team on the field.
When asked about her dream to play for India, Krishnappa said that it is her top priority. But she did not dwell too much on the expectation of selection. "Definitely, playing for India is my priority. If it comes, it comes. If not, then it is left to God, that's it," Krishnappa concluded.
With the all-round qualities that she brings to the field, Krishnappa's dream of playing for the country might not be too far away, provided she performs consistently, as she has been in recent years. Even otherwise, irrespective of whether it is an inter-academy match or an inter-state match, to watch Krishnappa lead a bunch of big names and youngsters together on the field is a sight one might want to behold.
https://open.spotify.com/episode/1nuYQNNgJ1GM6FyDdzQoCC?go=1&utm;_source=embed_v3&si;=B0aJuCQdQ5exEnjDZkL7pw&t;=0&nd;=1