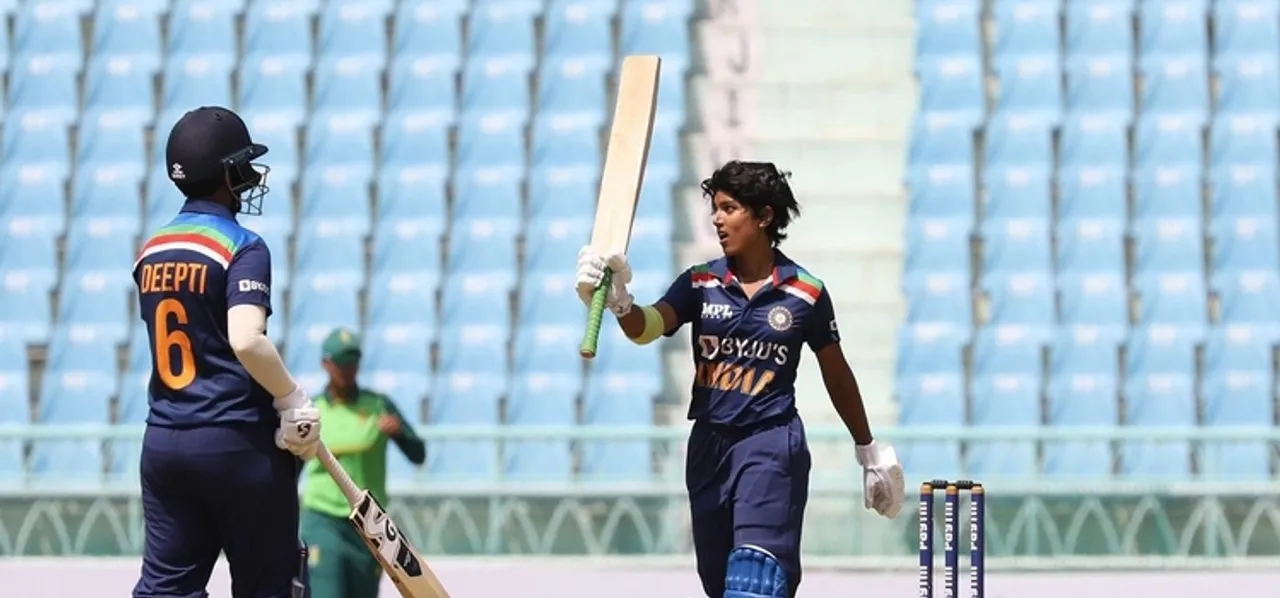 Partnerships are crucial in sport. 
In cricket, especially in the two longer formats, partnerships - both with the bat and ball - are significant for a team to get to a winning position. For India, in ODIs, there is something about Punam Raut and partnerships. More often than not, Raut has been carrying out the rescue act for India with a crucial partnership whenever required.
Obviously, with more than 7000 ODI runs, Mithali Raj has been involved in more century partnerships (28) for India than any other player. Behind her is Raut with as many as 13 100-plus partnerships, including seven with Raj herself. Smriti Mandhana and Anjum Chopra have been a part of 12 100-run stands, followed by 11 by Jaya Sharma. 
Over the years, Raut has played the role of an anchor at the top for India in ODIs. However, she has played only 18 of the 28 matches India has played since the 2017 World Cup. Off them, Raut has batted at number three in 12, and in those 12 innings, she has scored 560 runs at 56, striking at 62.85. 
While the strike rate might not be at par with the top number three batters in the world, Raut has come in to bat early in the power play in nine of those matches and has made six fifty-plus scores. Often, she had to hold one end up and build a partnership, which has been her area of expertise. 
"I like to play long innings and build partnerships with players, and that must be the reason for that. We have a very good batting line-up. I think we have a similar kind of rapport. I like to build partnerships and play for the team, always," Raut had told Women's CricZone earlier in January. 
ALSO READ: The disdainful punisher, Smriti Mandhana
Similar was the situation when she walked in to bat at 17 for one in the fourth ODI against South Africa on Sunday (March 14). India had just lost Mandhana to Shabnim Ismail. Raut acted immediately and made sure that they do not lose another wicket early. With Priya Punia, she added 44 runs from 63 balls, of which her contribution was just 14 from 24 deliveries. 
When Punia got out, Raut was joined by her favourite partner-in-crime - Raj - in the middle. The experienced duo put on their seventh-century partnership in ODIs. However, unlike the previous stand with Punia, Raut was the aggressor here, contributing 57 from 61 balls in a 133-ball 103-run stand. 
Though Raj was the next to fall, Raut did not flinch. She stitched yet another partnership with the vice-captain, Harmanpreet Kaur. This time, Raut was more than happy to let Kaur take the lead and play second-fiddle. 
While Kaur made a scintillating 54 from 34 balls, Raut completed her century in 119 balls, and she eventually finished her innings at a strike rate of 84.55. A perfect anchor's innings. 
However, she doesn't see herself just as an anchor. "My job is to give good starts whenever a wicket falls early. If I am going out at one-down, I never think that I have to stay there. I have always played my game according to the situation. I can change my game according to situation and format."
Though the result did not go India's way, Raut cannot be mistaken for playing the way she has throughout this series. She has made 246 runs at 126.5. As far as the strike-rate is concerned, she has been batting at 72.49, which is ten runs more than her ODI strike-rate since the 2017 World Cup. 
Clearly, some work has gone behind this. Raut had told this website earlier that she had been working on her batting during the lockdown, adding, "I have been working on how I can improve my big shots. I like to play ground-shots more. How I can generate power in those shots. That is what I am working on now."
ALSO READ: Jhulan Goswami, the master of her craft
Earlier in January 2021, during the Falcons T20 Tournament, Raut started slowly, but peaked in the second half of the tournament and played a crucial role in her team - KiNi RR Sports - winning the title. Her scores through the tournament read 16, 29, 10, 40, 45, 47, and 2. Those three 40s were significant in getting the team through to the finals. 
Even in the Senior One-day Tournament last year, she made 230 runs in five innings, including three half-centuries. One could say that have her best friend, MD Thirushkamini, as an opening partner at the Railways team might have helped her. 
When it comes to partnerships, Raut seems to follow in the footsteps of Raj. Having played alongside Raj for years both in the India and Railways teams, she has learnt a lot from the veteran batter. "I always follow Mithali 
di 
since I debuted for India. I have been looking at her since my early days in cricket, and she is a big inspiration for this," she said.
It is not easy to forget Raut's innings in the Women's World Cup final in 2017. She made 86 from 115 balls, building partnerships with Kaur and Veda Krishnamurthy. When she got out, India were cruising at 191 for four, needing 39 runs from 43 balls. Her dismissal triggered a mini-collapse, and India fell short by nine runs. 
Looking back, Raut feels disappointed, obviously, but holds no regrets. "This is cricket. We always learn from our mistakes, what we can do better in future. I'm sure our team will come back stronger in the upcoming World Cup. I'm looking forward to that big tournament."
Come next year, the Indian team management would be hoping that Raut continues to build crucial partnerships and play a significant role in their pursuit for the trophy.