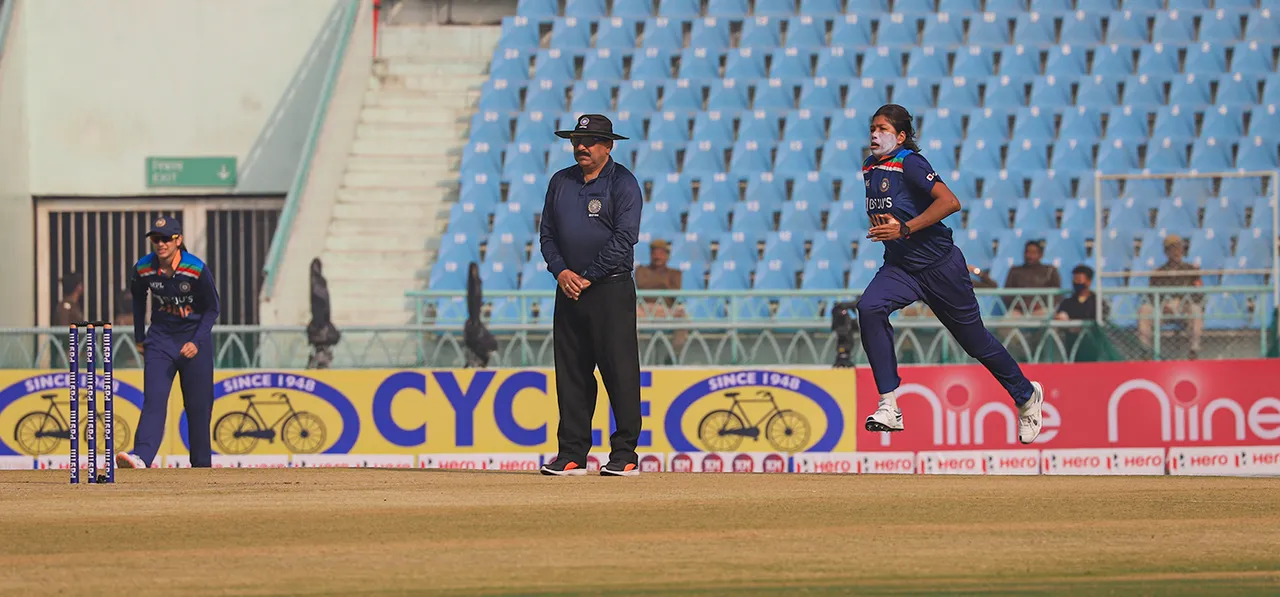 She has 231 wickets in ODIs – the most; the next best is 180. So, you can't discuss if she's good or bad. She has played 184 ODIs and counting – again the most for a fast bowler, a good 40 more than the next in the list. Words might probably not do justice to her longevity in the sport.
Let's then enjoy and decode the mastery of Jhulan Goswami, that yet again came to the fore on Tuesday (March 9) in
the second ODI against South Africa
.
Hit the top of off, they advise a seam bowler. Goswami's delivery to
get rid of Shabnim Ismail
was just that. She landed the ball on a length around middle and leg. But it was not the usual hit-the-seam kind of a delivery associated with seamers.
Goswami gripped that ball like a spinner would – minimum use of the thumb with the index finger, middle finger and ring finger engulfing the ball, using the thumb merely as a support. The fingers were perpendicular to the seam. She then ran in and delivered it by releasing the ball through her middle and ring fingers.



Look at that from Jhulan Goswami. Top of off. Could that be any more perfect? #INDvSA pic.twitter.com/lGZDPmDpdx


— Vinayakk (@vinayakkm) March 9, 2021
The white orb then landed and moved a touch, squaring Ismail and uprooting her off stump. The speed-gun flashed 88.7 kph. But there was nothing to measure Goswami and her wily tricks. A ball earlier, a similar ball at 69.1 kph had had Ismail feeling for a it. It was the 38-year-old's fourth wicket in the match and second in the over.
A couple of balls earlier, Goswami landed a fuller slower one well outside off, inviting the drive from Nadine de Klerk. The South African allrounder fell into the trap but didn't account for the change of pace. Yet again Goswami had bowled it slower in pace – an 87.7 kph delivery to follow a 104 kph-paced one. All de Klerk could do was to get an inside edge and see her leg stump disturbed.
ALSO READ: Need to adapt quickly to the height Jhulan Goswami bowls from, says Sune Luus
Hands aloft, relief and then a quick look at the umpire – that's how Goswami reacted to that wicket. Goswami, into her ninth over, turned to see if the umpire's were going to check her landing after Trisha Chetty was given a life when the seamer had overstepped.
"As a medium pacer, for me,
jab tak bowled nai karoon kisiko tab tak mazaa nai aata
(I don't get satisfied until I bowl someone out)," she would say later in a candid chat with Smriti Mandhana on
bcci.tv
. "If I bowl someone, then yes, I'm bowling well."
India have picked twelve wickets in the first two ODIs against South Africa so far. Seamers have accounted for eight of them. Goswami has six.
"I just tried to bowl in the right areas consistently. In the first match I was bowling outside off stump and today I tried to hit the right areas. That much adjustment I did and it paid (off)," said Goswami speaking to the reporters after the match.
She had largely bowled an outside off stump line in
the first ODI on Sunday
, especially in the first over of the game to Lizelle Lee. However, in the second game, she got a bit straighter. Lee, who is known to be suspect against inswinging deliveries, especially when she's starting her innings, had to play at most balls thrown by Goswami at her on Tuesday.
In a bid to get the line and length right, Goswami sprayed one down leg and then over-corrected by bowling the next short and wide outside off, allowing Lee to thrash it through backward point to the fence. But the final ball of the over told everything about Goswami as well as Lee. It was bowled around off and just nipped in a bit. Lee missed her flick and was hit on her front pad, which the umpire deemed to be in front of the stumps.
A wicket in the very first over for Goswami and more importantly, her planning and execution at this stage of her career stood out. Her first spell was an economical one – 19 runs for a wicket in five overs.
ALSO READ: Passion, perseverance and tireless work ethic fuel Prathyusha's India dreams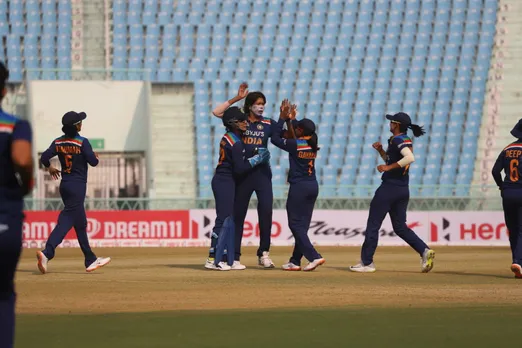 Jhulan Goswami celebrates a South African wicket with her India team-mates. © BCCI
Brought back for another spell in the 30
th
over of the innings, Goswami immediately struck on the first ball, getting rid of Marizanne Kapp. The Protea allrounder went for the flick to a ball almost down leg, only to get a leading edge to mid-wicket. 'Need a wicket, call me maybe?' must be Goswami's brief to captain Mithali Raj.
Goswami admitted bowling first was helpful at the Ekana International Stadium in Lucknow, when there's a moisture on the surface during the 9 am IST matches.
"If you are going to hit the right areas, the ball is holding on the surface and it's not easy to play shots. It was easier in the second innings and wicket looked a bit flat and you just need to play through the line. Whereas if you are bowling first on this track, so far, it looks as if there's an advantage to the bowlers," she said.
Four for 42 in ten overs – with a caveat that it could have been a fifer had it not been for that no ball – is an apt fruit for the unfailing focus and dedication Goswami had on her fitness and performance in the lead up to the series.
"Representing India is the biggest motivation and you need no more."
These are mere words, for Goswami has proved it time and again through her action on the field.