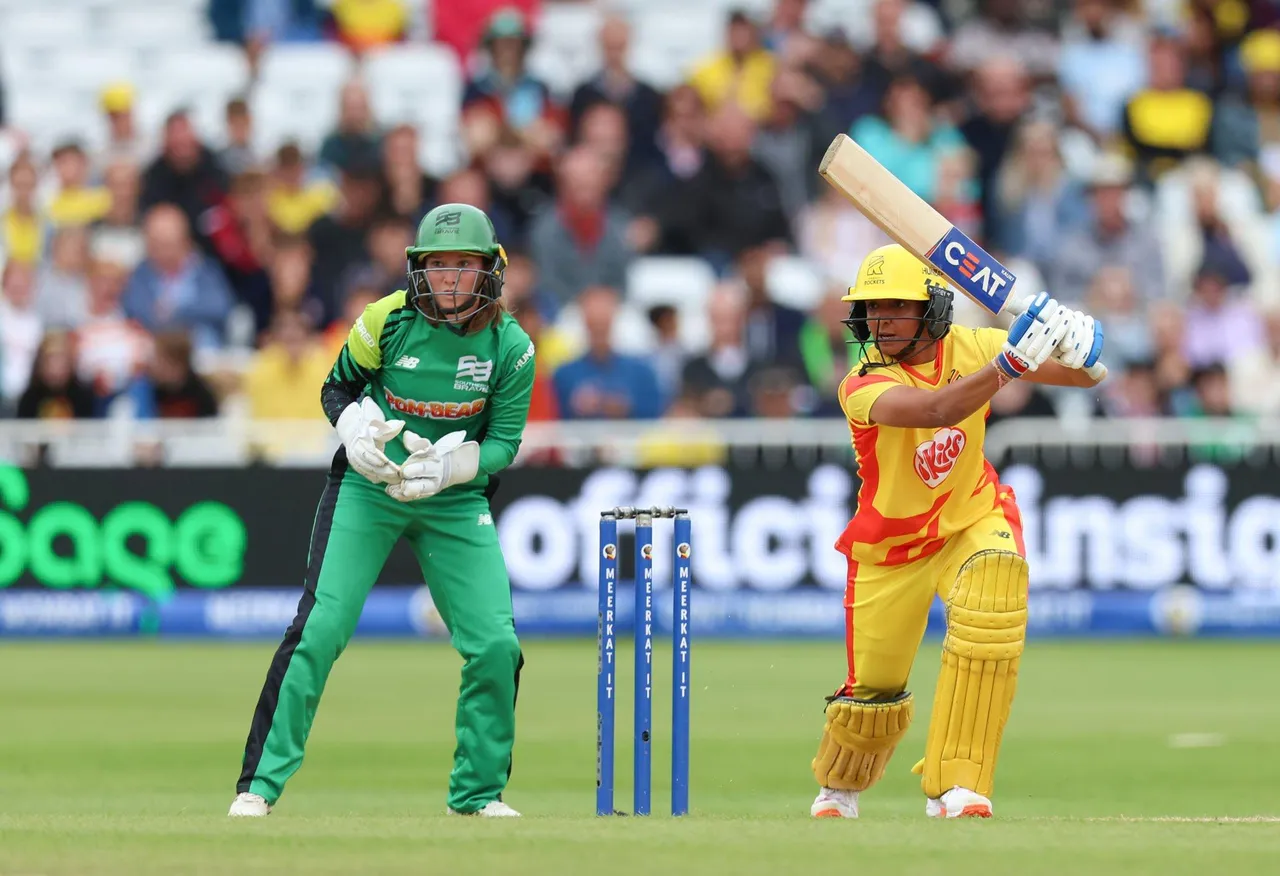 The evolution of women's cricket has been going at such a rapid pace with the arrival of T20 leagues all over the world. And that has brought a few new challenges for the players – one day you are playing against each other and the next month, you are playing together in one of these leagues. 
Harmanpreet Kaur has travelled around the world playing in overseas leagues since 2016. Now she also has a league back home in India with the arrival of the Women's Premier League (WPL). 
Harmanpreet led Mumbai Indians to a title in the inaugural edition of the WPL with England's Natalie Sciver-Brunt playing an important role in their triumph. Now, the Indian captain is in England and plays under the leadership of Sciver-Brunt at Trent Rockets in The Hundred. 
Personally, Harmanpreet is yet to come good in the tournament and Rockets aren't faring that well either. Sometimes these competitions are not always just about the immediate results, but also about facing new challenges, bonding with the new teammates, and letting younger players find their space in cricket. 
That doesn't mean they don't care about winning matches. Results would depend on various things like the relative strengths of the teams, and how well they play on the day. Rockets will be hoping for the best in the remaining matches, but there have been positives in these losses. After a tough summer last year, Sciver-Brunt seems to be back to her usual self while enjoying the responsibility of captaining a side. Bryony Smith has been at her big-hitting best at the top of the order.
"It's been great actually; so many young girls are here and the experienced England players are there. Sharing the room with them is a great experience for me," Harmanpreet told Women's CricZone while talking from Trent Bridge after the first couple of matches. "It's a new atmosphere, new people. I am sharing a dressing room with new faces and learning new things from them."
ALSO READ: Tammy Beaumont continues her dream summer
Harmanpreet is just happy to be there for her Mumbai Indians teammate Sciver-Brunt as a player and believes she doesn't have to give the English allrounder any tips regarding leading the side.
"I don't think I need to give her any leadership tips (laughs). She is an experienced player and she has done great things for her country and still doing it. For Trent also, she brings a lot of positivity and experience to the side. I am just enjoying watching how she controls the game. I am just learning from the way she handles the players and the way she takes responsibility while batting. It's a great experience for me watching from the side and learning how things are going," Harmanpreet said about Sciver-Brunt.
"We understand each other very well because we play a lot of games together. We like being talkative on the field because, you know, how much you talk, how much you share your experience and your thoughts that's going to help the team a lot. Whenever we get a chance on the field, we like to share our thoughts so that we can get the best out of it."
According to Harmanpreet, being away from India and not having to captain a high-profile team doesn't mean any less pressure. She believes pressure comes with any competitive environment regardless of the place. 
"To be honest, you always have that pressure as a batter; especially when you are playing as an overseas player because people are looking up to you that how you are going to make the team win, how you are going to get that runs. I don't think, as a player, you can feel less pressure and pressure is always there," Harmanrpeet added.
"I always enjoy playing under pressure. Pressure is different here, I know captaincy is not the thing (here), otherwise as an overseas player… trust me, there is a lot of pressure. There are a lot of things going on in your mind. Every game is important for you; people are watching how you are going to make those crucial runs for the team, and how you are going to get the best out of yourself on the field. It's just (that) the pressure is different."
ALSO READ: Indians in overseas leagues: From Harmanpreet Kaur to Shreyanka Patil
Harmanpreet has represented Lancashire Thunder in the now-defunct Women's Cricket Super League (WCSL) and has also been part of Manchester Originals in the first edition of The Hundred. She has overseas league experiences in the Women's Big Bash League (WBBL) as well where she has been a popular figure for Sydney Thunder and Melbourne Renegades.
Harmanpreet, the most capped T20I cricketer in the world, believes fans are the best part about these leagues and their continuous support regardless of the results help them strive better.
"People are coming to watch us and they are very nice. They cheer us throughout the game. Cricket fans always play a big role, and (that's the case) here also. Young girls and young boys are coming, watching the games and having fun. It's a different scenario and different atmosphere," she said.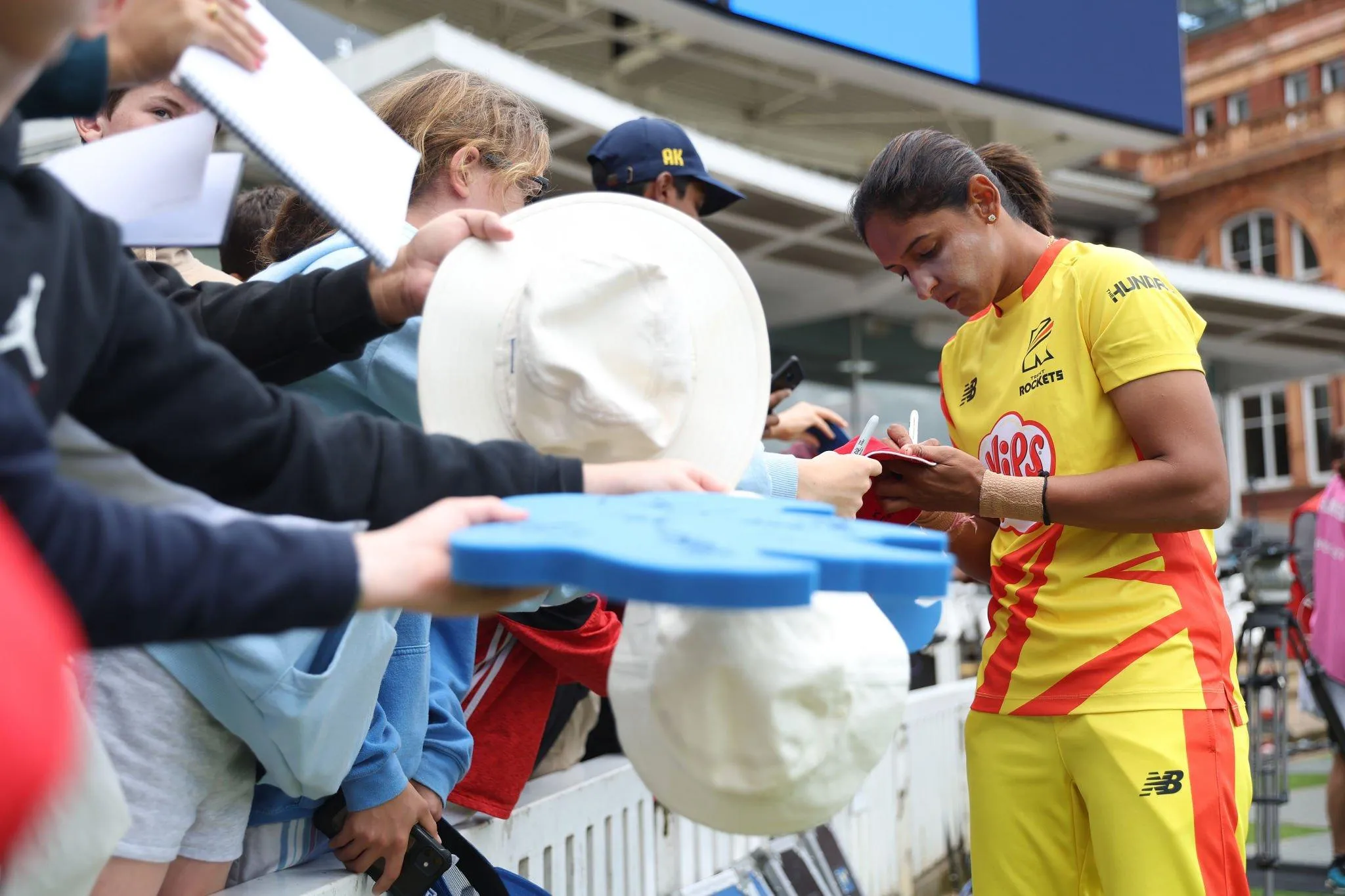 "I always enjoy playing in England conditions because they are very challenging and I'm just having a lot of fun here with my teammates and enjoying the weather, enjoying the atmosphere."
Inception of these franchise leagues has helped players from different countries familiarise themselves with each other. Sciver-Brunt is not the only teammate Harmanpreet has played with before landing at Trent Bridge. She shared the dressing room with Lizelle Lee at Originals and Australia leg spinner Alana King was part of the Supernovas side that won the Women's T20 Challenge.
"When you know your teammates, it makes you more comfortable from day one and you can execute your game freely. I have been really lucky because I have already played with them. For me, when things are clearer, I can communicate better with them because I have known them for a couple of years."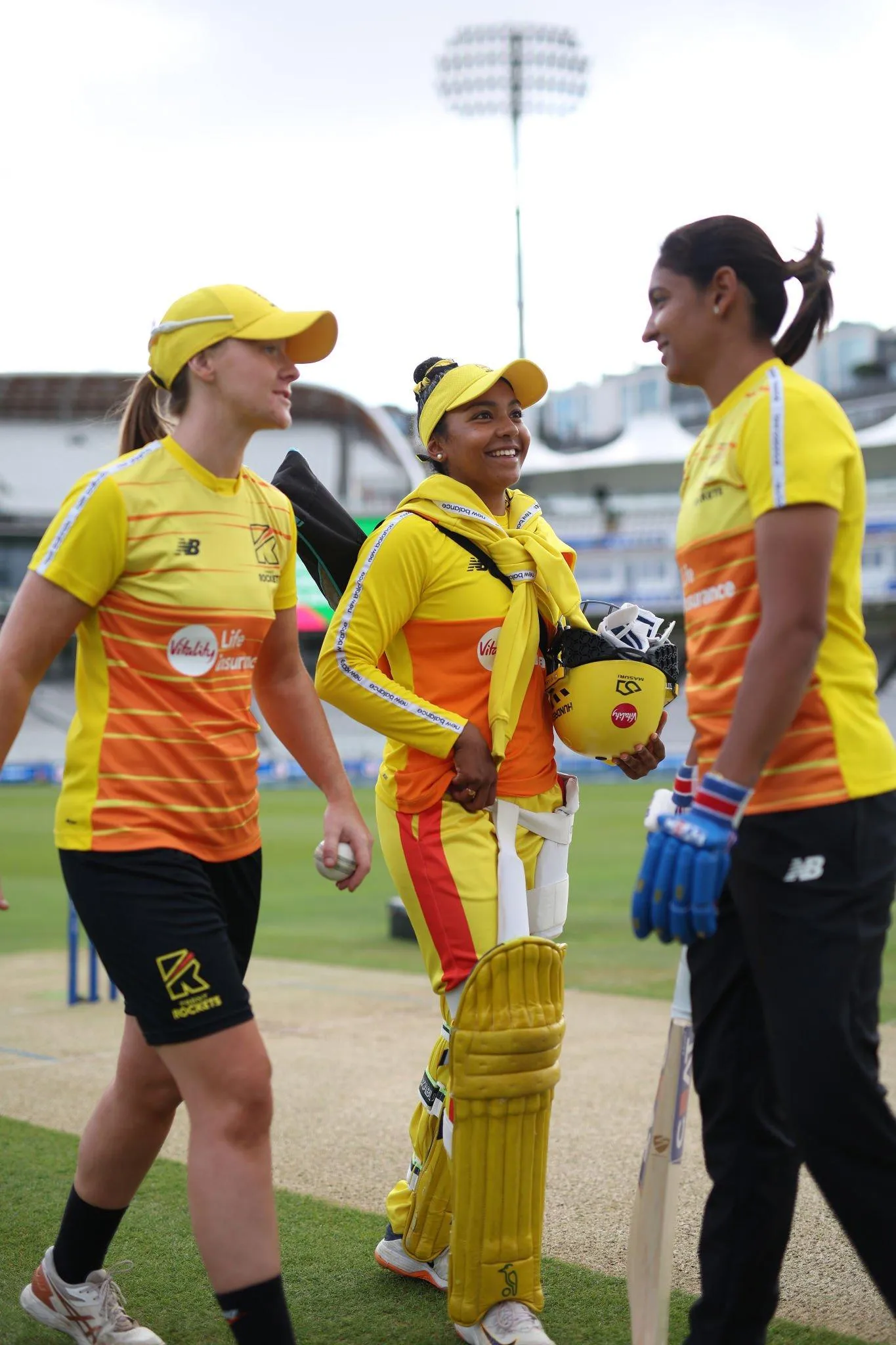 ALSO READ: Want people to remember me as a great teammate: Suzie Bates
Harmanpreet has been vocal about the need for WPL for years and when it finally arrived, she talked about how it will help the domestic cricketers in India. She believes The Hundred will do the same for young cricketers in England and she wants to help them become better cricketers.
"I love to talk to the young girls because they are going to take this game ahead and whenever I get the opportunity, I love to discuss with them about cricket and their life. As a player, it's very important that you can share your experience with the young girls so that they can take this game ahead," Harmanpreet continued.
Talking of taking the game forward, Harmanpreet has been one of the instrumental figures in growing the women's game since the seminal Cricket World Cup 2017 that was played in England. Now in 2023, WPL was played in front of a packed audience in India, Women's Ashes matches were sold-out affairs, and The Hundred – Women's Competition is clocking record crowds every time they take the field.
"We just want to bring a lot of audience to the stadium. We want to encourage young girls and boys to take this sport. That is your aim as a player that you can motivate more and more young generations to come and play this sport. The more games we get and the more people can see us on TV and in stadiums, they are going to get inspired by the game, and that can bring more people to this sport."