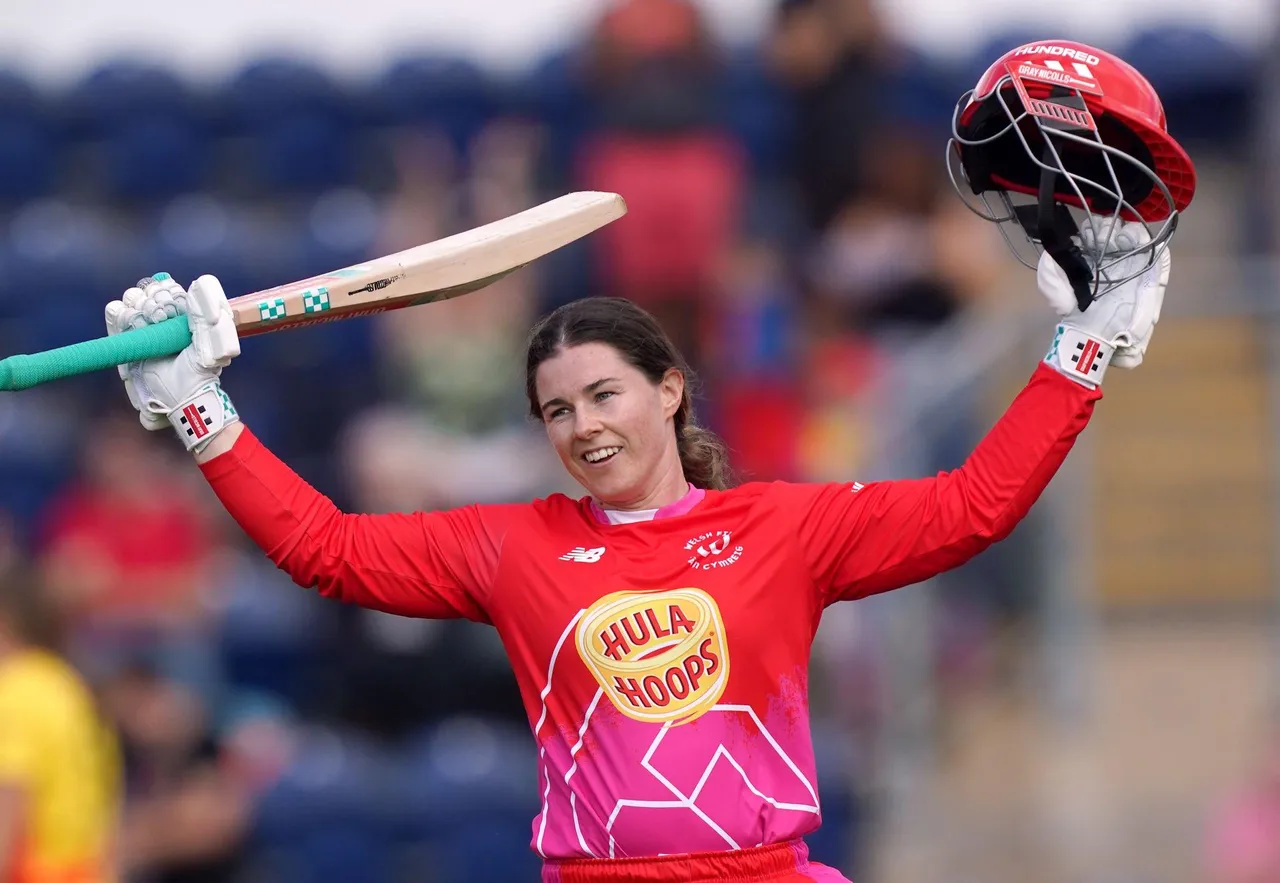 Continuing her tremendous form through the English summer, Tammy Beaumont made history by becoming the first player in The Hundred - Women's Competition to score a century as she led Welsh Fire to a 41-run victory over Trent Rockets and took her side back to the top of the table in the third season.
From the very beginning of the match, Beaumont dominated the game with her aggressive batting and scored a swashbuckling 118 off 61 balls - which included 20 fours and two sixes.
"It's amazing. Again, like I've said all summer, I'm not necessarily thinking about records when I'm out there, I'm thinking about doing my best for the team. I was thinking how could I bat through and not let Larris (Laura Harris) in to have a go at the River Taff - it was a good innings," Beaumont told Mark Butcher on Sky Sports in between the innings.
Beaumont started her innings with a boundary towards the backward square-leg on just her second ball and continued to score runs at a rapid pace. She collected 14 runs in the third set with a four through long-off, a smash through deep extra cover, and a straight six. Her aggressive batting forced Rockets to change their bowling and Naomi Dattani was introduced in the attack, but Beaumont continued having fun and drilled the ball through the hands of Dattani for a long-off four, she followed it up with another boundary, this time a pull to backward square-leg.
Beaumont was accelerating at an amazing rate as she reached the half-century mark off just 25 deliveries with another sweep.
ALSO READ: Beaumont's quest for excellence and Ismail's hat-trick
Once Sophia Dunkley fell to an lbw off Alana King, Sarah Bryce joined the party and along with her, Beaumont continued to dominate the game and stitched a partnership of 100 off just 53 balls. She was eye-catching throughout but the best part was when she struck Cassidy McCarthy for four successive boundaries and reached 75 off 35.
"She (Sarah Bryce) has been crucial for us when we haven't had one of our internationals there, she's taken that role at three and she is someone who times it beautifully and hits well through the offside and I love batting with her, she has probably been the unsung hero of the match," said Beaumont after the match.
A halt came in her innings when King was bowling and she scored just two runs off the seven balls she faced in the 12th and the 13th set. She swung the momentum again in Fire's favour with 18 runs off Dattani's set that took her into the nineties.
"Alana King has got me in her pocket, so I thought I would try not to get out to her. I wasn't trying to be too aggressive against her. Today, I thought I'd lower the risk against her and attack at the other end and make sure I was still there," Beaumont continued.
Record-Breaking Reign 🙌

Tammy Beaumont's sensational summer - Centuries in all formats and now dominating #TheHundred too 💪#CricketTwitter pic.twitter.com/foKlhNBHyp

— Women's CricZone (@WomensCricZone) August 15, 2023

Probably the most important single came on the 81st ball as she flicked the Alexa Stonehouse ball toward the backward square-leg, and The Blaze opener celebrated as she soaked in all the applause.
Beaumont pulled, sliced, slapped, drilled, and played all kinds of sweeps. She did everything that's possible in batting.
Beaumont, who has 99 T20I caps to her name, skied one towards the deep mid-wicket but the ball got into the safe hands of Jo Gardner and with that arguably the best innings of The Hundred ended on 118 off 61 balls.
Be it the crowd or the Trent Rockets players, each and everyone knew that they witnessed one of the best knocks in the shortest format and so fittingly Beaumont walked off to a well-deserved standing ovation.
"I don't know what's just happened, to be honest! I just had an absolute day out and it's great to put on a show for the fans," continued Beaumont in her conversation with Butcher.
The Fire innings ended at 181 making it the highest-ever team score in the tournament's short history.

The chase started well with Bryony Smith taking it upon herself and scoring a well-made 48 off 21. But chasing that steep target was never going to be easy and wickets fell continuously which worsened the Trent Bridge based side's situation. They could not cope with the required run rate and eventually fell way short.
"I said at the half time that if there's any team that can pull that chase off it's that (Trent Rockets) team, Lizelle Lee scored a hundred in this (T20) format, Bryony Smith is incredibly dangerous and you saw Nat Sciver-Brunt at Lord's last week. So for me yeah, we had to bowl well and for Freya Davies to go less than run a ball was absolutely outstanding," Beaumont said after the match as she walked away with the player of the match award.
England are set to announce their squad for the Sri Lanka series on August 18. Maybe Beaumont will be back to add more caps to her T20I career come friday.
"I'm someone who, if I feel like I can keep learning and keep improving, I don't give up. It's a captain's headache having Sophia Dunkley and Hayley Matthews as well, I could be batting three next game because we've got three very good openers. It's nice to perform but at the same time, England has got some amazing batters in T20 cricket and if I'm counted as one of them that's pretty special," Beaumont concluded.