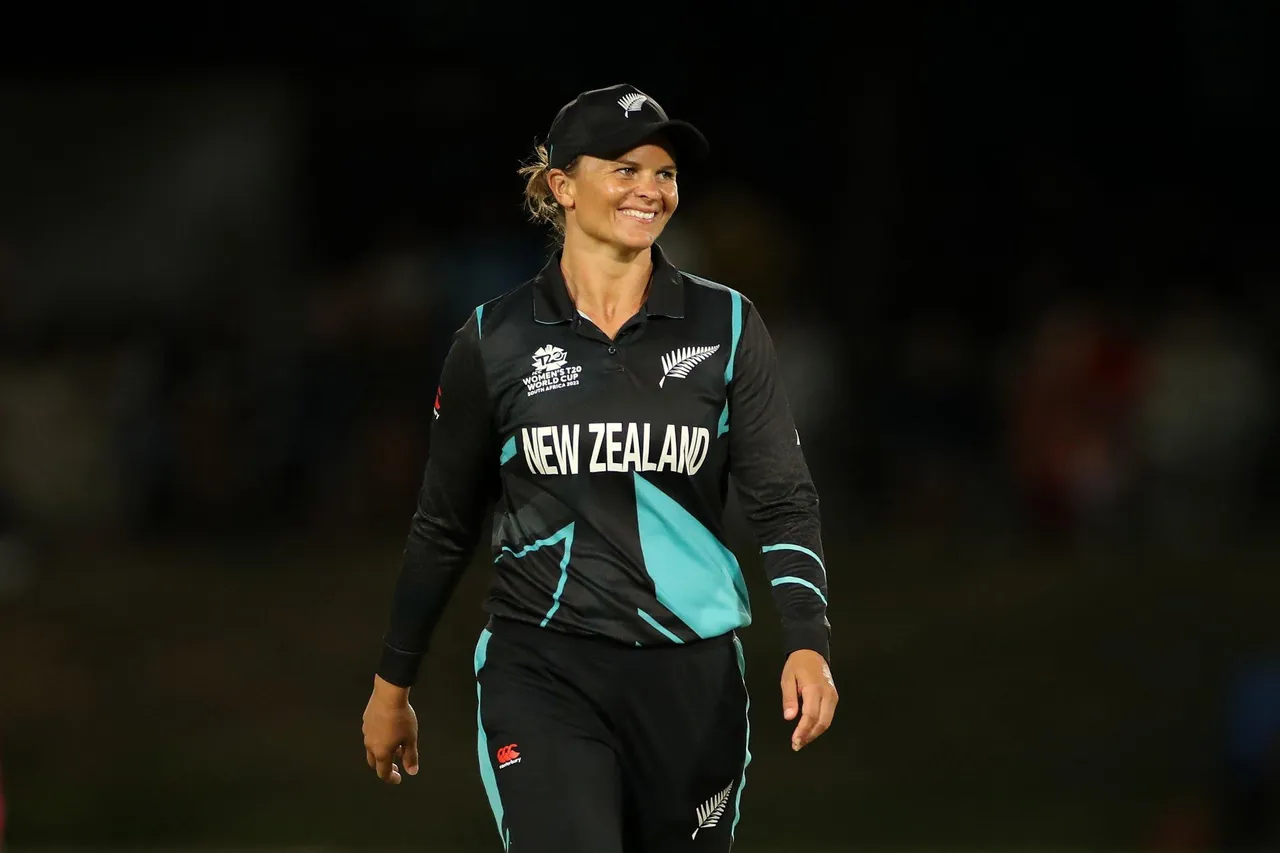 During the second ODI of the Sri Lanka tour, Suzie Bates became the first New Zealand player to reach the 150 ODI milestone. The right hander is also only the fourth woman in the world to reach this landmark. She has already racked up more than 5000 runs in the format. Add her runs in T20Is, wickets, captaincy, and franchise cricket; Bates has done almost everything on the cricketing field.
Inspired by the 2000 Cricket World Cup at home, Bates started her cricket way back in 2006 when the professional era was yet to set in women's cricket.  Players played for the love of the game, they trained in between studies and jobs. They were rarely on TV and yet Bates soldiered on to be there when central contracts and equal match fees arrived.
Women's cricket is continuing on its path of evolution but not everything is hunky dory. Despite a career spanning more than 17 years, Bates is yet to play a Test match as New Zealand last played one way back in 2004. 
There have been disappointments and heartbreaks, there have been triumphs like Commonwealth Games Bronze as well. 35-year-old Bates talked to Women's CricZone during the Sri Lankan tour about being part of White Ferns, starting her career in obscurity and how she still wants to go on as long as she can, being part of the young spin gang, and the disappointment of not playing a Women's Test yet and a lot more.
Excerpts:
Q: 17 years of international cricket, 150+ ODIs, still acing 1500m running, how's Suzie Bates feeling? How do you look back at your career and reflect on it?
Bit old and stiff (laughs). Obviously, 150 games was a special day and I just love being out there with the white ferns. But I am feeling pretty good and I still have a lot of energy for this group. I'm ready to keep going for a little bit longer and just make the most of every game.
Firstly, when you say 17 years it's gone in a flash. It doesn't feel like it's been that long. I still remember my debut vividly at Lincoln, being so excited to play against India and then it rained and we were on and off the field. But I think just what I reflect on and remember the most is just how far the game has come. It's unrecognizable where it is right now. And to think back to my first series against India at Lincoln, there was no television. We were paid maybe $30 a day to be away. All of those players had jobs outside of cricket and it was almost a hobby that we took really seriously.
And now, England versus Australia at Lords, and those games are being sold out. Women's IPL (WPL), competitions like The Hundred, the WBBL. The World Cups have sold out finals and the MCG 2020 final with Katy Perry playing. I just look back and pinch myself at where the game is and I just feel really fortunate that I've been part of both eras when it was amateur and now when it's fully professional, whereas there are a lot of players that I played with that didn't get the benefit of being a professional cricketer.
Yeah, there's been some heartbreak with the White Ferns in World Cups. There have been some huge disappointments, but there has also been a lot of fun and a lot of success. It's pretty cool that I'm still here and part of this professional era. So I'm just trying to make the most of every opportunity.
Q: As you said, you started much before the professional era and now there are central contracts, and there is also equal match pay. How much international cricket has evolved over the 17 years of your career?
It's hard to sort of compare because even though when I first started a lot of the players were amateur and had different jobs, they were still extremely talented and they worked really hard at their games. I think what has changed internationally is just the number of players that each country has been able to pick from. Domestically Australia, England, and India have contracted players not only in their national side, that just created a massive amount of depth and competition and everyone's been able to train as much as each other.
Whereas back in the day it was all pretty much a level playing field, everyone was amateur. So people had to train outside their work hours. But now, there are some systems and structures which are benefiting international countries and we've seen that through the likes of Australia, in particular, having very strong teams that are now winning lots of tournaments. But I think now with the IPL (WPL), India are starting to catch up. the skill level, the power-hitting in particular, players have been able to clear the rope, fast bowlers coming through, and the athleticism in the field. It's just improved just through to the effect of people training more. It's not rocket science, you train more at anything you get better and that's what's growing the game.
Q: You were inspired by the 2000 World Cup at home and in the last year you went on to win Bronze at the Birmingham Commonwealth Games. How was that feeling of being on the podium after all these years?
Yeah, that was (New Zealand's 2000 World Cup win) one of my favorite moments of all time. I watched that final on TV. It was the first time I'd seen women's cricket on TV and that's when I wanted to be a White Fern. It was pretty special that I got to play alongside some of those players such as Rebecca Rolls and Emily Drum that I was inspired by and I'll never forget that moment. And every time we get to play on TV, I realize some young girl is watching at home who might want to be a White Fern. So I make sure that I'm doing myself and them proud.
That moment in Birmingham came after a lot of heartbreaks. Early on in my career, we made the semifinals and finals but couldn't quite get the final wins. To be able to get to the semifinals and then beat England and get on the podium for the first-ever Commonwealth Games, that's a real highlight. We celebrated really well that night. It was a pretty cool moment for the likes of Sophie (Sophie Devine). She and I have been around for a long time and the young players to have that success straight off the bat was pretty special for them.
Q: You just talked about the young players; you are surrounded by a lot of them starting with Melie Kerr to Fran Jonas. How is it being around the younger lot?
I just love it.  I get a lot of grief for being in my thirties and still being young at heart. I love hanging around with those younger players because they excite me in terms of their ambitions for cricket and the energy that someone like Melie Kerr has when she trains of just wanting to be the best she can be is inspiring. That's why I'm drawn to training alongside her and hanging out with her off the field because the way she talks about life and the game, it just inspires me to be better.
So having her around and the likes of Fran (Fran Jonas) and Eden (Eden Carson), they have a lot of fun off the field and they're pretty relaxed characters. But just being able to be part of that spin group and hopefully help those two feel comfortable in the environment that's a real priority for me.
I know being a senior player, you can sometimes come across a little bit intimidating, but I've just always wanted players to come into this team and feel really comfortable and know that people are backing them because otherwise, you can feel like you're perhaps not quite good enough at this level, but those two have the skill and they can be as good as Melie Kerr if they want to be as well.
Q: You are now the newly inducted member of the spin mafia. How that switch to spin did come about?
It is definitely a mafia (laughs). We're very close - that spin group.
I obviously bowled medium pace early in my career and I loved being an allrounder because I love just being in the game. Near the back end of my career, I bowled less and less and then I had a really serious shoulder injury. My priority coming back for the World Cup in New Zealand (2022) was to get back to batting and throwing. So I didn't really focus on my bowling because that's not why I was going to get picked.
Then I think it just came down to me getting a bit bored in the nets and wanting to take part when I wasn't batting and also the coach was getting sick of me hitting lots of balls. So I started to roll the arm over once the shoulder was feeling better and it sort of just developed from there.  I probably started it as a bit of a joke, but my domestic coach Craig Cumming (Otago Sparks head coach) took it seriously and I figured if I'm going to go on the net, I might as well do it properly and it's developed from there and we've played in some spin-friendly conditions where I've had the odd over. So I'm just working hard at it.
When I do get thrown the ball I do a job, but also just talk with the young spinners even if I don't bowl, it's just passing on my experience to them.
Q: We talked about the young players. You have also played with the likes of Amy Satterthwaite and Katy Martin. They have moved on. Now there's Sophie Devine and Lea Tahuhu along with you. How do you look at the older group at the White Ferns?
It's a really important time for the Whiter Ferns. We made some massive calls and massive changes after the home World Cup and unfortunately, Amy (Amy Satterthwaite) and Katy (Katy Martin) haven't carried on with this group and there's a really nice balance of experience and youth. But with that comes a lot of responsibility, I think not just for Sophie who's captain, but the senior players and where we want to take this group and our performances haven't been good enough recently. We haven't been consistent enough and we know the next 12 months, two years, we've got two pinnacle events in subcontinent conditions.
It's our job to lead by example, on and off the field, and really make this group believe in themselves again because there have been some tough times and we know in pinnacle events, that's when we really need to step up. So everything we do from now until Bangladesh is about being prepared for that and we've got to learn and grow as much as we can and not just focus on the results but making sure that everyone's getting better and we're supporting each other. So it's a really nice time to be involved because it's exciting for players like Georgia Plimmer. You can see in this series she's just grown in confidence and people don't see how hard she works off the field. So it's nice to see her get that reward. And we've just got to keep setting the standards and living by that and hopefully; we will get the results that we put the work in for.
Q: So much has already been talked about the home World Cup first round exit. Then in the recent T20 World Cup South Africa, I was there at that press conference by Sophie Devine where she talked passionately about the loss. How did the team reflect on the exit? How you guys are looking to be up for the challenge in the two upcoming World Cups?
The 50 over World Cup, every game was so close and we really competed and things didn't quite go our way and we just talked about our mentality and stepping up in those crucial moments, and then in South Africa and those first two games, we didn't even compete. So that was really heartbreaking and disappointing.
I think if we're completely honest; when we look back there weren't a lot of things going our way. Sophie obviously had been injured in the lead-up and that was probably not that helpful for her form going into a World Cup and it made us make a few changes throughout the tournament. And with the bat in those conditions, we just didn't fire and those were the two games early on in the tournament. We knew South Africa and Australia first up were the crucial games and we couldn't perform.
After that, we did a bit of soul-searching as a group, but I think the way we responded and gave ourselves a chance was really positive. We picked ourselves back up. But look, we know leading into Bangladesh that you've got to turn up from game one and that's all we'll be talking about as a group because we think we're good enough to make semifinals. We know we're good enough and that's the goal when we go to those tournaments.
Q: Talking of the Cricket World Cup 2025 and ICC Women's Championship for the cycle. You had a disappointing series against Sri Lanka with rain and two losses. What are the things New Zealand need to do going forward in the championship?
We have put ourselves on the back foot. It was also unfortunate we played Bangladesh at home and there were rain-affected matches and then coming here (in Sri Lanka), some rain-affected matches, and Chamari Athapaththu (was) sending it into the crowds. So look, we've made it tough for ourselves, but I actually don't think that's necessarily a bad thing because we're going to be playing every 50-over game no matter who it's against up until India (Cricket World Cup 2025), it's going to be a pressure game and that's what will prepare us for those pinnacle events.
Ben Sawyer (White Ferns head coach) is well aware of what we need to do. With three ODIs against Pakistan at home and three ODIs away against South Africa, we are going to aim to win all six of those to put us in a better position. So, One Day cricket for us now is going to be a real, focus and we've been reasonably successful series in T20 cricket. It's now making sure that we get our combination and balance right for our one-day side. Ben's onto it, Sophie's onto it and unfortunately we've let ourselves down against Sri Lanka and Bangladesh a little bit. But at the end of the day, this whole group wants to be in India and that's a long-term goal.
Q: Recently England and Australia played that exciting five-day Ashes Test match. It is unfortunate that Susie Bates hasn't played a Test match so far in her 17-year-old career, is there a sense of disappointment?The time it does come up is when The Ashes is on and I watch those games and there's a little bit of envy. When I see England take on Australia and the fact that those players get that opportunity to test themselves over five days, part of me watches and imagines being out there. There's another part of me that understands that the global game has grown so much because of T20 cricket and I wouldn't give that up for anything so I do understand that. But I feel now more positive than I perhaps have ever felt because there's a lot of pressure from other boards that Test cricket becomes a part of the women's program. So I haven't given up complete hope. It's looking less and less likely, but regardless of whether I get to play, I just think there's a real future in it for the women's game. We've seen those multi-format series really grow the interest of the game and I feel like because of the amount of cricket that countries are now playing, Test cricket is going to be a real spectacle. I just hope that in the future that the top eight nations in women's cricket get to experience that and whether I'm around or not, we'll wait and see.
(Hopefully, we get to see you in Test match whites)
I'm not a huge fan of the whites. I don't think it's the most flattering colour. We'll see what happens.
Q: Again talking of your long career, 17 years and kicking and I hope you go on for many more years. How do you want people to remember Suzie Bates?
First and foremost, I just want people to remember me as a great teammate.
Early on in my career, I was very much focused on (my) goals and scoring runs, and look, that's still important and I want to contribute every game I play in. But at the end of the day, I want people to remember how I made them feel, and if that is I made them really confident and supported on the field and made them feel like they could go out and do anything on the field and I always had their back. That's the most important thing. If they speak about me as a great teammate that they miss having around, then I think I've done a pretty good job.
At the end of the day, I'm driven by scoring runs and that's what gives me a lot of satisfaction. So, for me personally, I want to score as many runs as I can, but as a teammate, I just (want to hear that) I was really a positive influence on the group.