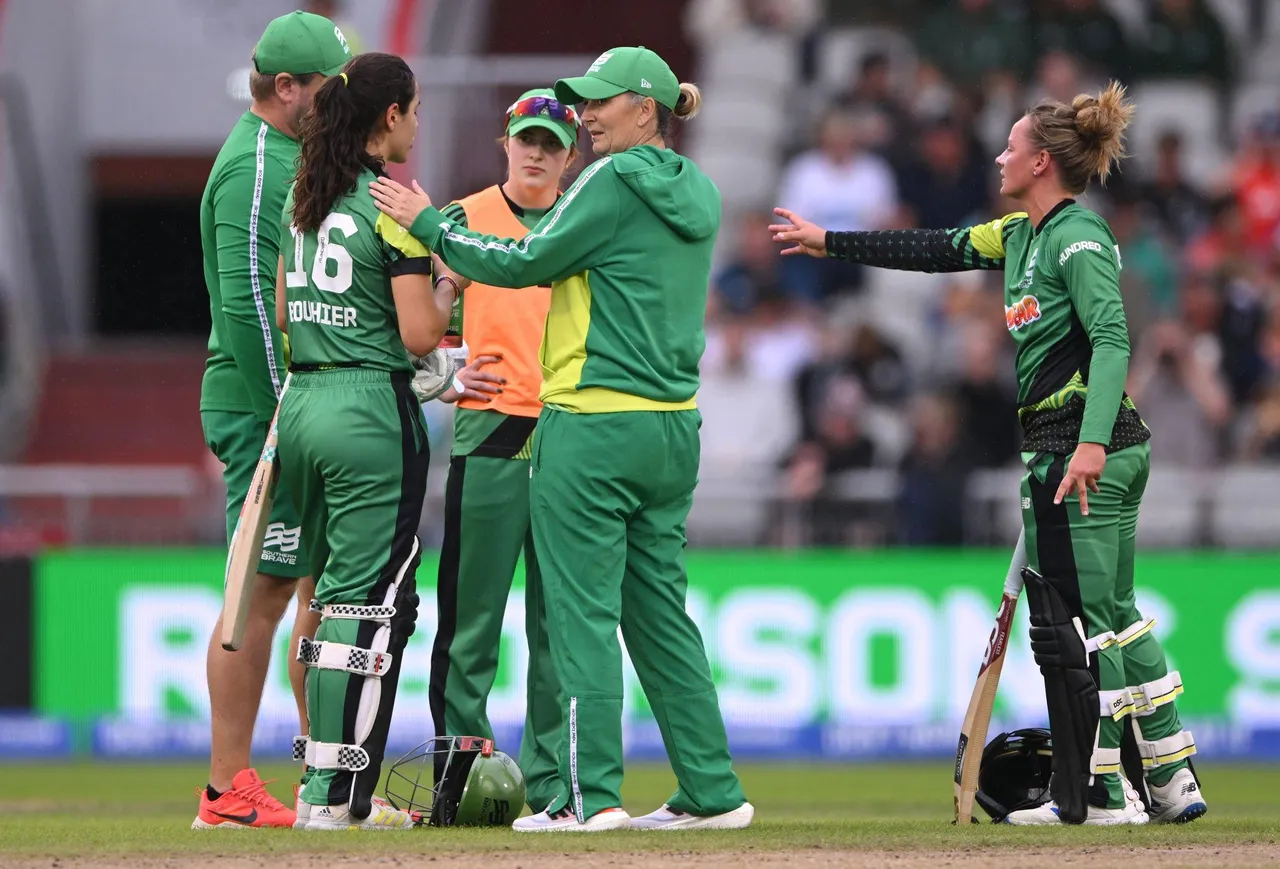 The third season of The Hundred will culminate on Sunday (August 27) at Lord's with the final between Southern Brave and Northern Superchargers.
Brave, with an almost flawless record in the league stage, secured a direct passage to the final. They won seven out of the eight group matches and their only setback came against Welsh Fire where they fell short by just four runs. Led by the inspiring captain, Anya Shrubsole, the team is chasing their maiden title after coming second in the previous two finals to Oval Invincibles.
"I think the team has played so well throughout this competition so far and they're pleased with how we sort of ended the group status at Manchester on what we thought might be a trickier pitch than that so yeah just more of the same really and the team are in good spirits," Charlotte Edwards, Southern Brave head coach, said.
"I think you know the team are pretty experienced now and in finals I think hopefully they just turn up and keep doing what they're doing but I know people who keep saying 'Third Time Lucky' I think the fact that we've experienced two of them is a good thing."
Edwards is widely regarded as one of the best coaches in the world and has led teams to glory in many leagues across the globe, including a recent title win with Southern Vipers in the Charlotte Edwards Cup 2023 (CE Cup). Additionally, she coached the ultimate champions Mumbai Indians in the inaugural Women's Premier League (WPL).
"Preparing a team for The Hundred is slightly different because I think you have to bang on. I think probably one of our real areas of success has been our planning and the fact that we've probably used only 12 players throughout the competition that's helped us," added Edwards.
Captain Shrubsole is gearing up for her final professional match. She has been a key player for Brave and is the second-highest wicket-taker for them in the ongoing edition. Under her leadership, they have achieved an incredible win-loss percentage of 80 percent, winning 20 out of 25 matches they played. Shrubsole's contributions and leadership have been invaluable to the team's success.
Edwards praised Shrubsole's exceptional game-reading ability, which is a crucial asset in a fast-paced game like The Hundred.
"We've got a brilliant Captain here with Anya Shrubsole who reads the game brilliantly and the game happens very quickly as well, she came into the competition as her last and I'm sure she had real aspirations to be there at the Lord's final and we all know that it's going to be a fanfare on Sunday for her and she's looking forward to it and hopefully she gets the ending she deserves," Edwards continued. "It would be wonderful for her and I know the team had desperately been wanting to put in that last big performance for her going back to the scene of her greatest Triumph in 2017, I mean the stars seem to be aligned, aren't they."
The Southampton-based side suffered a setback when Sophia Dunkley was drafted by Welsh Fire, but it proved to be a boon for the Vipers opener, Maia Bouchier. She scored an impressive 264 runs from her eight outings this season, compared to only 180 runs from her previous two editions.
"To let go of Sophia Dunkley was a benefit for Maia Bouchier, she got the opportunity to bat in the top three and to show everyone what she could do and yeah she's been unbelievable I think she's better as well, she's been quite unbelievable and you know she did well at Lords earlier on in the tournament against the (London) Spirit hopefully she can back that on Sunday," Edwards said.
Another standout performer for Brave is Georgia Adams, who leads the tournament in wickets with 16 from her eight matches. Her ability to provide the necessary blitz with the bat is a bonus.
"She (Georgia Adams) played last year as our sixth bowler and performed magnificently for us and this year with a bit of a change of personnel meant that she's had a more prominent role with the ball and I don't think she's necessarily done anything differently I think she's just doing what she does well which is she keeps the stumps in play and doesn't bowl much rubbish and batting at number four has kicked on as well so she filled that void of Amanda-Jade Wellington that we thought we were gonna miss um after the draft," Edwards concluded.
Southern Brave have ticked many boxes this season, but the showdown against Northern Superchargers will be the ultimate test and they will be hoping to give their skipper a fitting farewell having come close in the last two seasons.