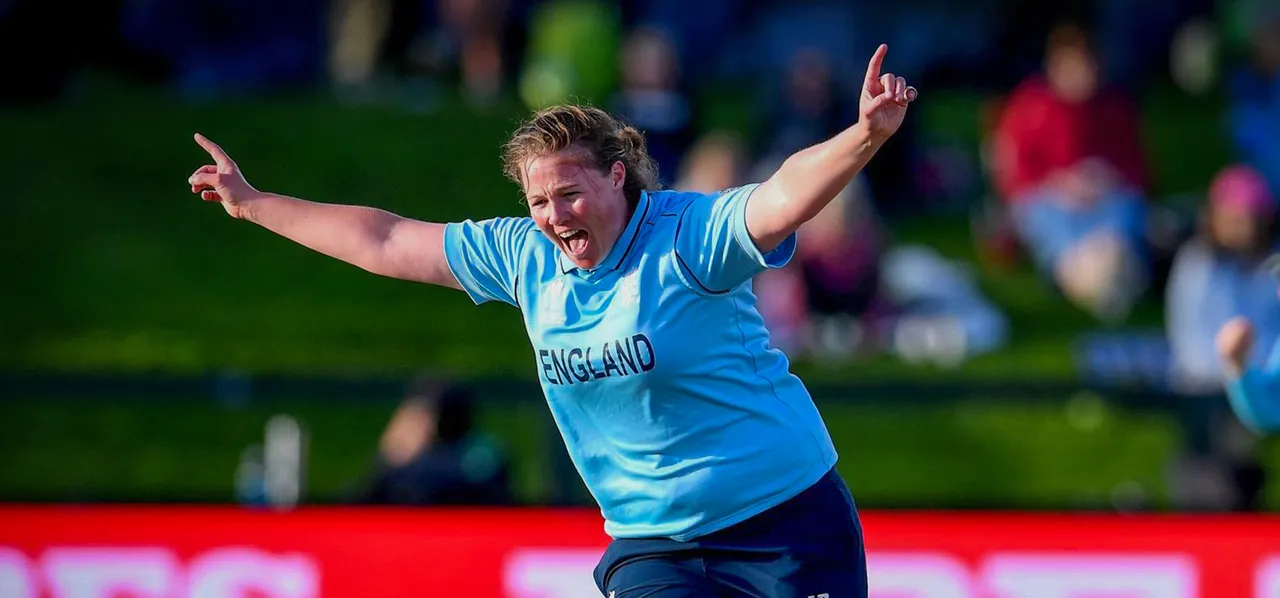 When Anya Shrubsole
announced
her retirement from international cricket on April 14, although it seemed a bit sudden, it also felt inevitable. All retirements are inevitable, people from the outside talk about leaving with your legacy intact before they start questioning your place in the game. Retirements are also personal, teams always have the option of moving ahead without a certain player, but in an ideal world, the decision to 'call it quits' should be left to the athlete.
Shrubsole's retirement statement released by England and Wales Cricket Board (ECB) said: "To have been involved in women's cricket at a time of such growth has been an honour but it has become clear to me that it is moving forward faster than I can keep up with, so it is time for me to step away."
Those lines read profound as well as 'matter of fact' at the same time. Knowing when to quit is the toughest part in all aspects of life, all the more in sport. Shrubsole has had a career where she was at the top of her game for the most part. She might have decided to walk away at the age of 30, but in her 14 year career, she has achieved most things a cricketer can hope for.
Shrubsole made her debut for England when she was 16, against South Africa in Shenley in an ODI in 2008. Her T20I debut was just England's 11
th
match in the format and second of the day - she took 3 for 19 in a Player of the Match performance and never looked back from there. The game also evolved over the course of her career. As per her own words, teams no longer play international matches at Shenley and more than one man and a dog show up to watch the women's game these days. Also a top side playing two internationals in a day is unthinkable now.
ALSO READ: England, Anya and Eminem: Till they collapse
"It's been absolutely crazy the growth. I mean, I made my ODI debut at Shenley; I think that says everything, like we would never think of playing an international game at Shenley now. We are playing at sold-out Lord's and (T2o) World Cup final at the MCG, with 80,000 people there," Shrubsole said in the retirement interview by the ECB.
"I made my debut with one man and a dog and probably half the crowds were my family and friends stuff watching me make my debut to where the game is now is just incredible."
From that day at Shenley to the World Cup 2022
final
at the Hagley Oval in Christchurch on April 3 this year, it's not just the sport that evolved; Shrubsole also had her evolution, not just in terms of her game but how she has been one of the torchbearers of that change. It is fair to say Shrubsole is more than the 227 international wickets she prized out from 173 matches across formats.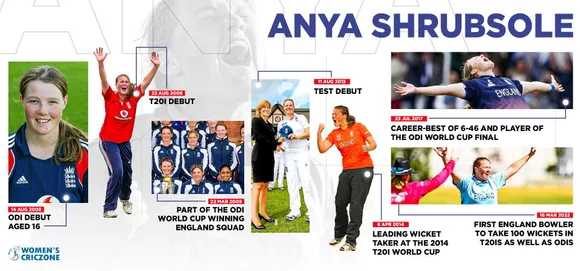 Anya Shrubsole in numbers © Ayan Mukherjee/ Women's CricZone
World Cup 2017 has always been cited as the seminal event where women's cricket morphed into this new beast that everyone took notice of. And Shrubsole was again at the centre of it - for someone who doesn't like the limelight, she seemed to in the middle of it more often than not - with a
performance
for the ages, where she took 6 for 46, to guide England to the famous title win over India.
Fast forward to 2022 final, Shrubsole still held her own amidst the carnage unleashed by Alyssa Healy and Co. Her final international figures read 10-0-46-3 when Australia smashed their way to 356 for 5 in their 50 overs. So why did the fast bowler from Somerset feel the game has moved past her?
"It's something that I thought about quite a lot over the last little while. It's obviously been a challenging couple of years with pandemics and bubbles and things like that. I just felt like my international career had kind of run its course. I made my debut when I was 16, so I have been doing this (for) the best part kind of 14 years," Shrubsole said.
"And if it was all about bowling a ball, I could probably do that for a long time. But there's so much that goes with international cricket, with the touring, with the training. It's kind of all-consuming.  You can never really, even if you have time off, you can't really switch off. And, it just, yeah, felt like I had kind of run my course and the team deserves someone who is 100% in doing all those little things day in, day out, and I just didn't feel like I had that in me anymore."
"So I made, in some ways, quite a tricky decision but in some ways quite an easy decision to step away from international cricket."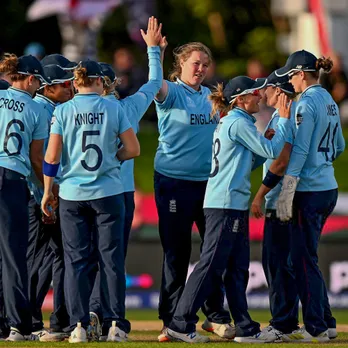 Forever the team player, Anya Shrubsole with her teammates © Getty Images
Shrubsole always had been about doing everything 100%. It might be true for most cricketers, but she was that 100% cricketer, whether it was walking in to bat at number ten in the 2017 semi-final against South Africa to hit that winning boundary or
reprising
the same five years later in a must-win encounter in the 2022 edition. With the ball, she looked like the kind of bowler who would run in all day until the cows came home.
Shrubsole was part of two World Cup triumphs – 2009 and 2017 – and also won the Ashes twice with England. She was also the Player of the Tournament in the T20 World Cup 2014. She is currently the only England cricketer to take more than 100 wickets in both the limited-over formats.
ALSO READ: Spectacular Shrubsole: Best bowling displays from a career full of hits
Despite a career full of highlights reels, what would you remember Shrubsole for? What's the legacy she is leaving behind? More importantly, what does she want to be remembered for?
"I think the biggest thing for me is I really hope that everyone I've played alongside thinks I was a good teammate. I hope everyone knows me well enough to know that, that's kind of the biggest thing for me. "I don't like the limelight. I don't like loads of recognition. I've never done it for records, for anything. I've just done it because I wanted to play for England," Shrubsole added.
"I really, more than anything, hope that my teammates think that I've done that at some point. I guess countries around the world; I hope people think I was a good competitor and played the game hard, but played the game fair, I guess did international cricket proud is what I really hope."
"And I think I've done that, that's not for me to decide, but that's how I always tried to conduct myself."
For all her achievements, when you think of Shrubsole, you would think of her as that fierce competitor at the top of her bowling mark, getting ready to unleash those hooping inswingers on unsuspecting batters.
Just the way she would like you to remember her.