Shabnim Ismail, Marizanne Kapp, Katherine Brunt, and Megan Schutt - apart from their peculiar skills as fast bowlers, they have one thing in common. Whenever the situation demands or they feel so, they would stare down or say a word or two to the batters just to get into their mind. At the other end of the spectrum is the 18-year-old pacer from South Australia - Darcie Brown.

For someone who grew up idolising Brett Lee and Mitchell Johnson, Brown does not come across as an out and out aggressive fast bowler, and she does not have any memory of sledging or staring down a batter right through her days of age-group cricket to the Australian team. In fact, she is rather candid about it. "I kind of really admire that fire because I don't really have it that much," Brown tells Women's CricZone.

"I suppose I get a little embarrassed that I don't really know what to say, in case I mess up. At the same time, I have to show what I've got when I come out and bat, which I don't just yet. So, I, kind of, don't try and do that. I can't really get into confrontations too much. I just bowl and then see what happens." 

While Brown might not be a big fan of sledging, give a brand new Kookaburra ball in her hand and she would make the batters dance to her tunes. And what we have seen in her limited career so far is proof of that. On her T20I debut, she started her first delivery with a 118 kph delivery outside off-stump. Her pace only got better from there on as she clocked consistently over 120 kph. According to the data collected by John Leather, who goes by @_hypocaust on Twitter, off the 85 deliveries that were shown on television to be over 120 kph from the past season of Women's Big Bash League, 42 were from Brown, including the top three that were above 125 kph.

It isn't just about the express pace. Brown is fast, accurate and can swing the new ball away from the right-hander. In her first spell, she bowled three overs, giving away just ten runs. Brown mixed up the full out-swingers with a sharp bouncer and a couple of excellent yorkers. She was a complete package of fast bowling. 

ALSO READ: Swing, seam, spin – you name it Australia have it

Was she expecting a debut after the breakout WBBL season with Adelaide Strikers in which she took ten wickets at an average of 22.10, conceding just 5.52 runs per over? Brown says she wasn't. However, Schutt felt otherwise. Ahead of the series, Schutt said how impressive Brown was in controlling her bowling. "We saw her at the Big Bash, and she was named the rookie of the year for a reason. In the last couple of rounds, she's blown them out of the water and has deservedly got the call-up," she said.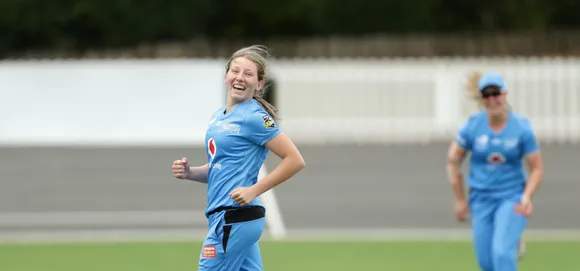 Darcie Brown had a breakthrough debut season with Adelaide Strikers in WBBL06. © Getty Images
Brown got to know that she would be making her debut in the second T20I the day before the match. Head coach Matthew Mott informed her that she would be playing, and Brown could not believe it. "It all went pretty quickly from there," she says.
"I was lucky to have Schutter to give me my cap. We have been really good mates back home in the Scorps (South Australian Scorpions) and the Strikers. It was pretty special." 
Though it all happened in a flash, Brown distinctly remembers how she felt running into bowl for the first time in Australian colours. She was nervous as anyone who is on debut. She got through her first spell of three overs and came back to finish her quota of overs when she was taken apart by Frances Mackay. Brown did make a comeback by dismissing Mackay off her final delivery.
"It can't get any better. But I felt at home as I have done the work. Everyone believed in me and backed me. I just went to bowl as well as I could and try and hit the good lengths." 
By the end of the twelfth over, Brown had done her job. She finished with one for 26 in her four overs on debut against New Zealand. The experienced bowlers had to take over from thereon. Though the result did not go in their favour, one could say that Brown left an impression that she is here to stay.
***
If you travel 85 kilometres north from Adelaide, you will reach a small town called Kapunda with a population of close to 3000. Hailing from a country town like Kapunda, one of Brown's favourite pastimes while growing up was playing various sports. Her family members' involvement in sports was an added advantage. She was
playing 
different sports like cricket, netball, footy, tennis and basketball. Her two elder brothers and her father played cricket and footy at some level, while her mother was a keen netballer. 
https://twitter.com/CAPathway/status/938333645944659968?s=20
"They are all pretty sports-mad. My mum has never really played cricket. She usually played with us in the backyard and her brothers when she was younger. Maybe two or three years ago, she just came out and was fielding with me, just to give it a crack and that kind of sums up our family. We want to give any sport a crack because it is fun to keep fit, and you have some really good friendships out of it as well."
While her family roots might have got her into sports, Brown has an interesting backstory behind resorting to fast bowling. In her early days, she used to play cricket in the backyard with her brothers and dad. They were stronger and fitter, and gave her a tough time, especially while batting. To get back at them, she had no choice but to become a fast bowler.
"I would get out in three balls. So I have to go and bowl and try and get to bat again by bowling as quick as I could. If I bowled spin, I could not turn, and they would just smoke me. I used to get angry that I got out in three balls, and I just started to bowl pretty quick at them."
Darcie Brown, at only 16, was one of the fastest bowlers in South Australia. © South Australia Cricket Association
And it was her pace that got her through the ranks faster than she imagined. At the age of 15, Brown toured New Zealand with the Australia Under-19 squad, and a few months after she turned 16, she got her first senior State contract with South Australia. Since then, she has not looked back. In 2019, she became the youngest player to be signed by Adelaide Strikers. Though she did not get a game in WBBL05, Brown was in good company with Schutt and Tahlia McGrath.
Over the last couple of years, Brown spent a lot of time with Schutt while playing for the Scorpions and the Strikers. The veteran pacer has taken Brown under her wing, and the two have developed a special friendship. In fact, Schutt had a special message for the teenage prodigy when she handed Brown her Australia cap. 
"We have gotten pretty close during this time. We enjoy each other's company, which is really good. She has been our Scorps and Strikers captain, so it has been nice to her inputs here, and just to be able to hang off her shoulders and learn the ropes" 
https://twitter.com/AusWomenCricket/status/1376734042033287178
***
One of the things that stand out about Brown is that she knows her strengths and limitations as a bowler. In her short T20 career so far, Brown is yet to bowl in the last four overs. Be it for the Strikers or Australia, more often than not, she has completed her quota before the 15th over. And it has been her defined role in both teams - to run in and bowl fast with the new ball in the power play and come back for one over later in the middle. Brown feels that it also has to do with the kind of skill sets she posses. The 18-year-old felt that there is still some work to do when it comes to death bowling.
"My role is to use the new ball to get a bit of swing early and use it to my advantage while it is a bit hard and bounces a bit more. I am probably not that accurate in the death as well," she chuckles before adding, "it is probably another reason why. Hopefully, I can get a bit more control and get a chance to try and bowl in the death as well."
This self-awareness and the ability to learn constantly is what makes Brown a dangerous package for the opposition. After the duel against Mackay, where she went for 16 runs before dismissing the set batter, Brown went back to the newly appointed assistant coach and former fast bowler Ryan Harris to see what went wrong.
"Me and Ryano, we got a look at the footage. She played some pretty good shots. I just missed my length a bit, mostly it was outside off, and she hit it to the leg-side. I was bowling a bit full and into the slot. That is why she hit me for a big six. I tried to a bit wider, and I got it a bit short, which probably wasn't a very good ball, but luckily, it went straight to Moons (Beth Mooney), and she held on to it. I was just lucky to get the wicket in the end."
Before the final ODI, Harris spoke highly of Brown in the pre-match press conference. He said that the ease at which she bowls fast makes him jealous, adding, "I had to work hard to bowl fast, and she does it so easy as well. She has got it all. She is an athlete, gets into the wicket and gets through her delivery stride with ease."
"What can Darcie do in the game? Well, it is up to her. The sky is the limit. I think there is still room for improvement there as well, which is the scary thing."
When asked about her future goals leading into the global tournament next year, Brown said she would prefer to take things on the flow. "I don't try to make too many goals. Just try and enjoy it as much as I can because as long as I am giving my best and enjoying it, that is all one can really ask. It will be great to go to the World Cup. We will see what happens."
The athletes who stay in the present are often the ones to watch out for, not dwelling on past mistakes, not worried too much about the future and just doing what they had to in the present. For someone who is just 18, Brown has shown a lot of promise in that area. From running into bowl with spectacles on for Australia under-19 to making her T20I debut last month, she has come a long way in the last three years. Her pace in combination with the temperament she has shown is a deadly combination for any opponent. One cannot help but imagine what a blockbuster package she would evolve into in the next couple of years. And when someone with her skillset is keen to learn and improve consistently, it is scary, as Harris said.
Watch out, everyone. Darcie Brown is coming for you.