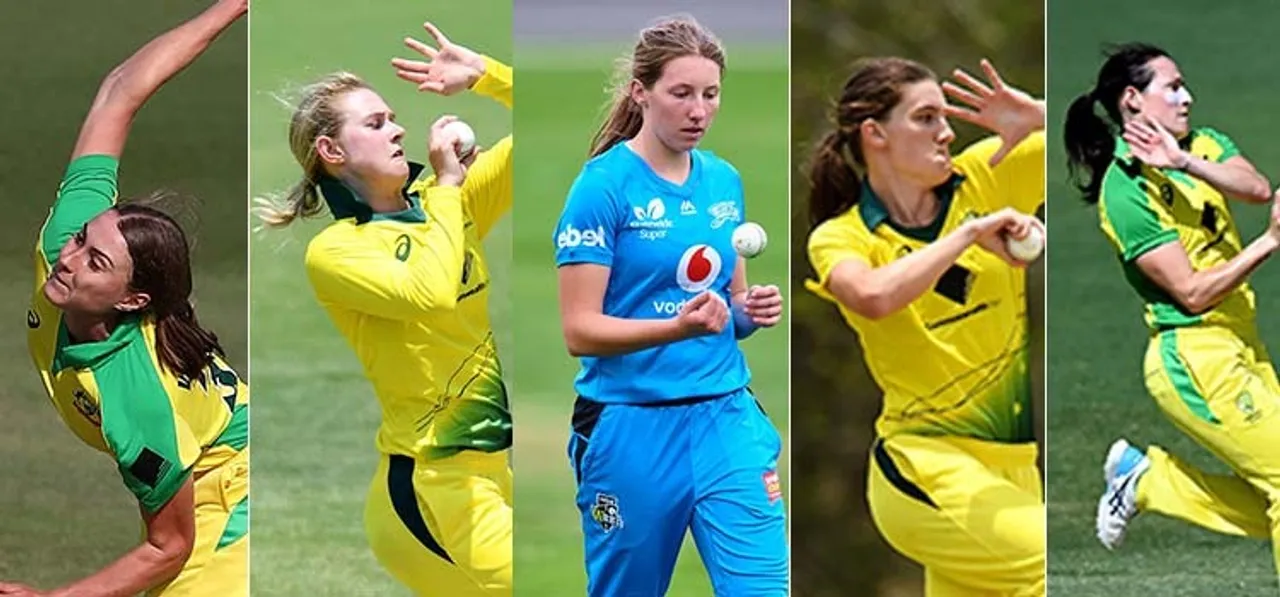 They just keep coming at you. Irrespective of the format. Irrespective of the conditions. Irrespective of what the surface has to offer. A tearaway quick will rattle the opposition batters. If that doesn't happen, a wily medium pacer will strike some crucial blows. If that doesn't work on a given day, left-arm spinners will put the batters in a tangle. If the batters survive that, then a young leg-spinner will spin a web. But they'll keep coming.
The depth in pace bowling at Australia's disposal is an open secret, thanks to the big stage that is called the Women's Big Bash League, which has garnered eyeballs from all over the world. But zooming out a bit and looking beyond the sub-set that is fast bowling, the plethora of bowling options that the current T20 World Cup champions have is just too good to match at the moment.
There's the evergreen Megan Schutt, then there's Ellyse Perry – perhaps the best allrounder in the sport. Then the likes of Tayla Vlaeminck, who bowls searing pace, Delissa Kimmince, Nicola Carey, Annabel Sutherland, etc have been a regular part of the national setup – injuries notwithstanding, of course – much to the envy of the opposition teams. Now add
Darcie Brown and Hannah Darlington into the mix
.
Vlaeminck, who had suffered a foot injury just before the T20 World Cup last year, made a strong comeback at the national level on Sunday (March 28), beginning with a maiden against Sophie Devine in the first T20I. The New Zealand skipper couldn't get her away even in the following over; she even missed a full toss off a free hit!
"It's so awesome to have Tay back. It's obviously not nice facing her in the nets! But to see her steaming in and just putting a lot of pressure on the likes of Sophie Devine," said Ashleigh Gardner in praise of the youngster after Australia's win. "No one in the world has faced such a raw pace for a very long time. It was great to see her and the confidence she can take out of today going into to the rest of the series."
ALSO READ: Finding the ideal pace as a spinner in Hamilton was challenging: Jess Jonassen
That Vlaeminck was raring to go was evident when Jess Jonassen gives an account of the lead up to the match.
"We had a gym session earlier in the day. She had the biggest grin on her face when she was ready to get out there about 10 o'clock in the morning. She's very very excited and we're equally excited for her."
"To have her out there and bowling as quick as she is feeling in a good spot with her body and her mind as well that's really pleasing for us. I have had to face her little bit (in the nets) but thankfully she's been working on a few changes during that time. So probably haven't faced her when she's at her express pace. I think that's a job for our top order to do."
The thought of facing Vlaeminck as well as the uncapped Brown isn't something that
their batting team-mates fancy
, let alone the opposition. And then there's also another promising
fast bowler in Maitlan Brown
, who has been side-lined by
a hamstring injury
and
who bowls a "yucky bouncer" in Alyssa Healy's words
. It's almost as if Meg Lanning, the Australian skipper, can open a cupboard and choose the attack she wants to play in a particular game, much like she would do while selecting clothes from her wardrobe.
"I think it's similar with our batting, that we pride ourselves on our depth. In our bowling, we pride ourselves on our versatility," said Jonassen about Australia's bowling depth.
ALSO READ: Wareham, Campbell, Brown: the young Australian brigade lighting up WBBL06
"We've got almost every type of bowling covered and we've got back-ups for that as well, which is very exciting. That's the pleasing thing about Australian cricket at the moment, that there's so much competition for spots and so many people that can put their hand up and do the job any given time."
"Obviously (selection is) dependant on match-ups and what not as well. It's really pleasing when we've got a world cup within 12 months that we've been able to get people involved in the setup and also keep some really quality players around as well."
Match-ups are an important part of the Australian tactics and that could only explain an unfamiliar sight of Perry being in Australia's XI but not bowling a single ball.
"We've just got so many bowlers. If match-ups come into play, Tay was already going to bowl all her four overs, which actually took overs from Pez, as they both do similar things," explained Gardner after the first T20I. "In saying that we've got people who do all different things in our bowling innings and it's just comes back to having too many bowlers for Meg to choose from."
As goes the famous cartoon caption from the
Sydney Daily Telegraph
during the 1974-75 men's Ashes, "Ashes to Ashes, dust to dust, if Thomson don't get ya, Lillee must," there soon will be a time when it wouldn't be an overstretch to say, "… if Schutt doesn't get ya, Vlaeminck, Brown or (Stella) Campbell must.." depending on who dons Australia's on that particular day.