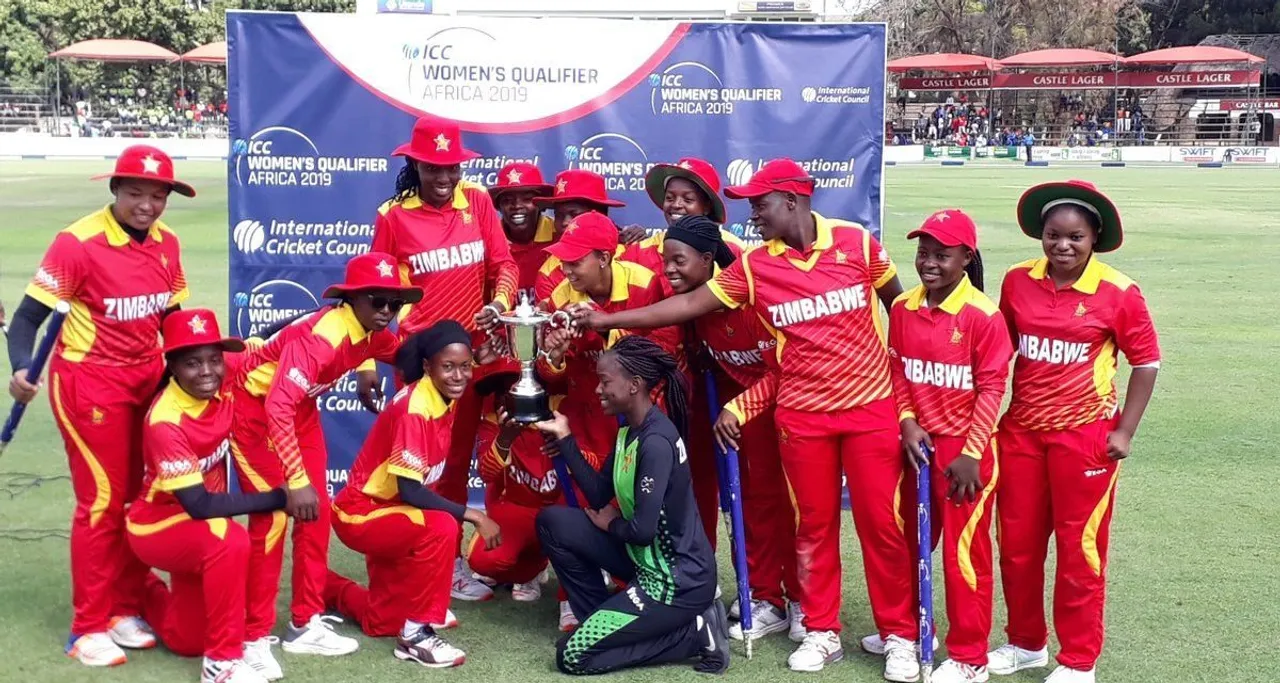 Zimbabwe cricket has seen a lot in the last two years. From being barred from the 2019 T20 World Cup Qualifiers to being suspended from international cricket due to a stand-off between the ICC and Zimbabwean authorities to postponed World Cup Qualifiers in Sri Lanka, the country's players have waited long to play cricket at the top level.
However, finally they saw light at the end of the tunnel, when Pakistan agreed for a short tour starting from February 11 in Harare for three one-dayers and two T20Is. The series will also mark the first time Zimbabwe will play international cricket since May 2019.
"We were elated. It was the best news ever, it's like we were waiting in limbo. One foot in and one foot out so we literally jumped with joy," Zimbabwe women's team manager Caroline Nyamande was quoted as saying to
The Saturday Herald.
ALSO READ: Shabnim Ismail, Tazmin Brits seal T20I series for South Africa
"The series is the much-needed game time at the international level that we have not had in a very long while. This is quite a huge break for us, so we are very excited about this tour." With the 50-over World Cup Qualifiers in sight later this year, the series will provide perfect preparation for both Pakistan and Zimbabwe.
Zimbabwe head coach Adam Chifo has thanked the respective authorities for the chance to play again and also emphasized their quest for World Cup qualification and attaining ODI status. "We are very grateful for having been afforded a chance by the SRC and government to return to doing what we love doing, that is playing cricket and we are all excited," said Chifo.
"Obviously, we were devastated by missing out on the T20 World Cup qualifiers due to the ICC ban and I must say it's been tough being in the wilderness for almost two years. It's something that we have been trying to manage that the players don't lose heart and stay focused on our main goal, that of qualifying for the World Cup and ultimately obtaining ODI status."
ALSO READ: France Cricket announces 18-member squad ahead of T20 World Cup regional qualifiers
He also added that the qualification will depend on how much the players want it. "We have a big chance of qualifying for the World Cup. It all depends on how much we want it and this can only be complemented by a solid road map with a clearly defined plan," Chifo said.
"This is what we are putting in place and it includes playing top teams like Pakistan. Hopefully, we will have an opportunity to play two or more top-ranked teams before the qualifiers so that we can be able to assess ourselves and work on areas of concern before the major tournament."
Women's cricket returned to Zimbabwe with the domestic T20 and one-day tournaments. The one-dayers are scheduled on February 11, 13 and 15 followed by the T20Is on February 18 and 20. According to a Zimbabwe Cricket spokesperson, Pakistan, who are playing South Africa, will arrive in Harare on February 4.
Like in all other countries, both teams will be put in a bio-bubble in order to minimise the risk of COVID-19 spreading. Strict protocols are already in place with the Zimbabwe Cricket COVID-19 Committee, which includes the organisation's chief medical officer, Solomon Madzogo, meeting twice a week to ensure all is in place for a safe series.