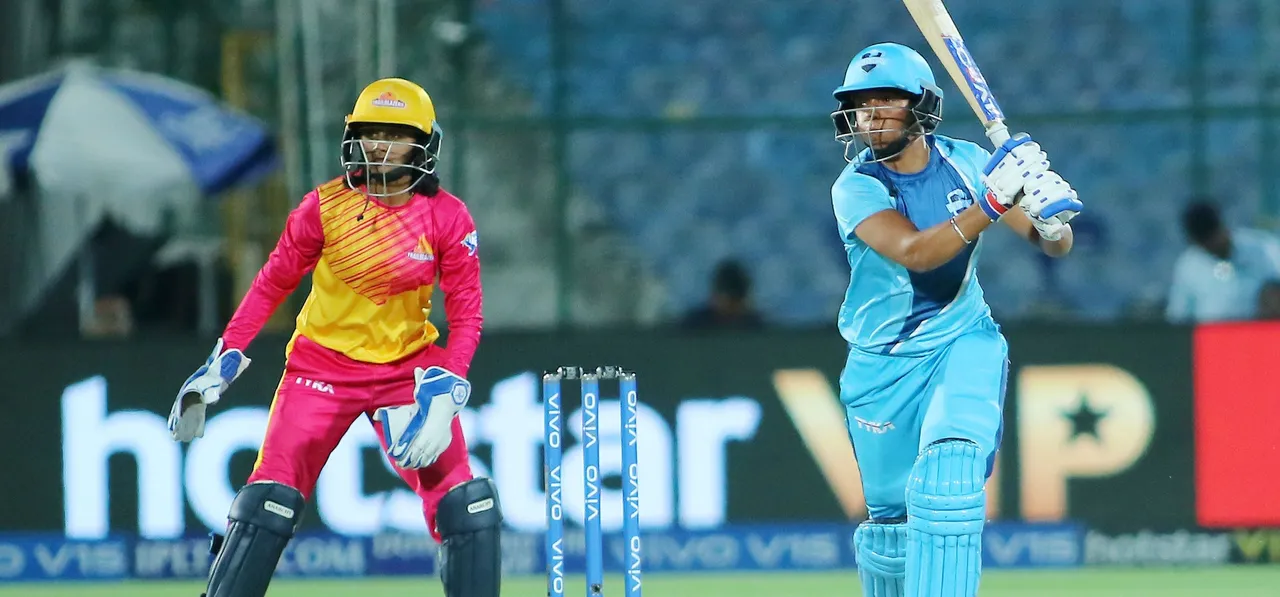 One of the realities of a sportsperson's life is that their success is often measured in binaries – wins or losses; be it in individual or team sports. The runs scored, wickets taken, averages, strike rates… if captain, then the matches won and those lost – all of these are part of the narrative. That they are normal human beings after all becomes a mere afterthought.
The past few months were a nightmare for most people owing to the pandemic-induced lockdown. But for most athletes, it was a deserved break from the hustle of sport; more than sport, time away from the constant media glare and scrutiny over their performances.
Jemimah Rodrigues spoke on the Clean Bowled Podcast
about it being an opportunity to spend quality time with her family after an extended season meant she was constantly busy and on the run.
For India's T20I captain, Harmanpreet Kaur, it was going back to the start.
"When I was small, we used to have a lot of cows and buffaloes and a farm," Kaur reminisces from her room in the UAE in a chat with
Women's CricZone
.
"I used to spend a lot of time with nature then. But as I grew busier in cricket, I didn't get much time to spend with my family or animals. This time gave me a chance to bring these things back into my life."
The 31-year-old adopted a dog and also brought a few plants, creating an indoor garden, and spent time tending to them over the past few months.



Every dog must have his day....
Furry is slaying 😍 pic.twitter.com/2e4pnTRoGA


— Harmanpreet Kaur (@ImHarmanpreet) September 13, 2020
"I saw him (my dog) grow day by day and spent time with my plants. These were some of the things I missed a lot otherwise."
"I actually gave the first month to myself because for a long time we were playing cricket. As a result, we didn't get a lot of time to spend on ourselves. To be honest, I didn't do anything in the first month. I was home, enjoying myself, watching movies, series and doing regular stuff like dusting and cleaning," she says.
ALSO READ: Arundhati Reddy's 'Mission Undroppable'
A large part of the build-up towards the Women's T20 Challenge, that is to be
played in Sharjah from November 4
, was riddled with
uncertainty
– right from murmurs about it being a four-team tournament to doubts as to whether it will see the light of the day to it eventually being a three-team competition like last year. Add to that, the lockdown norms in India gave little scope for outdoor activities, especially with the rising COVID-19 cases.
That meant Kaur, much like others, focussed more on her fitness than anything else.
"I was very excited to return to a routine that gave me a lot in life," she says, the joy evident on her face.
"I was quite lucky because I had access to a ground close to my home. I had my gym equipment at home, so I could use that. When we got to know about the tournament, we were on grounds trying to get ready. I did try a lot of things in the nets to improve my batting skills."
The three teams from last year –
Supernovas, Trailblazers and Velocity
– will continue to play the competition this season with two round-robin games before the final. While the format leaves little room to experiment and no time to play oneself into form, it's some cricket after months of inactivity, and Kaur is thankful for that.
"We have very less time to prove ourselves – it's a matter of just two games and a third if you are good enough," says Kaur, who captains Supernovas.
"A lot of things can help you in this – how mentally strong you are, how skilful you are, how lucky you are on a particular day… It's time to enjoy some cricket for me, finally. That's what I told my teammates, that we should try and enjoy these games as much as we can, given the uncertain phase that preceded it and at the same time try to give our best."
Owing to the protocols laid down in the wake of the pandemic, the games will be played in a bio-secure bubble, which the players entered into by being in room
quarantine for six days
after they landed in the UAE. This means, there will be no spectators present, although the games will be telecast.
ALSO READ: Practice sessions ahead of Women's T20 Challenge crucial: Devika Vaidya
Last year, Kaur's Supernovas won the title thanks to
a final over heist from Radha Yadav
. The teenager, who walked in with her team needing seven runs off four deliveries, struck a boundary off the final ball, to get Supernovas over the line. The skipper, who was dismissed in the final over, recalls the game fondly.
"I just got out and she (Radha) walked in, saying, 'Don't worry, I'll get the runs'. That confidence boosts your team," beams Kaur, who scored 51 off just 37 balls.
"I remember that moment from last year whenever we talk about the (Women's) T20 Challenge – Radha Yadav's winning shot. It was an important moment for us. It's not easy to bat in the last over when the pressure is on in a chase, but she was exceptional."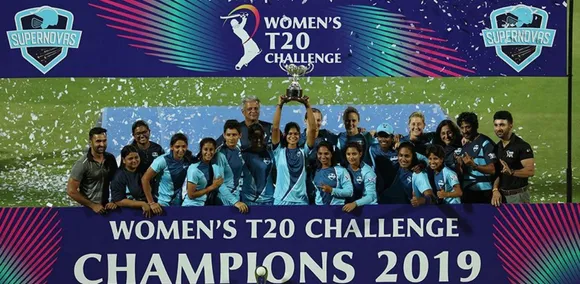 Supernovas after winning the title in 2019. ©BCCI/IPL
Minus the crowd, the 31-year-old expects the quality of cricket to remain the same, if not a notch higher.
"I think cricket-wise it'll remain same. If we talk about fans, we'll definitely miss them because in Jaipur, the atmosphere was very nice, thanks to the packed stadiums. We got a lot of support and cheers from the fans."
"However, the good point is the matches are live (telecast); so fans can sit and watch it and shower their love as they're doing to the IPL. For us, the intent and eagerness to win will remain the same."
The IPL is being held in three cities – Sharjah, Dubai and Abu Dhabi. While the Dubai International Stadium has seen only five innings where 200 or more runs have been scored, the smaller Sharjah Cricket Stadium has witnessed the most scores of at least 200 this season including three matches where both the teams have crossed the mark. But that could be a mirage, feels Kaur.
"It's very easy to sit and watch and think, it's looking easy to bat. The way Sanju (Samson, Rajasthan Royals batter) and the others were batting in Sharjah it seemed easy," she says, before sounding cautious.
"It's good to take confidence from that, but we shouldn't get over confident just because it's a small ground. Since it's going to be my first time in those conditions, I don't know how the wicket will behave and what the atmosphere will be like."
The core of Supernovas is same as last year, with all of Jemimah Rodrigues, Taniya Bhatia, Priya Punia, Arundhati Reddy, Anuja Patil, Poonam Yadav and Radha Yadav part of the side. Their Sri Lankan import, Chamari Atapattu, also retains her place. But with the New Zealand players, Sophie Devine and Lea Tahuhu, and England's Natalie Sciver missing out due to WBBL commitments, Shakera Selman (last year Trailblazers) and first-timers Shashikala Siriwardene from Sri Lanka and South Africa's Ayabonga Khaka have been picked.
ALSO READ:
Sune Luus aims to fly the South African flag high in Women's T20 Challenge
Kaur, who has enjoyed many a tussle with the Sri Lankan veteran, said she is looking forward to playing with Siriwardene, who announced her retirement from international cricket after the Women's T20 World Cup earlier this year.
"Shashikala is someone who has done quite well for her nation. To play alongside her is a privilege for us. She is an experienced player and has always led from the front. It's an advantage having her in the side. Plus having an experienced bowler like her always helps."
Although India's women have been unable to take the field since the T20 World Cup final, women's internationals began in mid-August with the Austria-Germany series, following which the quartet of England, West Indies, Australia and New Zealand also returned to action in September. Men's cricket, on the other hand, began as early as July.
For Kaur, who spent her early year observing and learning all she could from her idol Virender Sehwag, this was another opportunity to turn back the clock; a chance to watch some cricket and learn newer tricks to outsmart the opposition.
"I like to watch cricket on TV, because when you watch you actually learn a lot of things," she admits.
"When you're playing, you aren't able to understand a lot of things because of the frame of mind you are in - your judgment can sometimes be clouded. In fact, this year I've watched the IPL closely to understand how every team plans and executes in this tournament. Though we weren't really getting an opportunity to play, we were getting to watch so much."
"I was trying to understand the new rules, looking at how players carry themselves on the field, and all that helped."
Like Sehwag, Kaur was a basher when she burst onto the scene over a decade ago - a little like India's youngest superstar, Shafali Verma. But over the years with experience and games under her belt, she's become someone who takes time to build an innings before actually teeing off. Will the 'Hammerpreet' version of Kaur be seen? How will she lead Supernovas tactically having watched a lot of cricket over the past few months? Will she indeed turn back the clock? Some of these will be revealed on November 4, when Supernovas take field against Velocity in the opening match.
https://open.spotify.com/episode/2pz6HwvHkcG5mhH3QnMab0