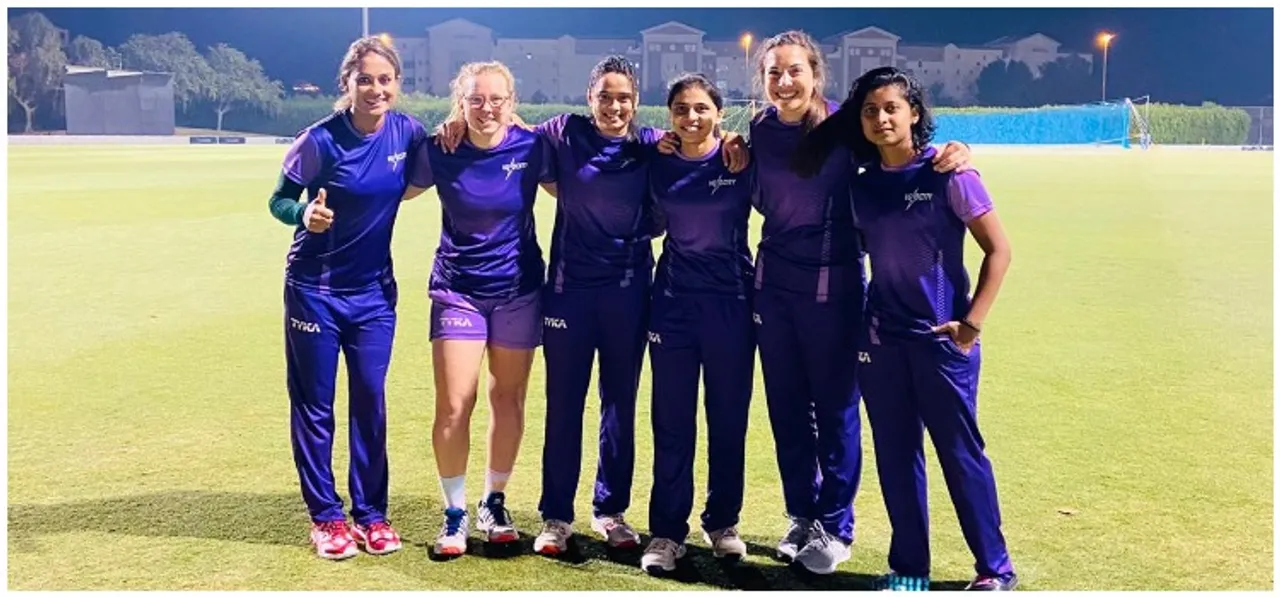 It's been just a couple of days since the players have returned to the field in Dubai hitting the nets at the ICC Academy ahead of the Women's T20 Challenge starting in Sharjah on November 4. While players from West Indies, New Zealand, England have been in competitive action recently, this is the first time, post COVID-19, the Indian contingent is out together.
Velocity off-spinner Sushree Dibyadarshini has already found a new friend in New Zealander Leigh Kasperek and the two have been spending quite a lot of time in Dubai exchanging ideas about how to go forward when the three-team even kicks off next week.
"We both have been gelling well and our bowling styles are also kind of similar," Dibyadarshini told
Women's CricZone
from her hotel in Dubai. "Kasperek, who is also an off-spinner, told me she last bowled in March, but when the first delivery came out of her hand, it was spot on."
ALSO READ: Women's T20 Challenge: Know your coaches
With no cricket for the last six months, it was expected that the players would be a tad bit rusty. Truly, they were. "Compared to her (Kasperek), we needed a few deliveries to be in the rhythm. We have been discussing cricket quite a lot, what to do, how to do, what's the strength and weaknesses of the opposition. I am enjoying my time with her," added the Odisha spinner.
Apart from Kasperek, South African Sune Luus is the other new face in the side with England opener Danielle Wyatt and Bangladesh pacer Jahanara Alam retaining their places from last year. "As far as Luus is concerned, she has been in quarantine and missed the first day. She is very open-minded, cool and straight forward. If you go and ask her something, she explains everything very minutely and sweetly," Dibyadarshini said about the allrounder.
"She (Jahanara) is a very positive girl with lots of energy. We get a home bonding feeling with her because she can speak Hindi and Bengali both. She has a very positive vibe with everyone in the team. It feels like she is from India."
ALSO READ: Arundhati Reddy's 'Mission Undroppable'
The 23-year-old, who picked up a wicket last year in the only match she played against Trailblazers, was also excited to be back in the field stating "it felt like we are finally out if the cage". "There were two different excitements. One, that the lockdown (quarantine) has ended, and the other – the most important – we are back training and practicing together."
"While we were travelling to the training ground, it was like, 'we are finally out of the cage'. The ground is very good, interesting you can say. I was feeling nervous while entering the ground because we will be playing after such a long time. It was bit tough initially to find the rhythm but when I got that flow it was nice," said Dubyadarshini.
Velocity had a couple of light training sessions in the first couple of days with the main focus on the players not to push too hard. "It was a new start for everyone. We did individual practices back home but we spent 14 days in quarantine – seven days in Mumbai and the same in Dubai - before training together."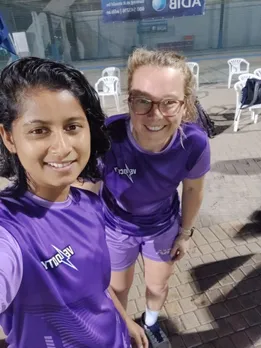 Sushree Dibyadarshini (L) clicks a selfie with Leigh Kasperek in between Velocity's training session in Sharjah. © Special Arrangement
ALSO READ: Sune Luus aims to fly the South African flag high in Women's T20 Challenge
"That's why Mithali
di
said not to push ourselves hard. 'If you are not getting the rhythm or you are not been able to judge anything, don't get frustrated. Take it easy. It's gonna happen with everybody as we all were out of action for so long. Do it light and enjoy yourselves'," she added.
"We had a light warm-up session and then did some fielding and nets. Whatever we did in the limited time, we gave our best. Getting to train like this after so long felt good."
Speaking on her own form, Dibyadarshini feels she needs to better her game with the willow.
"Whatever training I did back home, that is coming in handy here. Although I got rhythm in bowling from the first day itself, but I felt my batting and hand-eye coordination could be better. I felt like something is missing. There have been some problems in judging the ball but I feel like that's going to be better as I practice more. If you ask me to rate myself I would say I am doing 60-70 percent well," she concluded.