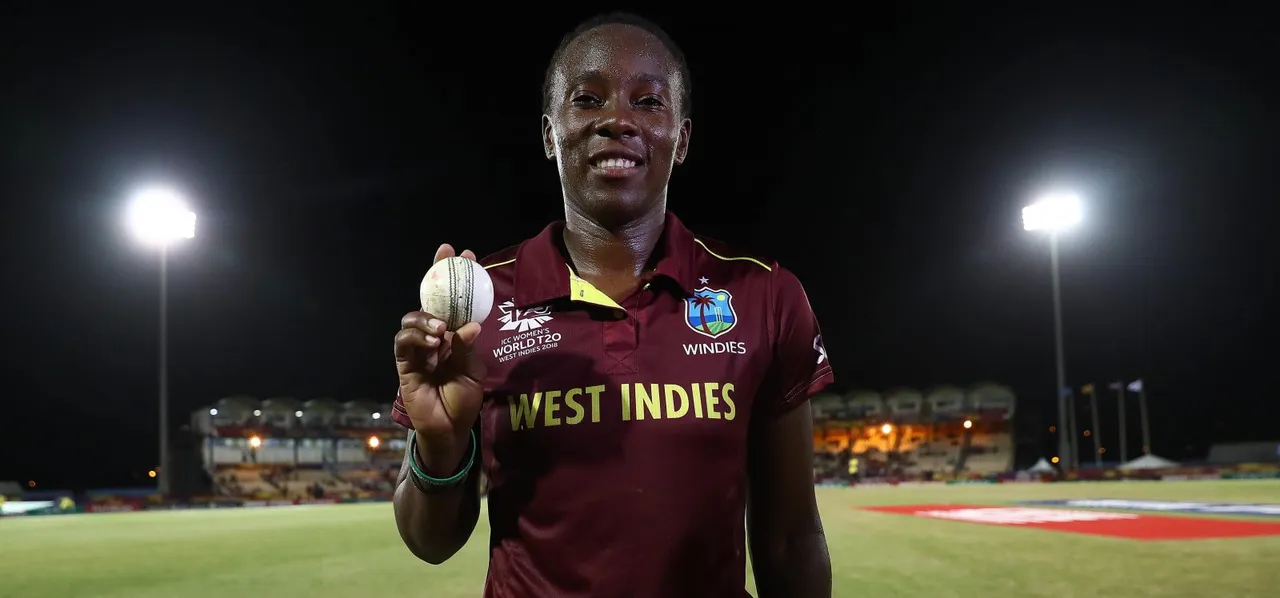 The killing of George Floyd in the United States of America and subsequent Black Lives Matter (BLM) movement, prompted the cricket world to have fresh conversations about racism and lack of diversity in the game. Like their male counterparts,
West Indies and England women sides will be taking the knee
to recognise the movement and also will be sporting Black Lives Matter logo during the
five-match T20I
series in Derby starting on Monday (September 21).
West Indies seamer Shakera Selman lauded the decision by the cricket boards, adding that it was important for the players to use their platform to build awareness around the movement.
"When I, my West Indies team-mates, my opponents and the match officials take a knee to recognise the Black Lives Matter movement before our Twenty20 internationals against England I will feel both proud and privileged," Selman
wrote in a column for BBC Sport.
"I am proud to play my part in raising awareness, and privileged that as an athlete I am able to keep the conversation going."
ALSO READ: England, West Indies players to sport Black Lives Matter logo, says Heather Knight
Selman, who has represented West Indies in 78 T20Is, believes the movement has just started and everyone involved in the sport, and outside of it should take measures to keep the conversation going.
"While I am fortunate to have escaped racism directed at myself, I have seen and heard other people - both in my sport and outside of cricket - speak about how they have been racially abused," she wrote. "As a black person myself, and a black athlete who has interacted with people of all races, I completely understand the need to keep the conversation going."
"I do, however, think this is just the start and it is something we must continue to do. I don't expect it to change overnight and this is a starting point for years to come. Sport is the one thing which unifies everyone. Taking a knee and showing solidarity started with American Football - it is good to see it has carried on to every sport, including my own."
"Athletes know the influence they have on people so if we can support the BLM movement and keep people aware of the injustices people around the world face, then it will serve for good. We all have a role to play in setting the standard for the future and I would be excited to tell my grandchildren - and, in fact, any young person I come into contact with - that I stood up for something which is so incredibly important to me."
The pace bowler said she is confident that West Indies will be able to put up competitive performances through the series - something their fans can be proud of. However, she was quick to add, that unlike the men, the women hope to win the series.
ALSO READ: We expect England to come hard at us: Stafanie Taylor
Selman and her teammates last played an international match more than six months ago during the 2020 T20 World Cup in Australia in March before international cricket came to a standstill owing to COVID-19 pandemic. She termed the record crowd for the final of the tournament as "phenomenal" and appreciated all cricket boards for providing support for the women's game.
"It was phenomenal to see more than 86,000 people at a women's sporting event. I'm excited it was cricket but 86,000 people at any women's sporting event is remarkable."
"I think that speaks a lot about what the boards are doing to support women cricketers. I know Cricket West Indies are doing a lot for us. We're involved in more national team camps and there's more development for the Under-19s and so on," Selman concluded.