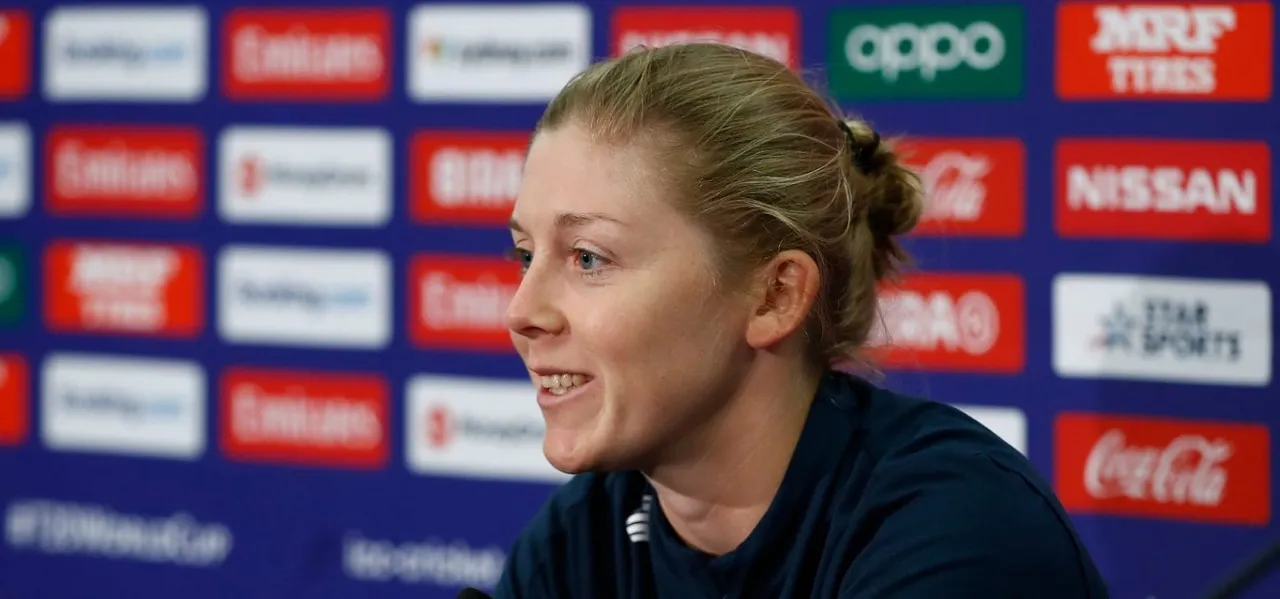 When cricket returned after the pause due to the pandemic, two things featured among the narratives, apart from the series specific ones – one, how the Black Lives Matter movement will be used to create awareness about racism in the sport, and two, when will the women return to action, given that the primary focus was always on getting the men to play. But with the Austria-Germany T20I series, women's international cricket resumed and now with the five-T20I series between England and West Indies, the major women's teams are getting back to action, something that has delighted Heather Knight.
The England captain admitted to having "massive" fears about the loss in momentum that was gained after the high of the T20 World Cup.
"I think there was sort of thoughts in the back of your mind that that mind happen, but I think the way the ECB has been, we knew as players, they were going to everything in their power to try and get some cricket on," Knight told reporters on Thursday (September 19).
"They've done exactly what they would have done for the guys which is real progress. I don't think that would have happened 3-4 years ago, so I think we knew there was a good possibility that we were playing and now it's great that it's locked in."
"We were in our first training bubble in Derby and within two days we found out that the World Cup was cancelled and then South Africa had pulled out - it wasn't a great few days, to be honest. But luckily the turnaround was so quick to get West Indies over and I think, we as players, thought it would never come to a situation where we wouldn't be playing any cricket."
ALSO READ: 
England dream alive, Evelyn Jones hopes to build on momentum
While West Indies played a major role in resumption of men's international cricket – their tour to England in July was the first international series after the COVID-19 pandemic – the Caribbean side answered an SOS to yet again help in getting women's games (with the major teams) underway with this series, something Knight was grateful to them for.
"I think we're all just very excited and very grateful as well to the West Indies for filling the void. It was 10-day turnaround to get them locked in to come over and probably didn't believe it till they landed here. Obviously, we are massively grateful to them and their board and to the ECB for making it all happen."
While there were criticism by Michael Holding regarding the men's England, Pakistan and Australia sides not taking a knee after it was done so during their West Indies series, Knight said that they
will do something
to honour the BLM movement.
"We've had
as players and we definitely want to do something to obviously honour the movement and give our support to it and keep the conversation happening," said Knight, who is the only player to have scored a century across formats.

"I've spoken to Stafanie (Taylor) via text - we haven't had a chance to catch up yet. I'll speak to Stafanie over the next few days to work out exactly what that looks like for both teams. But us as players we want to do something and we're keen to support it and we'll also be wearing the Black Lives Matter logo on our shirts during the games."

ALSO READ: England coach Lisa Keightley expects exciting brand of cricket against West Indies

Even though the break was refreshing, Knight said that the uncertainty over the last few months made it tough for them to motivate themselves after a point.

"I think being away for 7 weeks at that World Cup, just to come home and spend some time with loved ones and be at home has been really nice," she said.

"(But) then I was sort of itching to get going again and know what the next thing was - which was actually quite hard because I am definitely someone who is motivated by what's on the horizon and what's coming up. So I think a lot of the girls found that a little bit difficult in terms of motivating themselves, but I think hopefully everyone will have benefitted from that big break and everyone's certainly raring to get going again."

England named their 16-member squad on Wednesday (Sep 16), keeping two players on standby. Sophia Dunkley and Katie George were the additions to the squad that played the T20 World Cup, while Georgia Elwiss missed out because of a back injury. Knight conceded that though everybody's looking to get back to playing cricket, the focus is on working towards 2022, a year in which there are two World Cups and a Commonwealth Games.

"It's given us a chance to add to Sophia and Katie George to the squad as well, which is really nice," she said.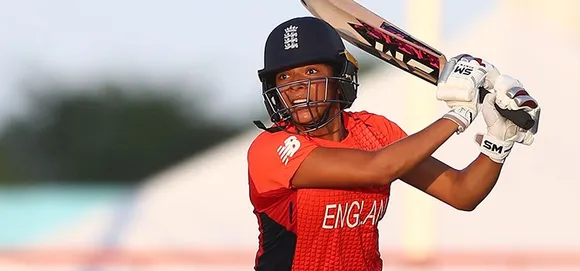 Sophie Dunkley is a part of the England squad for the series against West Indies. © Getty Images

"We're obviously disappointed that Georgia's (Elwiss) missed out through injury, but they are two very exciting young players that have really impressed us during that bubble and those warm up games. Sophia, at the back end of both T20 games and 50 over games has been outstanding, and Katie's really improved. She's improved her consistency and can be a real match-changer for us - certainly very exciting for the future."

Four of the five matches are evening matches, with live telecast as well, that would act as an additional motivation for the players. However, because the series is being played behind closed doors, no crowd would be allowed to the venues. But Knight said that the team has gotten used to that during the intra-squad warm-up matches as well as the Rachael Heyhoe Flint Trophy matches.

"We sort of have gotten used to that," she conceded, "so it will be slightly strange without support in there, but we have done it in warm up games. And every time you go out and play for cricket you have your own personal pride and wanting to do well for the team, and obviously trying to win games of cricket is what we get paid to do, and what we love doing as well."

"It's slightly strange in the different segregations of the ground... It's a little bit like a sci-fi movie at times, but hopefully we are used to that and we can go out and do what we do on the pitch!"

https://open.spotify.com/episode/1W2TflzuLy0KsHSTVRvPXY