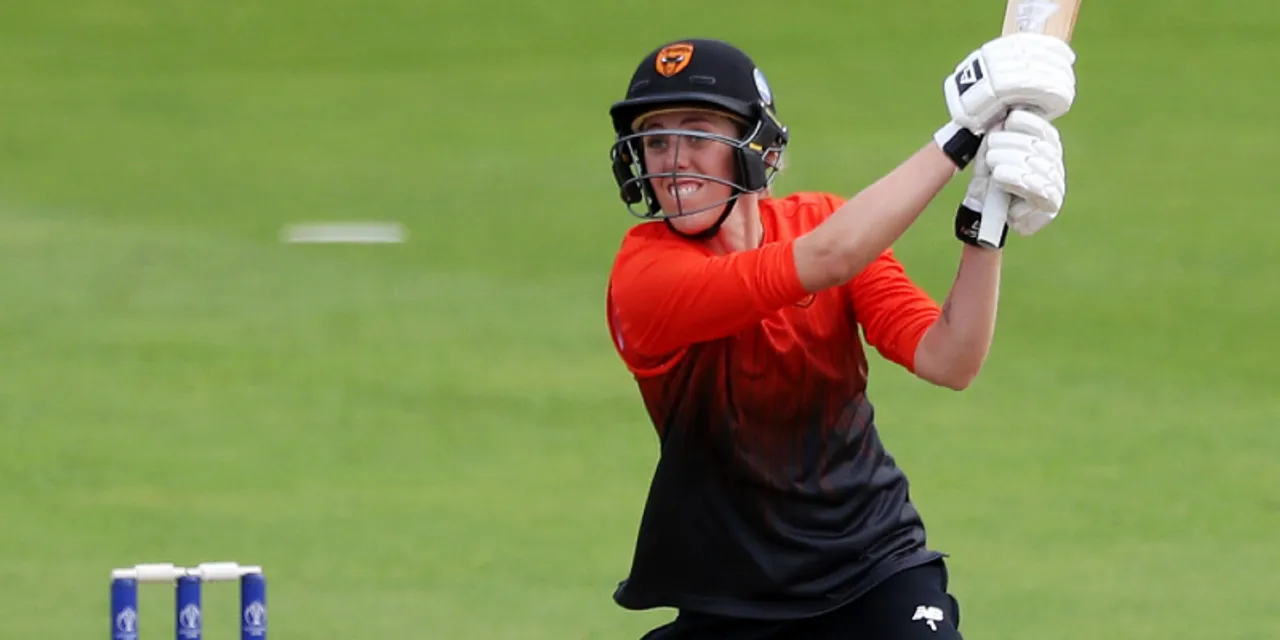 Georgia Adams, Southern Vipers skipper, is "chuffed to bits" about reaching the final of the Rachael Heyhoe Flint Trophy after the team registered a
32-run win
over Western Storm on Sunday (September 13).
"I think we have worked so hard. We've got a great environment; we've got a brilliant management team, and I'm chuffed to bits for the girls that we've managed to get there and so soon, especially with the way Storm has been playing." Adams said.
"We knew that they're a really tough team to beat and the Vipers and Storm have got a long history. So, to get a win and a big win like that, I'm a bit lost for words, but I'm so pleased for all the girls."
Vipers have now won all five of their games so far taking their points tally to 23, and they are now guaranteed a top of the table finish in the South Group, thus securing a place in the final to be played on September 27.
ALSO READ: Yet to play to our full potential, says Southern Vipers skipper Georgia Adams
Batting at the top of the order, Adams has been in terrific form and currently sits on top of the tournament run-charts with 379 runs at an average of 94.75 to her credit. On Sunday, she registered a career-best List-A score - 154 not out - to take her side to a daunting total of 288 for 1 in 50 overs.
"I thought I sort of focused really hard. I really wanted to get a hundred," she said of the knock. "I think I put in some good innings before and haven't quite been able to go the whole way. And then at the end there, sort of, you know, playing some ramps and sweeps is not really my game, but it just kept coming off the middle."
Adams said she was pleased with herself for the way she pulled through the last sixty runs even as she was cramping up. "I would have liked a new calf at one stage," she joked. "I think
just a cramp. I've never really been one to get to cramp up, but yeah, I'm glad that I managed to pull through and I was really glad to be on the on the field for 50 overs with the girls as well."

ALSO READ: Sophie Luff is a warrior, says Western Storm head coach Mark O'Leary

The 26-year-old lauded the team for their collective effort in all three departments and picked teenage opener Ella McCaughan and Maia Bouchier for special praise.

"I thought it was a nice (bowling) attack. I felt really good and the thing is, you can't play knocks like that without support from the other girls," she said.



"So, I think the partnership that I had with Ella McCaughan early on was vital. And to get a hundred I think, one hundred and fifty partnership allows for someone in the team to go big the way that I did. And then at the end, Maia Bouchier coming in, she made it easy for me. She strikes the ball so hard. We kept laughing because I was a little bit like, 'Right, I'm just going to go for it now' and kept finding the middle of the bat."

Adams praised the bowlers for holding their nerve during a big partnership between Storm skipper Sophie Luff (79) and Natasha Wraith (68). She added that whenever the side has been under pressure, they have found someone to step up and deliver - a quality that holds them in good stead heading into the final.

Also Read: If you keep scoring runs, they can't ignore you, says Sophie Luff

"Me and Luffy, we go way back, and she's a proper batter as well and she's capable to go big. So, I think the way that we sort of managed to restrict her to the best we could was really impressive from our bowling attack," Adams added. "I think the girls bowled really, really well. They held their nerves when they could have possibly cracked. We also held our catches as well, which is really important in competitions like this."

"I think the way we're playing at the moment, we're hugely confident and we're putting in real team performances - we're not a one man show."