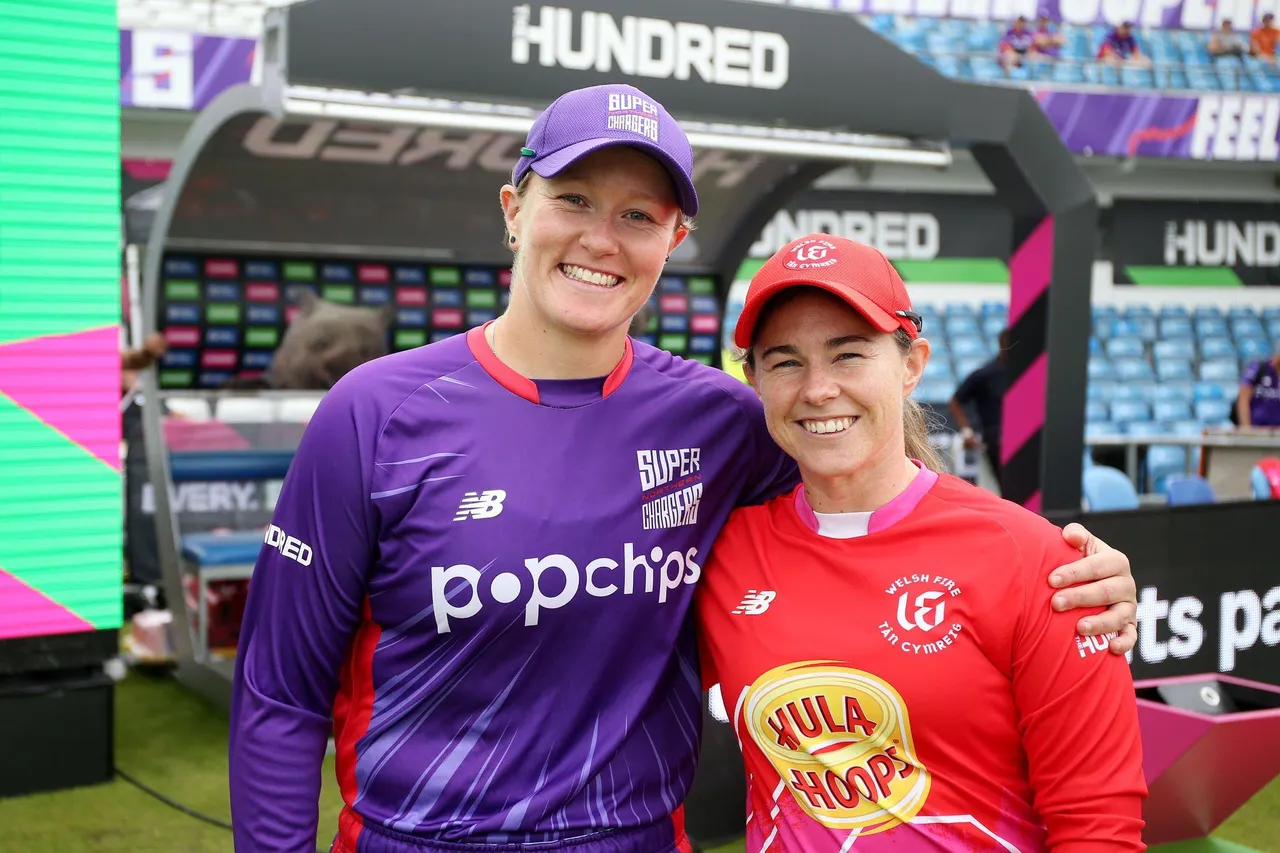 After a thrilling group stages, Northern Superchargers and Welsh Fire secured their first-ever spot in the play-offs of The Hundred Women's Competition. The stakes are high for both teams as they gear up for the Eliminator at The Oval in London on Saturday (August 26).
It was an exciting summer and records were shattered left and right in The Hundred. Tammy Beaumont of Welsh Fire set a new record with an amazing innings of 118 off just 61 balls - the highest ever individual score in either the men's or women's tournament. Meanwhile, Fi Morris of Manchester Originals picked up the first five-wicket haul in the women's competition.
The winner of the Eliminator will advance to the Final at Lord's to face Southern Brave on Sunday (August 27), who secured a direct berth to the final with their near-perfect league stage performance where they lost only one match.
This was a massive turn around for Welsh Fire after a couple of rough seasons where they managed only three wins from their 14 matches.
"They were saying Welsh Fire shouldn't be at Cardiff and yeah maybe men and the women have really turned things around and unfortunately the guys missed out so we'll be trying to do it for them as well," said Fire captain Beaumont on the eve of the Eliminator.
"We've got the strategy right really well to import the likes of Shabnim Ismail. It was something we identified that we massively need and then batting talent available in the draft, I think it's been really important so you got the kind of talent and the players in the team."
Northern Superchargers fared relatively better in the first two editions but still couldn't make it to the knockout stages. In the current season, they finished second in the table, winning six of their eight matches while Fire were one point behind  Superchargers in third place, winning five of their eight matches.
When the two sides met in the final round of group matches, Superchargers got the better of Fire with a 16-run win.
The highest run scorer from the Yorkshire-based Superchargers, Phoebe Litchfield has been instrumental for skipper Hollie Armitage and her team with 266 runs from eight matches.
"I think it's been really important I think about the way that she (Phoebe Litchfield) has taken the game on especially being a late sign, She's taking the game and she stuck in straight away and I think the contribution she's already had for us in that middle order been beneficial and hopefully she can do the same this weekend," Armitage said on Friday (August 25).
For Welsh Fire, their top order has done the bulk of the scoring with Beaumont, Hayley Matthews, Sophia Dunkley, and Sarah Bryce together compiling 718 runs while the rest of them have scored 218 runs.
"I guess it goes without saying because tactically they're stacked at the top of the order, it's no different to most games (from any) short-form cricket, but taking early wickets is going to be massive to break up, particularly their opening partnership and you speak about that a lot if you take three weeks it's in the power play then you stand a really good chance in the game moving forward and they've got some high-class batters so hopefully if we can pick up some quick wickets early on that'll hopefully stand us in, good stead for the rest of the game," added Armitage.
Sophia Dunkley has turned around her form after a middling Ashes. After representing Brave for two seasons, she was picked up by Welsh Fire in the draft, Dunkley has scored an impressive 224 runs this season.
"Dunks (Sophia Dunkley) has done brilliantly, we hit it in quite different areas and it suits batting together really well and we have that understanding. I know when she is having a good day then I get her on strike. If I'm having a good day she gets me on strike so yeah really enjoying that and loving how much success she's had for the fire," Beaumont added.
With Marie Kelly also firing with her role at the top of the order in addition to what Litchfield has one, and if Jemimah Rodrigues also can come to the party, it will be a battle of top orders in the Eliminator.
Both Fire and Superchargers will have an eye on the trophy when they take the field on Saturday as women's cricket continues its growth in the English summer with unprecedented crowds turning up for almost all the matches.
"You know potentially ending up holding that Trophy on Sunday but yeah I think it's funny when we won a couple of matches, I was like 'Don't you dare talk about it, like don't jinx it, don't go there' but thinking about everything we've done and  I've found some of the records we've managed and then the next game we beat it again. We've got the lowest totals so we've kind of done all these amazing things but yeah I guess we have to find a way to handle that and it will certainly be something we'd love to do but it all kind of starts with tomorrow," Beaumont concluded.
"It means a lot I think from any cricketer's point of view if you can lead your team out in the final at Lord's is a really special thing and we've not been very successful the last couple of years so we've got to take one step at a time but hopefully we can be there on Sunday,: Armitage had her say as well.
Who will have the final laugh and take their team to the final at Lord's? Will it be Beaumont or can Armitage and Co stake a claim with their performance? We will have to wait and watch.