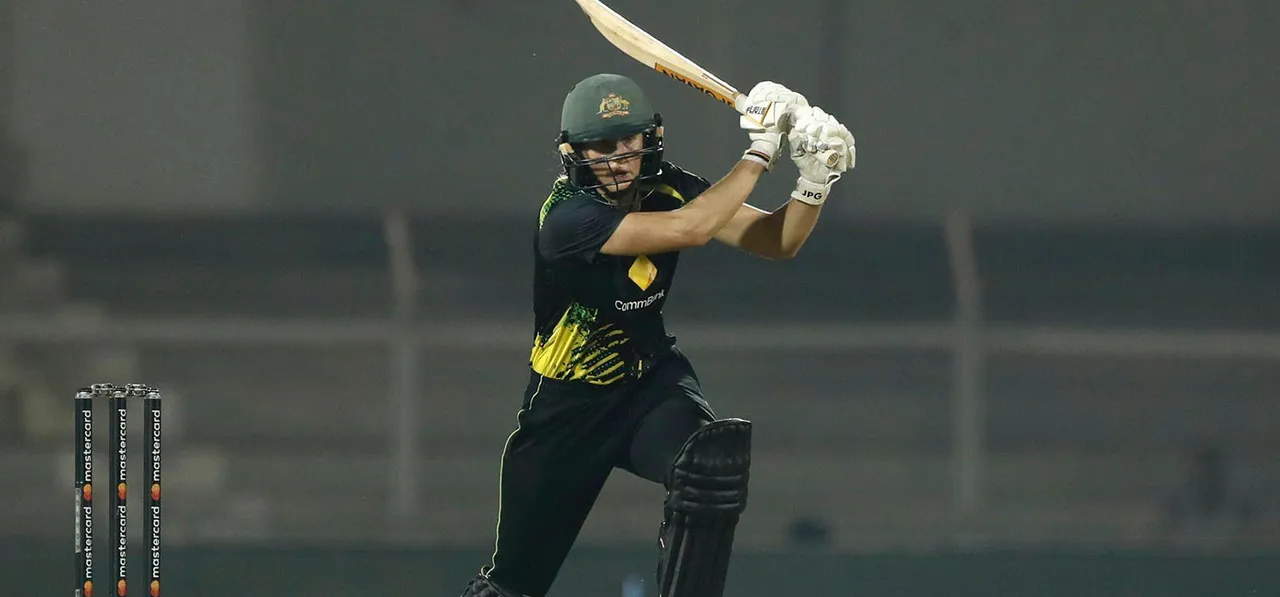 There have been many great cricketers who graced women's cricket, from the legendary Rachael Heyhoe-Flint to Mithali Raj, from Enid Bakewell to Karen Rolton. Everyone left their marks on and off the field as the women's game grew and evolved over time. 

As women's cricket moved into the professional era, the game also saw players getting popular with the casual viewer and fans that started following women's cricket as an extension of their men's cricket viewing habits. In 2014, Cricket Australia announced a marketing contract with three women's cricketers – that was eventually extended to four players – to be the faces of women's cricket in Australia. 

                                                                              ******

Back in 2008, Ellyse Perry made her international debut at the age of 16 and before her 18th birthday, she had her first taste of T20Is as well. And on her debut in the shortest format, Perry showed her inclination for limelight straight away. 

Walking in at 71 for 5, Perry scraped hard to score an unbeaten 29 off 25 balls and took Australia to 127 for 5. She then made sure that her efforts with the bat didn't go to waste. The pace-bowling allrounder put on an incredible performance with the ball where she took 4 for 20 from her four overs to help Australia to a 21-run win in the only T20I at the MCG. 

This performance would only end up as footnote in her illustrious career, but Perry wasn't like others even as a shy, teenager with braces. She had that star quality about her.
                                                                               ******

Cut to 2018, Perry had already achieved everything that's there on the cricket field. She had won the 50-over World Cup, had multiple T20 World Cup titles to her name, and had star turns in Ashes campaigns. She was already a global super star in a fast growing game.

Perry was always soft spoken but as one of the ambassadors of the game, she carried herself well on and off the field. Ellyse Alexandra Perry was infallible – nothing could stop her, even the larger than life persona media gave her sat lightly on her shoulders.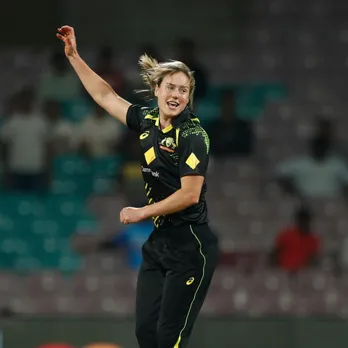 ALSO READ: Tahlia McGrath: The sequel

But then came the T20 World Cup in West Indies, Matthew Mott's Australia were ruthless in their quest to be the best in the world. They wanted their global titles back having lost them to West Indies in the shortest format and England in the ODI arena. 

And Australia's pursuit of excellence meant the world's best allrounder wasn't good enough to bat in the top five for the side. That was the first time question marks were raised about her batting strike rate in the format. Mott talked about the need to have better strikers in batting order and Perry having to earn the spot. But her bowling meant her inclusion in the playing XIs was never in doubt.

Then came the home world cup (T20 World Cup 2020) and there was immense pressure on Australia and Perry to make it a spectacle as they wanted to showcase the women's game to the world. The hosts stuttered on their way to the historic final at the MCG, but in the process Perry injured herself and missed the knockout stages of the game. But she was there to lift the trophy on international women's day on March 8, 2020 in front of 86000+ crowds. 

                                                                              ******

World went into a lockdown post the seminal tournament and Perry was on her long road to recovery. She had to have a surgery for the injured hamstring and couldn't bowl on her return to the Australian side. Although she bowled a couple of overs against India in Canberra in October last year, Perry wasn't her usual self.

A terrible WBBL campaign followed - seventh edition of the tournament - where Sydney Sixers led by her finished at the bottom of the table with only four wins. Her ability with the bat meant Perry was the leading run-getter for Sixers, but now the consensus was that she wasn't scoring them fast enough with a season strike rate of 91.32.

                                                                              ******

Then the New Year ushered, and when Australia took on England in the first T20I of the multi-format Ashes, Perry wasn't part of the playing XI. It should have felt like a bombshell, but it felt inevitable. World talked about the game moving past one of its best allrounders. It felt like Perry was fallible for the first time. 

Now 31, Perry was still good enough to make to the squad but sat out of the whole Commonwealth Games campaign even as Australia won the gold medal without dropping a game. Australia had the batting resources to go deeper than ever and they showed it multiple times in the campaign. It seemed like Perry was just another player who couldn't make it to the playing XI.

                                                                              ******

Post the successful campaign in Birmingham, Meg Lanning – one of the other three cricketers who Australia chose as the faces of the game – decided to take an indefinite break from cricket for her mental well-being.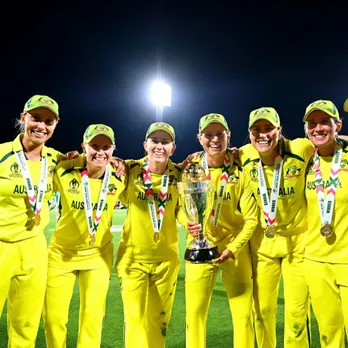 Perry was getting back to full fitness and had a successful WBBL campaign this time personally as well as the leader of Sixers. She led the Sydney side to the final of WBBL08 losing only three games in the process. It wasn't bad for her as a batter as well as she finished as the second leading run-getter of the tournament with 408 runs from 13 innings at a strike rate of 119.64. 

That strike rate wasn't anything ground breaking, but it was worth all the salt in some unusually tricky pitches during the tournament. But considering it was a massive improvement from her returns during WBBL07, people talked about intent and desire to get back in the Australia lineup. 

ALSO READ: Matthew Mott: Tale of some deep scars and unparalleled legacy

When the squad for the India tour was announced, Perry was always going to play key role with Alyssa Healy – the fourth member of Australia's marketing contract in 2014 – in the absence of Lanning. And now that she was back bowling, there wasn't any question of her not making the XI either.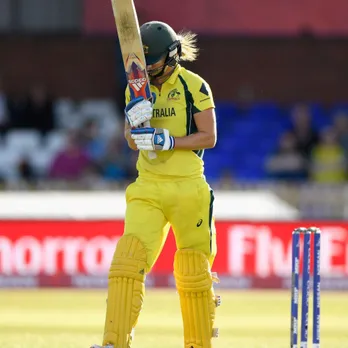 But questions still persisted, how and where they could fit Perry in a batting lineup full of aggressive, intent merchants as they say in new parlance. Rachael Hayens' retirement might have also helped them make that decision easier, but they still had young Phoebe Litchfield waiting.

                                                                              ******

December 14, 2022, Perry's wait to get back to batting was still going on as Beth Mooney and Tahlia McGrath batted through most of the innings in the first two matches. Australia didn't lose more than one wicket in the first two matches on good batting conditions. And the wait continued.

Having won the previous game in the Super Over, India were on a high as they took out Healy and McGrath inside the first two overs. 

In walked Perry in front of a delirious crowd at the CCI Stadium – a ground where she had multiple fond memories, batting for the first time since October 10, 2021. She played out first two balls and then leaned on the drive and placed it through covers for her first four. 

Perry continued to play a few cracking shots and hit two sixes also on her way to a fifty from 33 balls – her fastest in the format. She finished with her career-best knock of 75 off 47 balls to help Australia to a win.

ALSO READ: Ellyse Perry powers Australia to 2-1 lead

Two days later, Perry walked in at 46 for 2 – effectively 46 for 3 with Healy walking off having suffered a strain in her leg. And on the first ball she faced, the talismanic allrounder, slinked down and launched Radha Yadav straight down the ground for a maximum.

Ashleigh Gardner, player of the match from the game, talked about that six taking India by surprise and Australia went on to register the biggest score of the series 188 for 3. Perry just bettered her fastest fifty once again as she brought up the landmark from 32 balls this time. A couple more huge hits in the final over bowled by Deepti Sharma took her score to 72 off 42. 

Is this the dawn of a new Perry and has she finally became the intent merchant?

There were no ugly hoicks, there was nothing ungainly about her knocks. There were no cute shots; there was no loss of balance and no compromise on elegance that brought her laurels in the past. 

"The game's continuing to evolve and grow and you have to go with it. I'm really enjoying the opportunity batting with this group. Grace (Grace Harris) was absolutely amazing tonight, so was Ash Gardner," Perry said after that match while talking about the evolution of the game.

When asked about the talks on her future in the format, she said "I would be disappointed in myself as a sportsperson if I got involved in those conversations."

It was Perry of old and it was an effort of a champion cricketer to take on new challenges even as she remained her usual self – soft spoken and eloquent as ever – and stardom continues to sit lightly on the shoulders of Ellyse Alexandra Perry. 
media widget