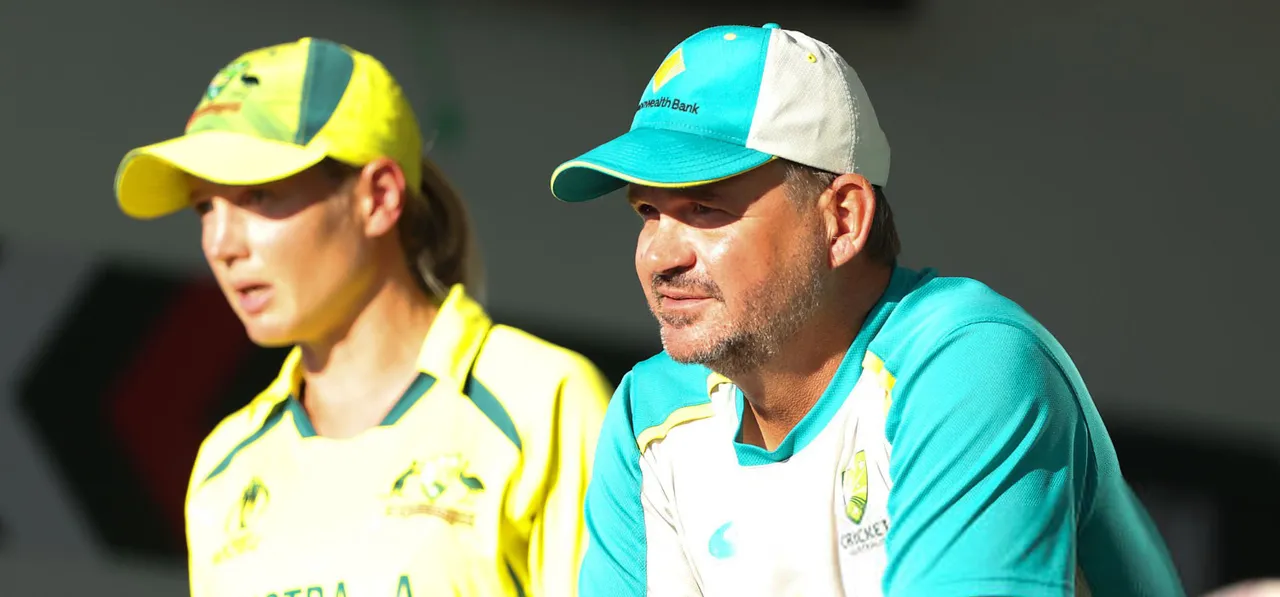 Matthew Mott was in-charge of one of the most dominant teams for seven years.
On April 3, when he stood in the huddle after Australia lifted the Cricket World Cup trophy for the seventh time at the Hagley Oval in Christchurch, Mott's voice was a little shaky. He sounded like a proud father whose kid just won a race for the first time. 
"I just want to say that, we have been away for three months. We had a great first half and we had an excellent second half. The way everyone stepped up at the right time was absolutely incredible," he said. 
Even in his team's highest moment of glory, he did not forget to applaud Natalie Sciver on her spectacular innings of 148 not out. "It was a special innings from Sciver, but I am just so proud of this group." 
Many in that group were with Mott when it all started back in 2015.
Just a legacy to protect
Mott took over the responsibilities from Cathryn Fitzpatrick when she was at the peak of her coaching career. Fitzpatick was given charge in May 2012 after Richard McInnes' stint and there was no looking back. Under her watchful eye, Australia successfully defended their T20 crown in Sri Lanka in 2012.
Jodie Fields' side wiped off the bitter memories of the home World Cup in 2009 with their sixth ODI World Cup title in India (2013). Even the change of guard with captaincy didn't put a crack in Australia's dominance as the 22-year-old captain Meg Lanning lifted her first ICC trophy in Dhaka (T20 World Cup 2014). 
By the time Fitzpatrick hung up her boots at the end of her three-year stint, she had etched her name in the annals of the game as one of the most successful coaches.
Even with the unprecedented success in the ICC events, under Fitzpatrick, Australia could not lay their hands on the Ashes trophy. Despite a shocking performance in the 2013 Cricket World Cup, Charlotte Edwards' England lifted the Ashes trophy for a second consecutive time in January 2014. Mott was handed a team of semi-professional players and his work was cut out even before he started as a coach in March 2015.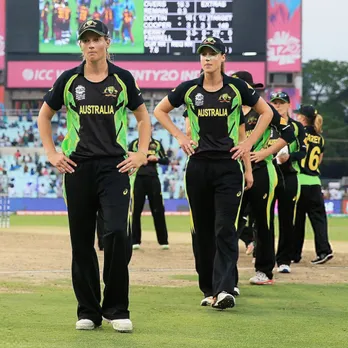 Australia's loss in the 2016 T20 World Cup final was shocking by all means © Getty Images
A few deep scars
Jess Jonassen took a diving catch to end Lydia Greenway's fighting innings in the second T20I (Ashes 2015) and for the first time, Australia's trophy cabinet was complete. Vice-captain Alex Blackwell was over the moon in her chat with cricket.com.au after winning the Ashes for the first time since 2011. "We have got a full cabinet now. We couldn't ask for any more trophies at this point in time. We are number one in both formats and we had a great tour," Blackwell said.
Despite losing the T20I leg of the multi-format Ashes series, Mott had already delivered in his first-ever assignment as the head coach of the number one ranked side. In early 2016, India came to Australia and the visitors bagged their first-ever bilateral series win in T20Is against Australia. Not many made a big fuss out of it because even the world champions are allowed to have off days on the field. Lanning's side went across the Tasman Sea (in 2016) before the T20 World Cup and they lost their third consecutive T20I series in New Zealand. 
ALSO READ: How The Derby Eight Led The Way In Australia's Five Year Masterplan
Eyebrows were raised, methods were questioned, but pundits still hailed Australia as the absolute favourites to defend their title in India. Coach and captain marshalled their troops and Australia silenced their critics by making it to the World Cup final yet again. A seemingly well-crafted campaign crash landed in the final against West Indies at the Eden Gardens in Kolkata. It would not be a hyperbole to say that no one saw it coming. 
Lanning recalled the shocking loss in the 2020 documentary "The Record" and said how it left a long-lasting mental scar on those involved in the final.
"Me and Motty actually spoke about 2016 (final) against West Indies. I think we went out there in the field, thinking we had already had it won. So, we were very mindful not to do that this time," Lanning said while talking about the
final
of the T20 World Cup 2020.
13 months into his tenure, Mott's team was without the T20 World cup title for the first time since the inaugural edition in 2009. A year and a half later, 'the favourites' were sent packing by India's outstanding performance in the semi-final of the Cricket World Cup 2017 in Derby. Two years after that triumphant 'Cabinet full of trophies' moment in England, Mott and Lanning looked on as two trophies left the Australian shores and they were left with no world triumphs.
ALSO READ: Australia: The invincible clan
"Fearless, team first, informed and accountable"
Australia's resurgence after the failed 2017 World Cup campaign is well-known. After being the number two ranked ODI team for four months after the World Cup, Australia regained their pole position as they beat the World Cup champions 2-1 in the Ashes series even as they lost Lanning to a shoulder injury. They did lose the T20I leg once again, but the Ashes trophy remained home. 
What followed was a 'captain and coach' partnership masterclass for five years. 'Tactics' became the buzzword. Batting and bowling match-ups were the talk of the town whenever Australians took the field. New recruits were brought into the squad to fit the role and not the other way round. Players got the opportunity to express themselves without the fear of getting dropped from the side. Creating multiple plans for batters and bowlers became the norm. There were bold decisions that perhaps shocked the outside world, but were acceptable within the side.
This led to bringing Delissa Kimmince back and making full use of her bowling variations in the death overs, promoting Alyssa Healy to open the batting. (Mott gives credit to the former Assistant Coach Tim Coyle for persisting with the Healy move). Creating a pool of bowlers around Ellyse Perry, Megan Schutt, and Jess Jonassen and backing Ashleigh Gardner even when she scored four back-to-back ducks in the Women's Big Bash League (WBBL07) to name a few. Most importantly, they found a formidable leadership duo in Lanning and Rachael Haynes. 
ALSO READ: Rachael Haynes: The crisis negotiator
Talking to The Sporting News ahead of the multi-format series against India in 2021, Mott credited this resurgence to a document that listed Australia's values as a team. Those were: fearless, team first, informed, and accountable. "I said all we want is a one-pager," Mott said. "We don't want any more fluff. We just want one page that we can live by, we can hold each other to account on. They came back with a fantastic document, very succinct, and we've lived and breathed that since then."
The coach and the team hit rock bottom together and then created an unparalleled legacy of their own on and off the field.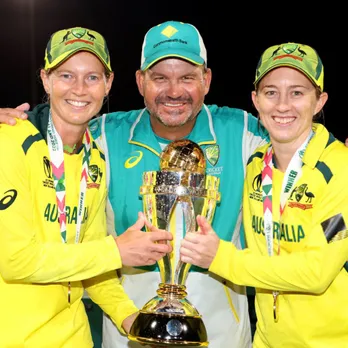 The five-year master plan has come to fruition for Australia © Getty Images
Parting with a heavy heart
"It's one thing being the most skillful team in the World but the thing we love the most about this team is the ability to fight," Mott continued in the Hagley Oval changeroom on April 3. "They (England) threw everything at us in that innings and we know what it feels like to be on the other side of it. The way everyone just stepped up at the right times was absolutely incredible." 
Cricket, as a sport, doesn't allow many fairy-tales. But Mott's final match of his coaching stint with Australia was the one he planned for ages. After four victorious Ashes campaigns, two T20 World Cup titles, the record-breaking 26-ODI winning streak, and the World Cup title, Mott is bidding adieu to a team that reached unparalleled heights of dominance during his tenure. 
"I leave with a heavy heart but with so many wonderful memories," Mott said in his parting message. "This playing group is led magnificently by a number of players, including Meg and Rach, who have together helped forge a culture which will thrive for many years to come. I wish the team all the best and look forward to seeing them grow what's become an incredible legacy."
Mott is leaving the team the way he found it, with a cabinet full of trophies and a team hungry for unparalleled success. 
For now, Shelly Nitschke has been appointed as the interim head coach till the Commonwealth Games. Irrespective of whoever takes over full time from there, they will have the responsibility to carry forward 'The Matthew Mott legacy.'