How many players have scored a half century in their first meeting against the best team? Not a lot of names will cross your mind. But one just cannot ignore this young Irish wicketkeeper-batter. On July 25, in her first ever match against the World Champions, Amy Hunter became the second batter from Ireland to score a half century against Australia after Miriam Grealey.
"This series against the Aussies is our only action at home this summer, which I'm looking forward to. Unfortunately, I missed the Tri-Series against Australia and Pakistan last year due to tearing my quad in the last training session before we went into camp. I was absolutely gutted to be honest, so I'm glad to have another opportunity this year to take on the world champions," Hunter said ahead of the series.
Take on the World Champions, she did!
After the first ODI was washed out, Ireland were up against in the second game as they were chasing a mammoth score of 322 to for an improbable win.
When Hunter joined Gaby Lewis, Ireland were struggling at 20 for 1 in the sixth over with Leah Paul's laborious innings coming to an end at the hands of Kim Garth and the duo had the uphill task. They would have been forgiven if they decided to go into a shell. Instead, the pair decided to take on the bull by the horns, especially Hunter.
ALSO READ: Amy: The new Hunter in town
In the ninth over, Darcie Brown bowled a short ball and Hunter without any fear pulled it to perfection towards the square-leg and scored Ireland's first boundary of the match.
They kept ticking the scorecard with singles and doubles. When Annabel Sutherland came to bowl the 13th over, Hunter decided to go after the young seamer, she pulled Sutherland for a four towards mid-wicket and followed it up with the first six of the Irish innings.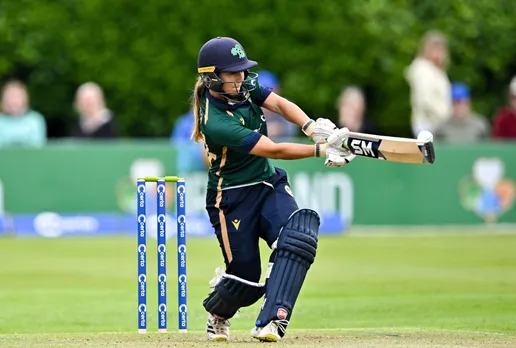 This prompted captain Alyssa Healy to have a bowling change, she brought Wareham into the attack, but it didn't make any difference to the fearless Hunter. In the very first over of Wareham, she courageously went over mid-on and successfully managed to clear it for a four. And later on she hit the leg-spinner for a maximum over long-on.
Lewis and Hunter added runs at a brisk pace as they amassed 89 runs off 90 balls. This turned out to be the highest partnership by an Irish pair against Australia, surpassing the 30 year old record of 64 runs which came way back in 1993.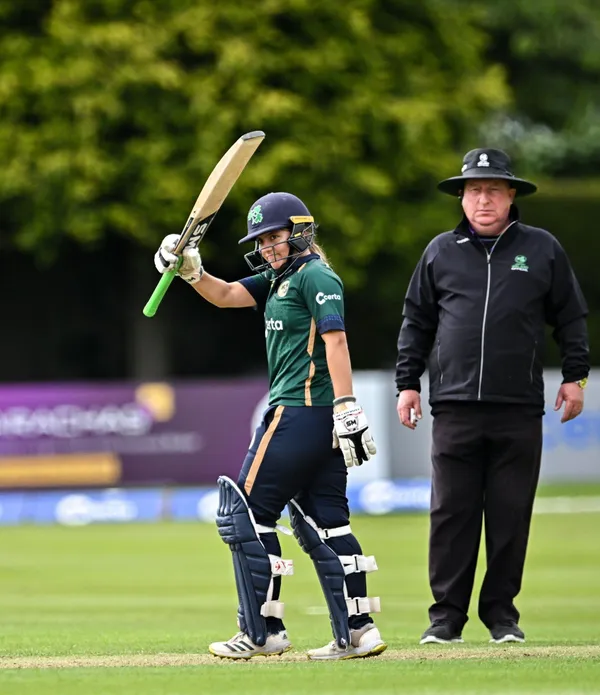 Although Ashleigh Gardner provided the breakthrough by trapping Lewis for a leg before wicket, Hunter went on to score 50 from just 60 balls. However, once she went, Ireland's innings fell away and the hosts succumbed to a big defeat.
During the West Indies tour ,Hunter struggled when the pacers pitched it short and even got out pulling the ball. And the young batter was disappointed with her returns. She had miserly ODI series with scores of one, one, and four. Although she showed improvement in the T20I leg, Hunter wasn't happy with her efforts."As for my own game, I was disappointed with my batting return in the ODIs against West Indies," she added. "There are a number of areas that I'm working on with the coaches around technique and learning to read the situations of the games a little bit better. I'm just looking forward to getting the chance to test myself against the world's best over the next 10 days."
Hunter was not even born when Australia last toured Ireland for an ODI series in 2005. But she showed how much of a quick learner she is and why she has been rated so highly by many across the world at such a young age. Not that anyone needed a reminder about a talent who grabbed headlines on her 16th birthday by becoming the youngest international centurion in the world.
Amy will continue to weild her sword and showcase her talent to the world for this Hunter and  is here to stay.