What were you doing on your sixteenth birthday? Was it a remarkable day? Did you achieve anything significant up to that point? These are questions that can put someone in the throes of an existential crisis. But not Amy Hunter, for she is sixteen and has her whole world ahead of her.
October 11, 2021: Hunter turned 16.
Ireland were playing the fourth and final ODI of their series against Zimbabwe at the Harare Cricket Club.
Despite the number of talents involved, an Ireland-Zimbabwe clash is a low-key affair even at the best of times. The series was historic for the hosts, for they were playing their first official series in the format after being awarded international status. The visitors were returning to the format for the first time since 2018 and they were already 2-1 up in the series.
Zimbabwe skipper Mary-Anne Musonda opted to field in the hope of levelling the series. Ireland's in-form openers Leah Paul and Gaby Lewis – who shared two consecutive century partnerships in Ireland's two wins – took strike. They added 40 runs before Paul fell to Esther Mbofana in the ninth over.
In walked Hunter, with a grand tally of seven runs in the format. She made her ODI debut in the first match of the series, batting at No.7, and was out for two. In the next two matches, she was promoted to No.3, but managed only two more single-digit scores.
ALSO READ: Laura Delany, Gaby Lewis eager to take massive strides ahead of crucial year for Ireland
Hunter played out six dot balls while Lewis was looking in pristine touch at the other end.


***
Amy Hunter with her Instonians CC Under-11Cs team-mates © InstoniansCC/Twitter
Rewind to a few years ago; Hunter is now eight/ nine years old. It was a Friday night. She was starting her cricketing journey with the Instonians Cricket Club Under-11 C team. In the year after she went on to play NCU boys Under-11 side.
Two years later, Hunter made her debut in Super 3s – Ireland women's domestic competition –for the Dragons. She was also selected to play for Ireland's Under-15 side. The prodigy continued her rapid strides from thereon. Under-19 selection followed the next year and then the Ireland Academy.
In November 2020, at the age of 15, Hunter received her maiden call up to represent Ireland against Scotland. Unfortunately for her, a postponement meant she had to wait a little longer. She eventually made her international debut in May this year in a T20I home series against Scotland. She batted at seven and scored two as Ireland lost the match by 11 runs. It was a completely unremarkable debut.
***
Ed Joyce took over as the head coach of the Ireland side in 2019 and they had to wait till May this year to play under him. Glenn Querl was appointed as the women's performance and pathway coach ahead of the series in April. The duo and management didn't put any pressure on Hunter despite three consecutive failures. She had worked extensively on her batting, mindset, and game plans with them. The main focus was on getting her to bat for a long time.
"The management team particularly Ed and Glenn just told me to be really positive at the crease and back my skills. No one put pressure on me despite previous low scores," Hunter tells Women's CricZone. "I have worked pretty closely with Ed this season, primarily on game plans and mindset. I have always struggled with batting for long periods of time but Ed has been invaluable to work with."
Now, back to October 11, 2021.
Hunter was still on zero off six balls, and at the other end, Lewis –another child prodigy – was in the form of her life. What were the thoughts going through the 16-year-old's mind?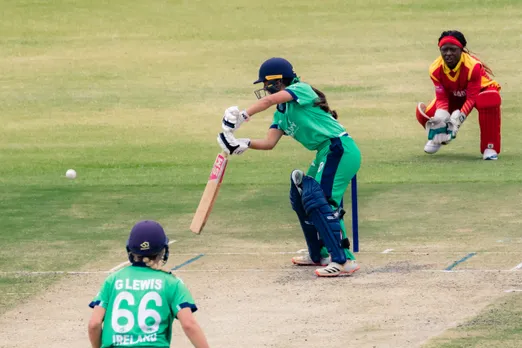 Amy Hunter and Gaby Lewis in the middle © Cricket Ireland
"I just wanted to give myself a chance to get in and experience what international cricket was really like," Hunter, a student of Methodist College Belfast, says. "The only real plan I had was to be really positive in my batting and to play my own game, taking bowlers on from the beginning."
11 runs came from the next four balls, doubling her career tally.
"I was just focusing on giving myself a chance and hopefully getting into double figures."
20 overs done, Lewis was batting on 51 off 55 and Ireland were one short of 100. Lewis looked on course for her maiden ton, but the focus was on posting a score that they could defend for an outright series win.
"It was great to be able to bat with Gaby. In the middle, Gaby and I mainly just chatted about batting long but still showing intent to score runs and to enjoy it. She was so supportive of me and kept reassuring me about my plans, it was an amazing experience," Hunter recalls.
Unfortunately, Lewis got out for 78 off 86 balls off the bowling of Loryn Phiri. Yet another opportunity to register a century missed by an Ireland player in the series along with Paul's 95 in the second match and Lewis' 96 not out in the third. Skipper Laura Delany joined Hunter in the middle.
***
Over number 31, Hunter was on 48 off 62 with Delany at the other end.
At the start of the day, all she had wanted was to reach double figures; now she was in sight of a milestone.
Off the second ball of the over, Hunter took a couple off Mbofana to reach her fifty. Considering her struggles through the series, registering a maiden international fifty was a significant achievement. She was thankful to have her skipper to guide her through it.
"It was great to bat with Laura. She's incredibly clear about her plans and I think this really helped me when I was out there as she helped me establish what I was trying to do and supported me in doing it," Hunter, who is supported by the Mary Peters Trust, says.
"I have played a lot of cricket with Laura at the Typhoons. She's an amazing person to play under as regardless of how you are doing, she will always support you and back you. This season when I was struggling for Typhoons, she kept backing and reassuring me. Laura has definitely made me a better cricketer. I have , and continue to learn so much from the way she goes about her game."
The right-hander continued to bat on at the same pace while Delany went after the home side's bowlers.
Over number 44. Audrey Mazvishaya was the bowler, Delany was on cruise mode batting on 45 off 41. But that wasn't important.
Hunter's score read 95 off 107.
Back in 1999, India's Mithali Raj was all of 16 years and 205 days when she scored an unbeaten 114 against Ireland to become the youngest centurion. Hunter had no idea about the record; she was oblivious of the record she was poised to smash.
Delany took a three off the fourth ball of the over. Hunter needed three to get to her hundred. She did more than that, and got four, casually flicking Mazhvishaya uppishly through square-leg for a boundary.
With that, Hunter had an international century to her name. An incredible achievement for anyone, let alone a 16-year-old in her first season at the top level. She took off her helmet, and raised her bat to the dressing room – red-cheeked, messy hair and all; her teammates erupted into applause and Delany hugged her.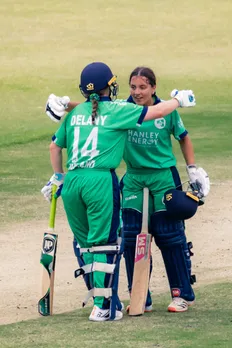 Amy Hunter celebrating the hundred with Laura Delany © Cricket Ireland
"It was pure relief and delight to be honest," Hunter remembers. "The girls and management were delighted for me as I had obviously gone through a bit of a tough patch just previously."
"It absolutely is the best birthday present I have ever had. To be honest, it wasn't even something I had dreamed about."
***
Women's cricket generally sees many teenagers make their way to the international arena. While many have impressed, and several gone on to become legends in their own right, none reached the heights that Hunter did aged 16 years and 0 days. She had become the youngest centurion in ODIs, and the first woman to score a ton on her birthday.
How big an achievement it was? Hunter was about to find out. Accolades poured from all over the world, even as the game petered to a finish with Zimbabwe falling well short and Ireland sealing the series 3-1.
"I found out about the record during the innings break but didn't fully understand how big it was until after the game."
ALSO READ: Tahlia McGrath's three acts
Mithali Raj, whose record Hunter had stolen, was amongst those who showed their appreciation of the new prodigy in town.
"It is quite surreal to be honest, I have grown up watching Mithali Raj on TV. So, for her to tweet about me was an incredible feeling," she says.
What followed was a flurry of interviews, even as the plaudits never died down. Overwhelming for one so young, you'd think, but like the hiccups in her first few innings, Amy Hunter just took it in her stride. After all, life is easy when you're 16… And it seems, so is international cricket!
"It definitely hasn't sunk in yet and I don't think it will for quite a while! I had hardly done one interview before, so it was quite a shock to do all the ones that followed," says Hunter.
"It is not something that I ever would have expected and while it was an amazing experience, it was definitely new territory and unlike anything I had experienced before. It was definitely a day I will cherish forever and never forget."