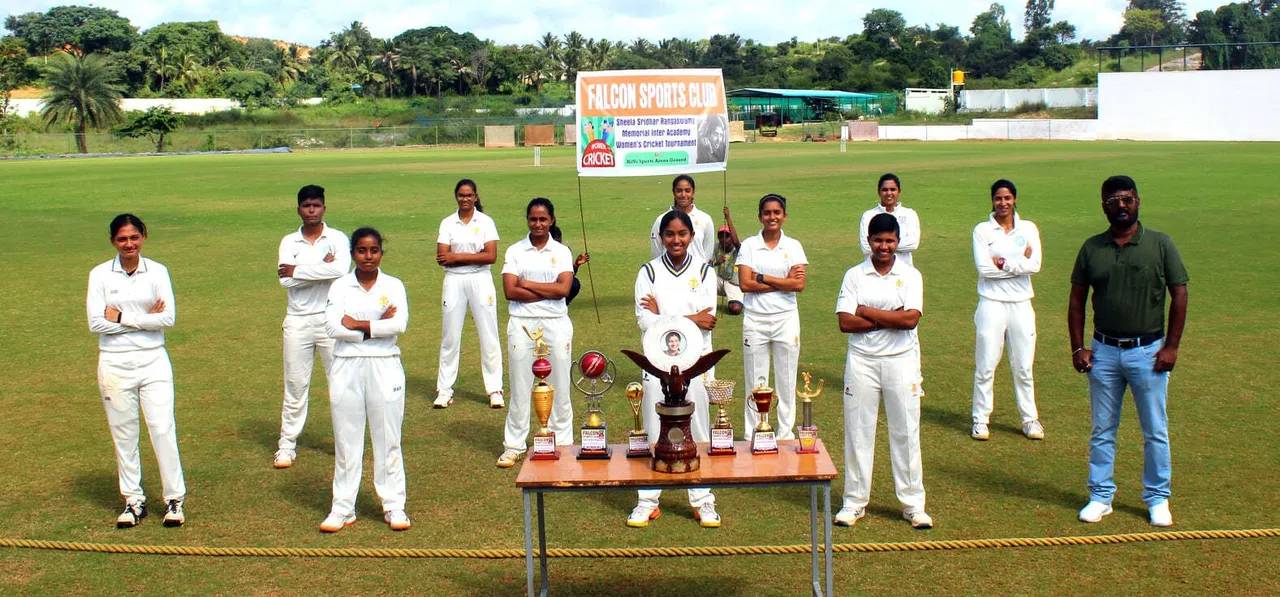 Since the successful
T20 World Cup final
in March, the Indian women have not played any cricket, and most of them are waiting for the
Women's T20 Challenge
. However, a few national and state players from Karnataka returned to the cricket field earlier this month through the Sheela Sridhar Rangaswamy Memorial Inter-Academy Women's Cricket Tournament.
The tournament, conducted in the memory of former India captain Shantha Rangaswamy's sister Sheela Sridhar Rangaswamy, used to be a regular fixture before BCCI took over women's cricket. Since then, it has not happened. This year, due to COVID-19, women cricketers, especially those who do not have BCCI contracts could be under significant stress - both mentally and financially.
"We were travelling to Baroda for the knockouts, and we were brought back," Karnataka allrounder Akanksha Kohli, who was in Vadodara for the Women's Senior One Day Trophy quarterfinal in March when the BCCI cancelled all the ongoing matches due to the pandemic, tells
Women's CricZone
.
Spending time away from the game was not easy for her. "It is very unfortunate, what has happened. But then, it is what it is. With the uncertainty over the future of the domestic season, it was very hard as a player."
ALSO READ: Returning on the back of strong domestic performance, Belinda Vakarewa hopes to make it count
As months went by, a group of cricket academies in Bengaluru joined hands with Rangaswamy to arrange a cricket tournament for the women who were deprived of action since March.
"We wanted to do it for the sake of the girls to revive this tournament. But instead of inter-club, we made it inter-academy. That way, we don't need permission from anyone," Rangaswamy told this website.
The players were divided into four teams - Cosmic Cricket Academy (CCA), Herons Cricket Academy (HCA), Karnataka Institute Of Cricket (KIOC) and Falcons Cricketers. Prominent players like Veda Krishnamurthy (CCA), Vanitha VR (KIOC), and Rajeshwari Gayakwad (HCA) also featured in the competition.
The matches were scheduled from September 9 to 18 at the KiNi Sports Arena in Bengaluru, with the COVID-19 safety protocols in place.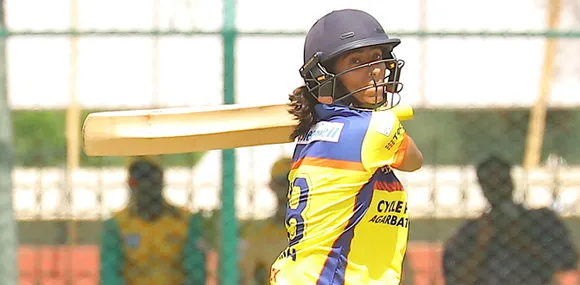 Akanksha Kohli in action. ©KPL
"We have strictly enforced social distancing, wearing masks and using hand sanitizers. We did not allow any spectators for the match. The protocols were followed for the safety of everyone," says Rangaswamy.
It was not a regular tournament; there were specific rules in place. The teams were not to have more than five senior state players, and only one among them could be a national cricketer, and two Under-16 players must be part of the playing  XI.
"We wanted to unearth new talents. We have seen immense potential in some of the youngsters in the tournament. Under normal circumstances, we could not have seen such talents play," says Rangaswamy, adding that the academies that were skeptical initially, are happy now.
Kohli, who was a part of the CCA side led by Krishnamurthy, resonated similar thoughts, adding that it was a crucial opportunity for the youngsters. "We might have seen a few young girls while playing in the local tournaments. But it was really fascinating to see young girls flourish out there."
Both of them spoke highly of the nine-year-old Uma Kashvi, who played for KIOC. "To be able to play with those whom she has watched and heard about growing up, Kashvi was brilliant in the field," says Kohli. Rangaswamy added that Kashvi is blessed with a lot of talent and has the makings of a very good cricketer.
ALSO READ: Mithali Raj rues lack of quality net bowlers during outdoor training
The teams played against each other twice, and it was the CCA and HCA that reached the final winning three matches each. KIOC, despite winning an equal number of matches, did not qualify due to Net Run Rate.
Coming after a long break, Kohli had a slow start to the tournament. In the first match, CCA were bowled out for 57 in less than 20 overs, and HCA chased it comfortably with six wickets to spare.
"We were kind of rusty initially," she says. "There wasn't any camp or practice. Straightaway we were playing 30-over matches, and it wasn't easy. We took our time to get into the groove."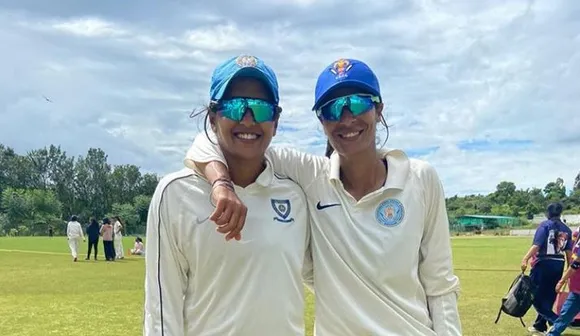 Veda Kirishnamurthy and Akanksha Kohli played key roles in CCA's victory. © Veda Krishmaurthy/ Instagram
As the tournament progressed, she started performing consistently with the ball. In the final, she made a crucial 40-ball 33 complementing Krishnamurthy, who led from the front with a 53-ball 47 after losing early wickets. They took the team total to 142 for 6. With the ball, Kohli provided the initial breakthrough as she dismissed Krishika Reddy in the third over. The CCA bowlers picked wickets at regular intervals and managed to restrict HCA to 109 for 8. Reema Fareed was the pick of the bowlers with her 4 for 26.
Kohli was delighted with her performance with the bat in the final. "I knew I can bowl well. I was surprised that I was able to contribute with the bat as well as I did. It was very critical that Veda and I clicked in the same game as there weren't many seniors in the team. Lucky enough, we were able to do that in the finals."
Simren Henry from KIOC was the leading run-scorer with 214 runs in six matches. Anagha Murali of Falcons took the maximum number of wickets (14), and her teammate Shubha Sateesh, who finished second in the batting and bowling charts, was awarded the best allrounder. The emerging player award was won by Pooja Kumari from HCA.
ALSO READ: Aim to help players in the fringes graduate to the next level, says Neetu David
Amidst the pandemic, the tournament was a small sliver of light for those who played in it. Now that it is done and dusted, the uncertainty has returned about when they can play cricket continually.
"The pandemic has certainly pushed women's cricket at least a year back," says Rangaswamy, especially after
the high
the sport witnessed in the T20 World Cup. However, she feels that with so many losing their lives to the virus, it might not be the right time for cricket to return.
Kohli, on the other hand, believes that from here on, it would be all about pre-planning and execution from the board. "It's not like the men are playing. Yes, the Indian Premier League is there, but the Women's T20 Challenge is also happening. I hope the BCCI would do whatever they can to get some matches for us, because we should also be playing as many matches as we can."
"If we do the planning and execution right, hopefully, we are not far away from getting back to cricket," she concludes.
With the BCCI announcing the
appointment
of All-India Women's Selection Committee headed by former cricketer Neetu David, one can hope that the women cricketers can return to the cricket field sooner than later.