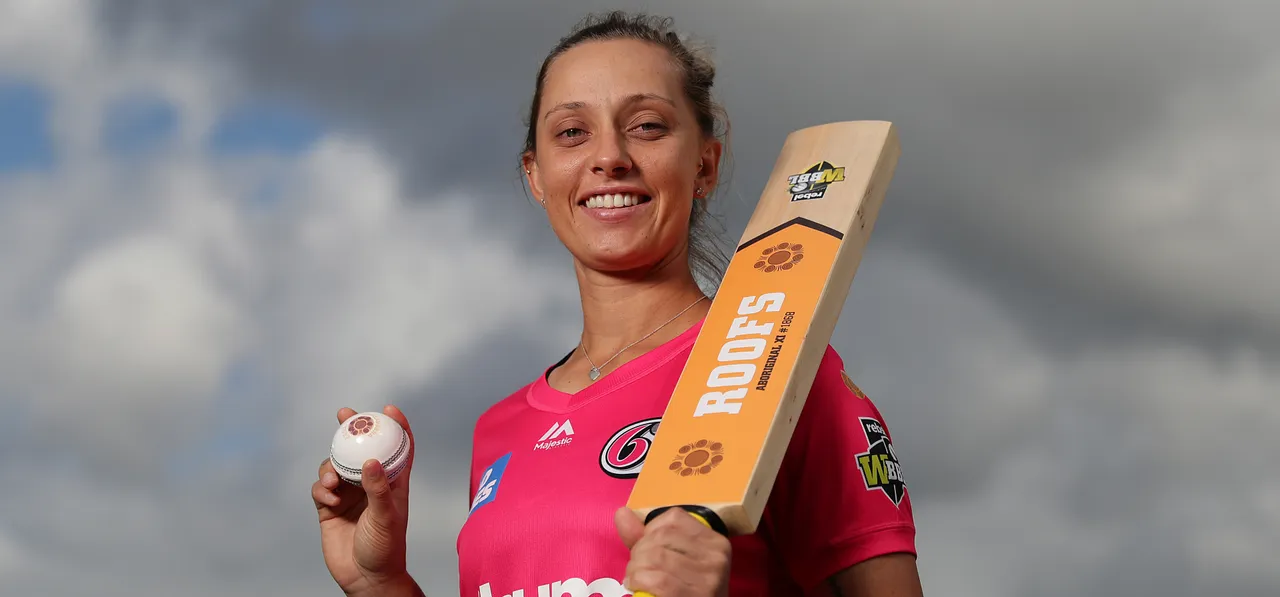 The Women's Big Bash League (WBBL) has been doing its bit to acknowledge Aboriginal people and their contributions. The teams have joined together in barefoot circles to acknowledge the Aboriginal culture. This weekend, the squads in the hub will again be doing their bit celebrating NAIDOC (National Aborigines and Islanders Day Observance Committee) Week.
Ashleigh Gardner, one of the five indigenous players in WBBL06, has been at the forefront of this educating people about the cultural aspects of it. She said it is something they all have been relishing.
"NAIDOC Week has been pretty cool to be honest, we obviously don't get to play throughout NAIDOC Week normally as it's throughout winter. I've tried to take a lead in that in that regard and almost try to educate people with as much as I know," Gardner said.
"It's something that's been really exciting to be able to play cricket. There's four other indigenous players within the hub of the moment so that's something that we're all relishing and which is really exciting."
ALSO READ: Rachel Trenaman keen to learn from Sydney Thunder's senior pros
In 2018, Gardner led a team of fellow indigenous cricketers to England to commemorate 150 years of aboriginals becoming the first sporting team from Australia to tour overseas in 1868.
"That was an awesome tour. It was a 150-year commemoration to the first of 18 that left Australian shores. To follow in their footsteps and to play at all the grounds that they played was pretty awesome," she said.
"It was just awesome from a cultural perspective as well. Just being over there with 11 other girls and the men's team as well and just sharing stories about whether that's cricket or what we're doing outside of cricket. I think it was something that was really special and hopefully we can do that again within the next coming years."
WBBL will also be celebrating First Nations Festival on November 14 and November 15. "Walkabout Wickets" artwork will also be featured during the weekend. Some of the teams have been sporting indigenous-designed kits during the season.
ALSO READ: We've got the depth in our batting line-up to win from any position, says Beth Mooney
"The walkabout wicket logo was designed by Fiona Clark who was a descendant of the first of 18 that left the Australian shores. It's pretty cool to have that family tie it to something that's quite significant. Basically, it's the big circle in the middle is the MCG which is where they played the first ever game and then the circles on the outside are all the grounds they played on in England," Gardner added.
Gardner also talked about the goal of her foundation, which was started to empower Aboriginal communities, and how she wants to educate young aboriginal kids and empower the people through education, sports and arts.
"Starting the foundation has been something that I've wanted to do for the past 12 months and is basically there to try and empower the Aboriginal community through education sport and the arts. Relating it back to sport which is obviously what I do for my career and also relating it to art as well which is something that I've picked up through COVID," she said.
"But more importantly trying to put an onus on the education part because I think that's the most important thing for young kids to do is get a really good education and hopefully change the trend that is within the Aboriginal community with some rates that probably need increasing."
ALSO READ: Sarah Aley confident of the Sixers' campaign despite injury scares in the camp
Sydney Sixers went down in two back-to-back games to Perth Scorchers this week. Gardner said they are disappointed as a team and will try to implement the things they learned from those two matches going forward in the competition. She also talked about how she is frustrated about not being able to contribute more with the bat.
"Coming off two losses isn't great but in saying that I don't think we've played awful cricket. That last game came down to the wire. We lost in the 20th over so it was obviously frustrating to lose both times to the Scorchers. Just taking the things that we learned out of that game and implementing and going forward."
"It's been pretty frustrating more so with the bat, I obviously play quite a pivotal role in this team and I probably let the side down a little bit throughout the power play. I haven't played my role very well. Alyssa Healy and I have both spoken about that and we obviously play that more attacking role and sometimes it comes off and sometimes it doesn't."
"I've played probably more of a role with the ball this year which is quite different. I've really tried to I guess adjust to whatever Pez (Ellyse Perry) needs me to do in whatever circumstance throughout the game. So that's been something that I've actually really enjoyed," Gardner concluded.