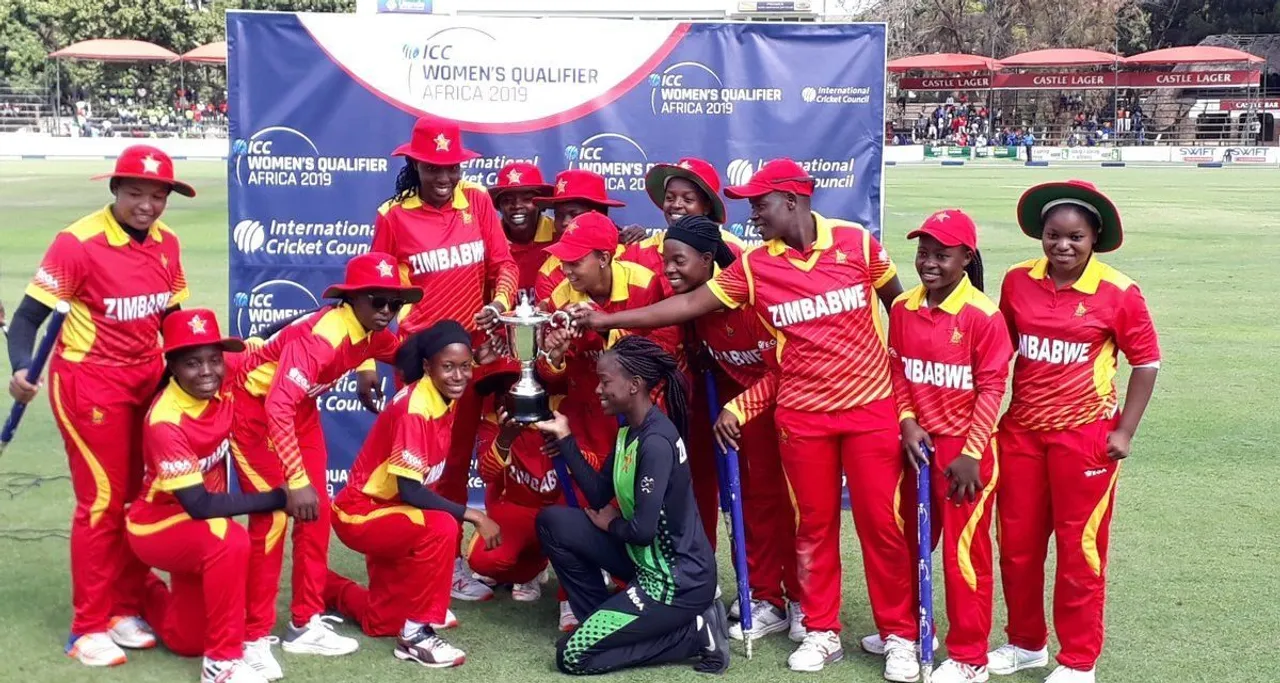 Zimbabwe coach Adam Chifo has stated that they want to learn from Pakistan when both sides face each other on February 9 in the first one-dayer at the Harare Sports Club. Pakistan will be playing Zimbabwe in three one-dayers and three T20Is.
"To us, Pakistan wouldn't have come at a better time as we are preparing for the World Cup Qualifiers in June," Chifo told
Women's CricZone.
"The Pakistan series is a huge opportunity for us, they are a very good side and sit at seventh in the rankings. Our players are in a very good mood and eager to go forward."
While
Zimbabwe are returning to the international fold
after 21-odd months, Pakistan are coming into this series after being beaten in five-consecutive games against South Africa. The Javeria Khan-led side lost all the three ODIs and the first two T20Is before earning a consolation win in the third and final T20I.
ALSO READ: Javeria Khan, Anam Amin secure consolation win for Pakistan in rain-affected T20I
However, Chifo is not in a mood to take their opponents lightly. "We respect Pakistan and they are really a good side. I personally think that the results from South Africa don't really portray the true Pakistan side.
"Yes they lost but you need to look at how they lost. Those were close games and probably on a good day they could have won those games. We are looking forward to learn from them," added the coach.
"We don't expect much in terms of results, but rather what we have done is that we have come up with our own goals in terms of processes."
The
15-member Zimbabwe squad
which was announced on Saturday (February 6) will be led by Mary-Anne Musonda and have quite a few key players missing. "It's pretty much the same team from the last time we played in 2019, but we are missing four key players.
"We are missing Sharne Mayers (currently in South Africa), Anesu Mushangwe (currently in Australia). We are also missing the services Chipo Mugeri-Tiripano, who is on maternity leave together with Nomatter Mutasa," Chifo informed.
ALSO READ: World Cup qualification, ODI status are only in mind, says Zimbabwe coach Adam Chifo  
"That means we have picked four new players whom we thought to give a chance to fill the void. We have a good team and I am pretty much happy with the composition of the squad. It's a chance for the new players to step up and raise their hands."
Pelajia Mujaji, who last represented Zimbabwe in 2017, has been called is back to the squad. Similarly, Christabel Chatonzwa and Esther Mbofana, who were not a part of the 2019 T20 World Cup regional qualifiers squad, have been added.
Chifo also admitted that the players are rusty considering the fact they haven't played international cricket for a long time but is confident to go certain levels up as they go in business through the course of the series.
"We are a bit rusty, I must admit. But in December we had our domestic leagues (T20s and one-dayers). After that, we went under lockdown for another time and couldn't practice open play. Coming back in the last week or so we played some regional games, which we are using to get the rust off the players.
ALSO READ: No clarity on South Africa's tour of India, BCCI says 'nothing has been discussed'
"I must say there has been a massive improvement from when we started. Obviously, there is still a lot of work to be done. But I am sure once we get the matches, we will go up certain levels," he said. The gaffer also added that they are focusing on the fitness of the players now.
"We are only focusing on the match fitness now, just trying to get the girls in the right physical and mental mind frames so that we can go through this tour. We would have loved a bigger and longer time to prepare," he stated.
Zimbabwe's return would have been faster had their limited-overs series against Namibia not being cancelled due to the closure of borders in Zimbabwe because of COVID-19. Asked what's next after the Pakistan series, Chifo talked about a busy schedule.
"I am told that we are speaking to South Africa, would love to return the favour to Pakistan by touring Pakistan and maybe get another international side before the World Cup Qualifiers. Locally we have got camps, regional competitions lined up," he concluded.