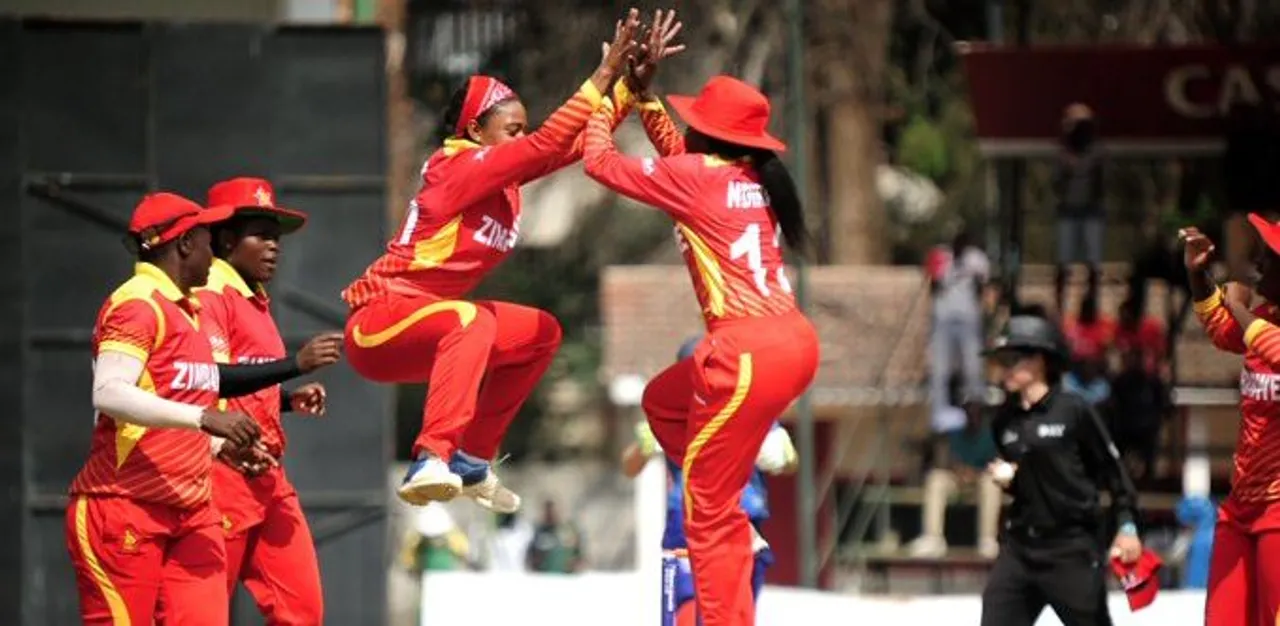 Zimbabwe comfortably beat Namibia in the final of ICC Women's T20 World Cup Africa Region Qualifiers to qualify for the 2020 ICC Women's T20 World Cup Qualifier to be held in Scotland later this year, and also for the 2021 ICC Women's World Cup Qualifier to be held in 2020.
Zimbabwe and Namibia reached the final by topping their respective groups and without losing any match. The final was played at Harare Sports Club. Namibia won the toss and invited the hosts Zimbabwe to bat first.
Namibia bowled a tight line and in the fifth over they claimed the first wicket as Mupachikwa was bowled by Wittman for with the score of 14. Mugeri and Mayers built a patient partnership of 66 runs in 9 overs. Mugeri went after the bowling by hitting 36 off 28 deliveries and Mayers dropped the anchor and scored 36 off 44 deliveries. The partnership was broken in the 15th over when Mugeri was run out at the score of 80.
Though this partnership was supposed to give Zimbabwe a launchpad to register a big score but they lost 3 quick wickets 86-4 in 17th over. Late hitting by Nkomo and Mushangwe helped the hosts to register 114-5 at the end of the innings. Namibia's wicket keeper Green took off her pads and gloves to bowl 3 overs in which she took 2 wickets.
Chasing 115 for victory, Namibia lost Green in the third over and lost two more quick wickets in next two overs. Their star batters van der Merwe, Green and van Zyl all returned to the pavilion with the score of 16. Namibia could not recover from these early blows and lost wickets in the regular intervals.
Namibia could only post 64-9 at the end of their 20 overs, handing Zimbabwe a 50 run victory. Wittmann was the highest scorer with 18 runs. Mushangwe and Nkomo took 3 wickets each. Mugeri was declared player of the match.
Zimbabwe will enter the qualifying tournament in Scotland as winners of African region and they will meet Asian Champions Thailand and East Asia-Pacific Champions Papua New Guinea. Bangladesh and Ireland have already qualified for the tournament alongside the hosts Scotland. Winners from Europe and Americas qualifiers will be decided in June.
Mayers of Zimbabwe was the top scorer in the tournament with 216 runs in 5 matches whereas Mushangwe was the leading wicket taker with 10 wickets.
Brief Scores
Zimbabwe vs Namibia
Zimbabwe 114-5 (SM Mayers 36, CS Mugeri 36, Green 2-22)
Namibia 64-9 (Wittmann 18, Nkomo 3-12, Mushangwe 3-6)
Zimbabwe won by 50 runs.