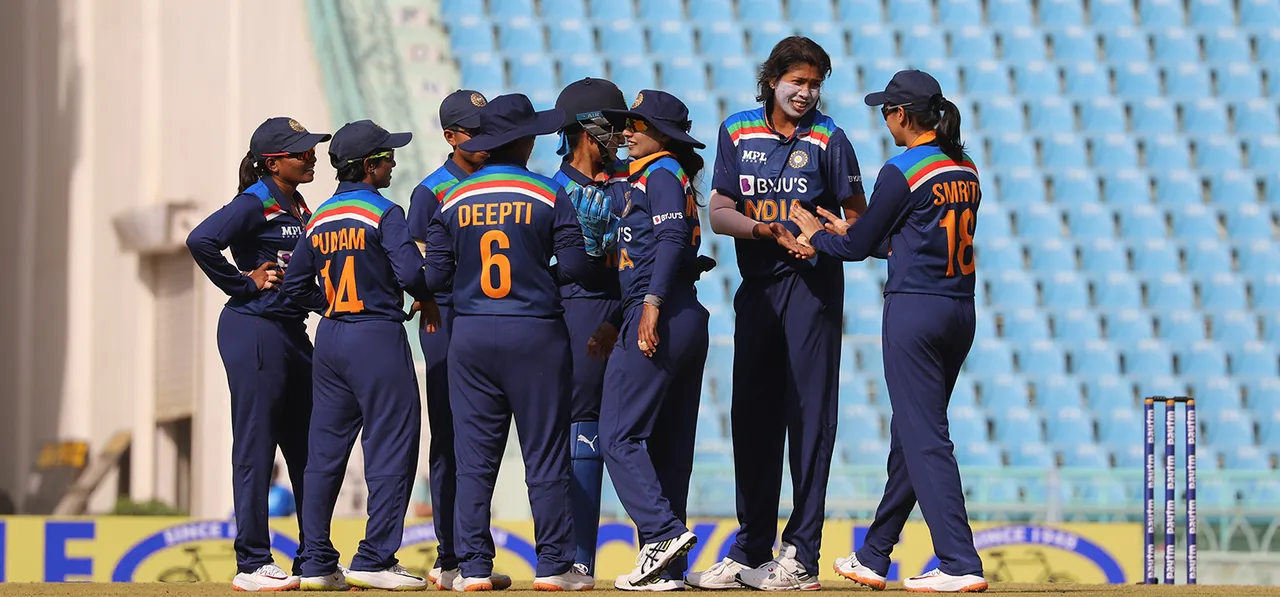 Jhulan Goswami, Shikha Pandey, Pooja Vastrakar and Arundhati Reddy are the four seamers India have in their squad for the tour of England next month. While Goswami will be part of the Test and ODIs, the rest are for the entire tour. Simran Dil Bahadur, the seam-bowling allrounder would replace the veteran in the T20Is. The tour will commence with Test, a format where India are returning to for the first time since 2014, before the sides play the fifty-over contests after a seven-day gap.

It would mean seven long match days in a span of about 18 days that could be too much for the 38-year-old Goswami, who is excited to be back to playing Test cricket. Mithali Raj, India's Test and ODI captain, was confident about Goswami pulling through the games, though.

"It's important Jhulan gets games because she needs the game time in the middle," Raj, addressing the pre-departure press conference on Tuesday (June 1), said about managing Goswami's workload.

"At the same time, being (one of the) the senior-most player, it is important to keep her in the thick of things. If she needs rest, it's up to her completely."

"But knowing Jhulan I know for a fact that she would want to play every game. As a captain also I would like to have her on the field so that the young fast bowlers in the side will immensely get a lot of help."

Earlier in the week, Raj and Goswami presented Test jerseys to the members of the Indian squad. It was a ceremony unlike any in Indian women's cricket that left the players moved, as seen from their social media posts.

"It was just an occasion to make the players feel very special of the white jersey and getting into a format which I personally feel is the most challenging and respected one," said the Indian Test and ODI skipper.

"I think it's good to have it because it's very important to (convey) the idea of what Test means to the players and the importance of the former cricketers who have laid path for so many years. They have kept the sport alive for the current generation to inspire the future generations. It's also an atmosphere built to realise they play a very important role in the history of women's cricket."

ALSO READ: 'The last year has taught me to respect life more'



Ramesh Powar, who was the brain behind the move to have the session, said that it was important for players to know the history and have a purpose.

"This was something I thought was missing in women's cricket," said Powar, who was reappointed as the Head Coach last month.

"They have never been presented with the t-shirts or they've never been told the journey of women's cricket. There has to be a purpose while (wearing) the India shirt and being in the team and playing the game."

India, who last played a Test against South Africa in 2014, will play the traditional format against England in Bristol next month. In September, they're also slated to play a day/night Test against Australia in Perth. While the move to have the women play Tests was lauded, there is a fair bit of trepidation, given the Indian players have hardly played First Class cricket in the recent past.

"I think it's not an ideal world and we're trying to look at the bright side," said Powar about the lack of warm-up games on the tour.

"It's not physically possible to prepare but the mental make-up will make a huge difference. In my last assignment I have tried that and it paid dividends. I have done it with the Mumbai (men's) team when we had only six sessions (before the Vijay Hazare Trophy). So we could react positively to the tournament we played."

"We can't just think about it that we're playing after a long time. We're trying to create that positive vibe around Test cricket. We try and spend lot of time thinking about how to spend time patiently and we're having discussions about it. Yes, there is less experience about Tests, but slowly and steadily, we have kept an open mind and will take things as they come."

India's last Test against England was in 2014 and it was memorable for their win in Wormsley. Only seven players in the 18-member Test squad have experience of playing in the longest format of the game. While Raj said that the players can exchange notes with the men's team, who are in the same quarantine, she wanted them to play without a baggage and enjoy themselves.

ALSO READ: Confident, focussed and unfazed Indrani Roy, a step closer to her international dream


Shikha Pandey and Mithali Raj celebrate the Test match win in 2014. © Getty Images
"It's good to have Tests; whether it's home or away. If there's continuity it's great because it helps players as well," said Raj, who has played ten Tests so far.
"Sometimes it's nice to go in without a baggage, you just go in, play and enjoy the atmosphere. It's good to have the girls who are playing for the first time and the girls who have played in the past and share their experiences how it was back in 2014. But having back to back Test matches can give a lot of exposure to the current lot. "
"As a coach I want more Tests all over the world," Powar weighed in.
"It's a good start and let's take it step by step. (You) don't (want to) push the girls into a zone where you are demanding too much. It's a new format which hasn't been played consistently over the past few years. You might get surprises."
Teenager Shafali Verma received her maiden call-up to both the ODI and the Test side, having made her T20I debut back in 2019. There were calls for her
">inclusion in the longer format
in February itself. Powar said that a different version of the opener could be seen soon.
"Every player in the squad makes a difference and Shafali is a special talent," he said.
"It depends on the way she handles sessions of practice. We've done something great with Prithvi Shaw when we played the Vijay Hazare (Trophy). You can wait and watch. You might see a different Shafali."
Verma aside, India recalled Taniya Bhatia,
who was dropped
ahead of the series against South Africa in February. Sushma Verma, India's wicket-keeper in the Women's World Cup, 2017, was dropped. Raj said that Bhatia's form in the Senior One Day Trophy had a role to play. While Bhatia scored 112 runs in five outings, including a half century, she effected 11 dismissals in the tournament, the third-most.
ALSO READ:
WV Raman backs Shafali Verma to be the X-factor in all three formats
"Sushma got an opportunity in the last series. She played all five ODIs," said Raj, who became the first player to score over 7000 ODI runs.
"We want to get in Taniya again to see how good she is. She did have a good domestic season so we would want to see her in English conditions as Sushma already played the 2017 World Cup in UK."
Raj also said that she never felt like forgoing press conferences as women's cricket needs the support of media for its growth and promotion. She also stated that both Powar and she have moved on from
the fallout
they had in 2018 and urged people to look forward to the upcoming series than dwelling in the past.