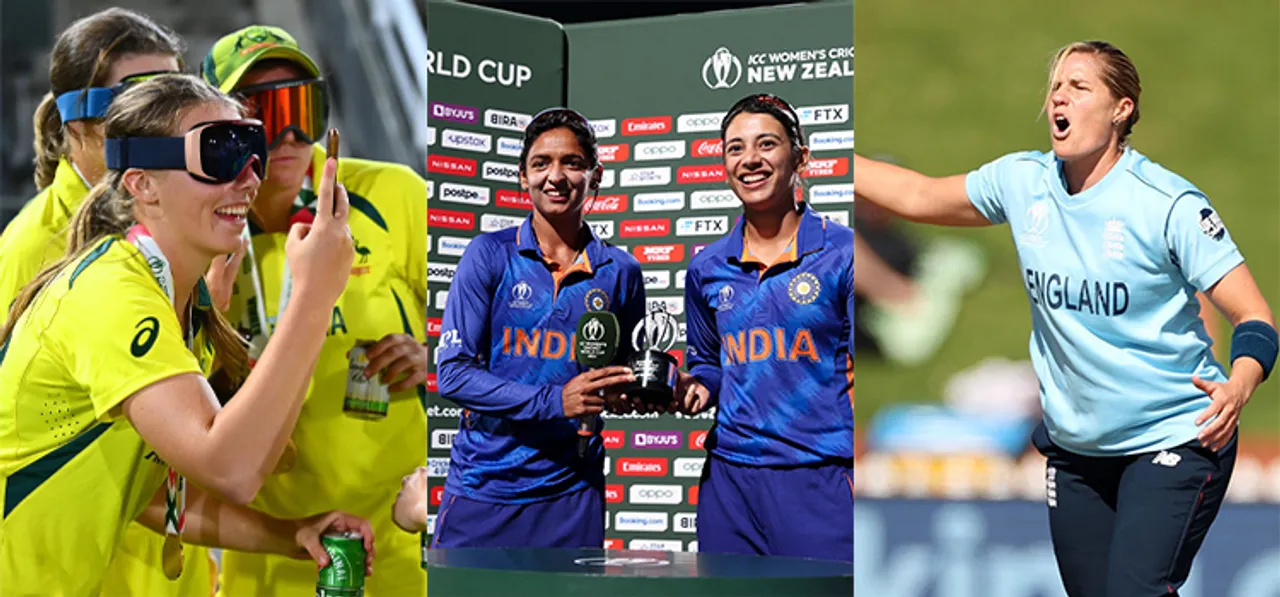 World Cup 2022 finally came to an end with the favourites Australia
winning
their seventh title in ODIs. But it wasn't as simple as that, with a lot of close matches and a lot of moments for the players and the viewers to cherish. The opening game of the tournament set the tone for the event, with the hosts New Zealand going down against a spirited West Indies.
If you were to assemble most of the world class players – some of them were missing for various reasons, but that's probably a topic for another day – in one place, you would hope to get some great cricketing action. But one thing you also got was what these leaders and ambassadors of the sport think about the game on and off the field.
All the pre and post-match media interactions were peppered with insights into the minds of some of the biggest representatives of the game. There were live lessons, vacation plans, banter, humour, and much more.
Women's CricZone
takes a look at some of those 'quotable quotes' that the event threw up during its run.
I want the ball, give me the ball
The opening fixture of the tournament on March 5  was going down the wire, New Zealand looked all set to start the home World Cup with a win with six runs needed off the last over with three wickets in hand.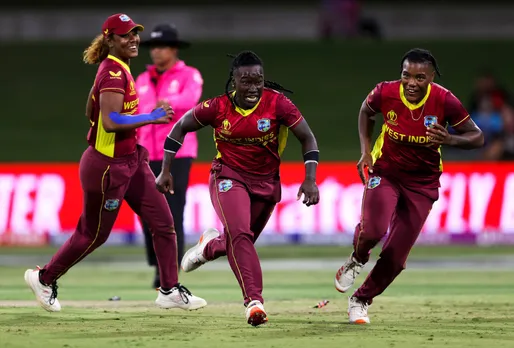 Deandra Dottin and West Indies celebrate their win over New Zealand © Getty Images
Stafanie Taylor was going to turn to pacer Shakera Selman for the final over. That's when Deandra Dottin approached the West Indies skipper and said 'Give me the ball.' Later at the post-match media interaction, Player of the Match Hayley Matthews revealed how Dottin literally snatched the ball.
"We were like – why? You haven't bowled in international cricket in about a year now. Literally haven't bowled to anyone in the nets since we've been here. And yeah, she just came and said 'give me the ball'. And I think when a player like Deandra says to give her the ball, you just give her the ball – (rest of the things) doesn't matter," Matthews said.
Rest was history; Dottin conceded just two runs and took two wickets in five balls while also running out the last batter of New Zealand to give West Indies a three-run win.
What's better than one baby sitter? A bunch of baby sitters
India always had the upper hand against their neighbours Pakistan in ODIs as they remained unbeaten in the format with ten wins from as many matches coming into the tournament. It was no different in their World Cup fixture where Pakistan went down after showing some fight with the ball.
But once the match was over, the India players queued up to have some time with the tournament's breakout star Baby Fatima, the six-month old daughter of Pakistan skipper Bismah Maroof.
And the photos and videos from the match were all over the internet, prompting one reporter to pose the important question to allrounder Nida Dar ahead of their match against Australia. The Pakistan vice-captain had only good words for Baby Fatima's new aunts.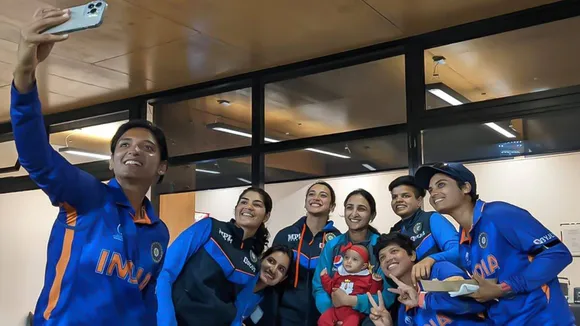 India team members with Bismah Maroof and her daughter © PCB Twitter
"We played only a few matches against India. However, whenever we meet each other, we always had a good time. Many Indian players are friends with Pakistani players," Dar said.
"We always had good terms. Match has its own importance but we do value our friendships. It felt good when Indian team approached us and we all had fun time with daughter of Bismah. We enjoyed it very much."
Budget Lessons from Smriti Mandhana
India started their campaign with a win against Pakistan and then went on to suffer a big loss against New Zealand. It was imperative that they got the better of West Indies in the third match if they were to keep themselves in the hunt for the semi-finals.
India's two form batters, Smriti Mandhana and Harmanpreet Kaur, made a meal of the bowling to score centuries after sharing a 184-run record stand. Once that happened, West Indies were never in the game and they finished with modest returns, letting India win the game by 155 runs.
The ICC jury awarded Mandhana with the Player of the Match. However, the India opener turned up to the presentation ceremony with the fellow centurion in tow.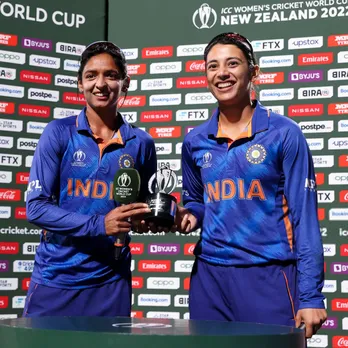 Harmanpreet Kaur (L) and Smriti Mandhana (R) © Getty Images

"I think scoring a century and not being a Player of the Match is something which I wouldn't really want as a player. We both contributed equally for us to score 300. So it's good for us to share the trophy," Mandhana said at the presentation.
The 25-year-old didn't stop there and urged the governing body to make allowances and award Kaur with a trophy as well.
"I'm sure ICC will be giving another trophy and I'm sure they have enough budget to do that."
First times are always memorable
From two sub-continental giants to a relative newcomer in the circuit, Bangladesh gave a good account of themselves in their first outing at the Cricket World Cup.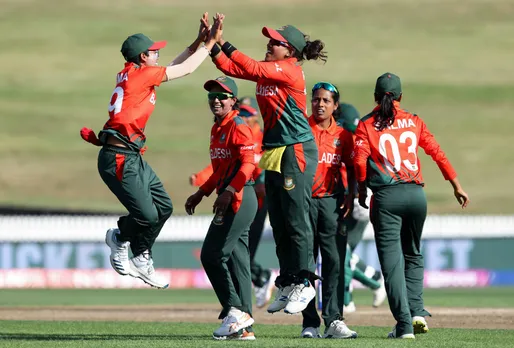 Nigar Sultana of Bangladesh celebrates a Pakistan wicket © Getty Images
Having played only 42 ODIs in their history before arriving at the global event, Bangladesh started well against South Africa before it got a bit too much for them and then they went down to New Zealand without much fight.
But they were determined to go one up on Pakistan when they faced off in Hamilton. Bangladesh held their nerve to come up trumps with a nine-run win and at the heart of it was their young skipper Nigar Sultana. While her 46 runs were only a minor note in the context, the way she led her team on and off the field was admirable.
At the presentation ceremony, Sultana was beaming with pride for her team and the history they created. "I cannot describe this in words. This is our first-ever win in World Cups. We have made history today. We are looking forward to carry this momentum throughout the tournament."
Making plans to unwind on the go
South Africa started the World Cup as one of the favourites. But they ran into some tough matches even as they kept the favourites tag intact with a few last over wins.
Even though they were unbeaten, by the fourth game against New Zealand, skipper Sune Luus had enough of it. After getting the better of the hosts by two wickets in the final over, Luus arrived at the post-match interaction and revealed her holiday plans post the World Cup.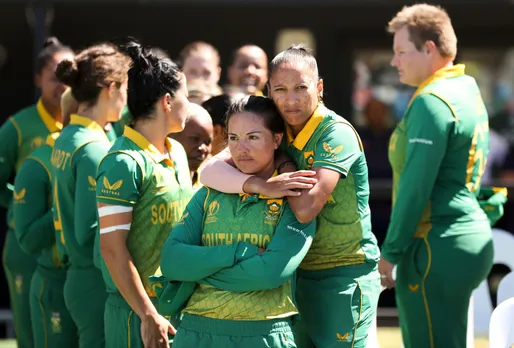 Sune Luus and Shabnim Ismail of South Africa during World Cup 2022 © Getty Images
"I can only speak for my own family – I know I've put them through difficult times. And they obviously have to wake up at odd hours of the day to watch us play. I've already messaged my mom's boss to give her a couple of weeks off when I get home, so we can just go on a holiday together, because I think she's been as nervous as I am."
Hairdos in the time of COVID-19
Luus wasn't the only one who was having troubles with the close finishes. Katherine Brunt has been around in the circuit for a long time and it's fair to say she has seen life. But the England pacer also had enough of the thrillers England were subjected to during the tournament.
However, Brunt's concerns were different and it took an easy finish against Pakistan for her to raise questions that were more important than winning a World Cup.
"As you know during COVID times, we can't go to the hairdresser and get our hair done, so the gray hairs are emerging and we don't wish to add to the gray hairs, so we would like some nice comfortable wins," Brunt said at the media interaction after the Pakistan win.
Words of wisdom from Frankie's corner
So many final over finishes crammed into a month meant there were obviously going to be scenes of elation and a lot more heartbreaks. Sometimes it happened in the same frame, and it required real acts of courage to turn up day in, day out in the face of it.
And Frances Mackay is one of the first names in the game you can think of when you talk about courageous warriors. She has been through a lot to be out there in a home World Cup. Unfortunately for New Zealand, they ended up on the wrong side of the coin more often than not.
With yet another match slipping away, Mackay decided to take matters into her own hands during the drinks break in the match against South Africa.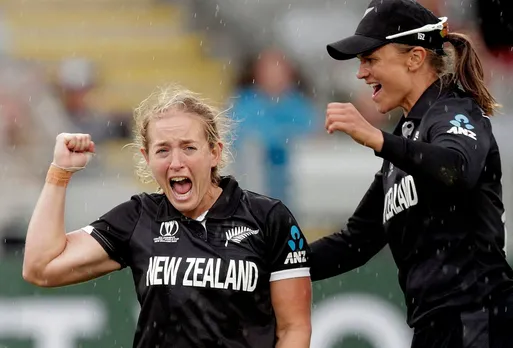 Frances Mackay (L) celebrate a wicket during World Cup 2022 © Getty Images
Marizanne Kapp's nerves of steel might have eventually got the Rainbow Nation home. But not before Mackay and New Zealand gave them a real fight with her grit. Later Sophie Devine talked about how it was the off-spinners' words 'Where else would you rather be', which spurred the fight back post that drinks break.
"Frankie actually had spoken there in the drinks break - (the second drinks break) that how lucky we are to be involved in these sorts of games and where else would you rather be? And she's right. I think it's such a privilege to be able to be playing in this tournament - World Cup at home - and to be in those sorts of pressured situations."
Meg Lanning – the nutrition expert
Darice Brown turned 19 during the tournament. On the eve of the match against India, the pacer went out for a dinner with her teammates.
Brown may be a shy bespectacled young fast bowler, but she is never the one to shy away from challenges and that dinner eve wasn't any different. When challenged by fellow fast bowler Megan Schutt to give a shot at the 750 gram steak in the menu, she accepted without any further thought and went on to finish it.



 

View this post on Instagram






 
On the match day, Brown cranked it up against India and ended up with figures of 3 for 30 after bagging the prized scalps of Shafali Verma and Smriti Mandhana. Meg Lanning provided the cherry on top with a match-winning 97 as Australia got the better of India in the final over.
The Australia skipper turned up at the post-match conference and explained the dietary needs of her young fast bowler.
"She's a young growing girl, she needs her food. If she's just going to go like that, I think she should have a 750 gram steak before every game – she has been great for us."