"The most painful state of being is remembering the future, particularly one you'll never have." When he wrote this, Søren Kierkegaard could very well have been talking about the
World Cup 2022
and many of its could have beens. Sport is about triumphs and disappointments. One player's misery could be another's elation. Tournament play, by its nature, is set for heartbreaks, as in the end there can only be one winner.
And this edition of the World Cup has seen a lot of them for there have been so many close matches. There were at least 11 games that went down to the wire out of the 28 league fixtures. Writers can wax eloquently about these thrillers and write poems about them. But for the cricketers who are there in the moment, the pain can be real, for sometimes the outcome can be an early scar in a young career or it might signal an end to a lifelong dream.
******
Match 1: New Zealand vs West Indies at the Bay Oval in Tauranga, March 4
17-year-old Fran Jonas was playing in her fifth ODI. There have been question marks over her selection for no fault of hers. New Zealand picked the young left-arm spinner, while there was no place for the wily Leigh Kasperek. Despite the debates about her place, Jonas – the youngest player in the tournament – made her World Cup debut in this opening fixture at home against the mercurial West Indies. No one could take that away from her.
For Jonas, the day started with her settling under a skier from Kycia Knight at mid-off. The first catch in her international career and not a bad time to take it – life seemed easy.
ALSO READ: Brooke Halliday and Fran Jonas; who are they?
Introduced as the sixth bowler into the attack, Jonas didn't have a particularly good game with the ball. Six overs for 39 runs with no wickets in a match where New Zealand gave away runs at just over five an over.
The final stages of the match were on, New Zealand kept themselves in the game with an effort led by Sophie Devine. But when the skipper fell, it seemed like there was no more fight left in the hosts. But Jess Kerr - who has had her own stories of struggle to be here - in the company of the experienced Katey Martin, reduced the target to six from six with three wickets in hand.
New Zealand would have walked the chase from there nine out of ten times. But this was probably the dreaded tenth time, ace allrounder Deandra Dottin never shies away from a challenge and that day was no different. With her second delivery, Dottin trapped Martin in front of the wicket for 44.
With Kerr still there, five off four was hardly out of reach. The camera panned to both the dressing rooms from time to time. Jonas had been padded up since the fall of the seventh wicket and was seen clapping or sharing a nervous chuckle with fellow teammates. There was more drama, Kerr hit one straight to Chinelle Henry at mid-off leaving New Zealand to get four from two balls.
'Jess Kerr is on her way, it's the West Indies who have the upper hand. And the 17-year-old will stride out for New Zealand to try and win the game for them. Incredible drama.' Ian Smith, said with his trademark flair on commentary,.
ALSO READ: Jess Kerr: Accidental White Fern
Jonas walked into the middle and punched gloves with Hannah Rowe and settled herself at the non-striking end. Dottin ran in and bowled a length ball, which the batter missed. Jonas ran as fast as she could in the hope of a bye but Rowe didn't. Jonas put a break on her strides and tried to run back to her crease in vain, Shemaine Campbelle passed the ball to Dottin, who knocked the stumps off to give West Indies a famous win.
Elated West Indies players were running all over the ground. A distraught Jonas was looking downwards and slowly trundled back to the pavilion with Rowe.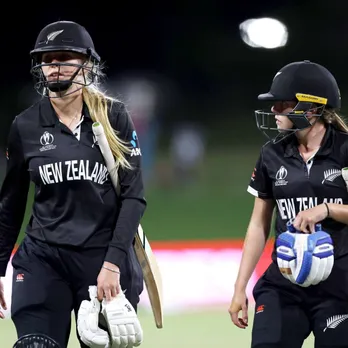 Fran Jonas (R) walks back dejected after West Indies game © Getty Images
A potential dream debut turned nightmare, for various reasons. Jonas never featured in the rest of the tournament. The hosts would eventually bow out of the tournament in the group stage with two more heartbreaking losses.
******
Match 28: India vs South Africa at the Hagley Oval in Christchurch, March 27
The last match of the league stage featured South Africa, who were already through to the knockout stages. Jhulan Goswami made her World Cup debut in 2005 and featured in all the 34 matches that India played across five events until this game. The veteran pacer couldn't recover from a side strain and was ruled out of the must-win match for India.
At 39, Goswami was the oldest player in the tournament, and sporting heartbreaks don't look at age. They sneak up on you whether you are a 17-year-old playing your first global event or a veteran of five World Cups. Even before the match started, the pacer was robbed of having a say in the game and resigned to watching it from the sidelines.
India batters had a good time for most of the match before South Africa pulled it back in the last ten overs. Chasing 275 for a win, South Africa started well, with Laura Wolvaardt continuing her good form from the previous matches.
Like many times in the tournament, this match was also going down the wire. Harmanpreet Kaur had a huge say in the game and was in the thick of it all. She scored 48, took two wickets, including the big one of Wolvaardt, and also induced three run outs. Mignon du Preez, another veteran of the game, made sure that South Africa went into the final over needing seven runs.
In the dying stages of the game, the camera found a nervous-looking Goswami as she sat inside the dressing room, away from all the noise in the middle. Combined brilliance in the field from Deepti Sharma, the bowler, and Kaur saw Trisha Chetty walking back on the second ball.
Goswami was now standing up. It came down to three from two deliveries and du Preez hit one straight to Kaur's throat at long-on, and the allrounder gleefully took it and let out a roar. But there was drama, there was always going to be, it couldn't have ended in any other way. It was a no-ball, du Preez survived.
Goswami was seen walking to and fro in the dressing room, muttering a few things, even as the camera kept panning to her.
'Jhulan Goswami! She has no control over this game whatsoever,' said Natalie Germanos as she brought all her expertise to call the game. Du Preez flicked the ball through mid-wicket to finish the match on the final ball and Germanos added '… And now hearts will be breaking all over India as they are eliminated after being finalists in 2017.'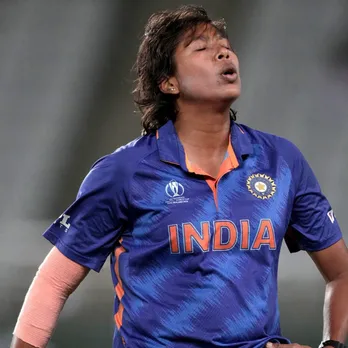 Jhulan Goswami didn't feature in the final game for India © Getty Images
Goswami cam caught her with hands over her mouth, she was looking numb!
The 39-year-old was now out in the middle as she consoled her teammates and congratulated the beaming South African players. Elsewhere, West Indies cricketers rejoiced as they were given a lifeline after sitting through all this. A dream realised even as a few were broken.
Germanos was still calling the game with poise, 'You have got to feel for Jhulan Goswami. What a player she has been, what an ambassador for the game.'
201 ODIs, 252 wickets, none of those things would mean anything at this point. Nothing mattered, another heartbreak added to the one from Lord's five years ago, this wasn't a feeling Goswami wanted.
When Goswami made it to international cricket, Jonas wasn't even born. When Goswami made her World Cup debut, Jonas was a month away from her first birthday. They didn't know this sport would unite them and they didn't know their heartbreaks would bookend the league stage of a World Cup.
Writers sharpened their swords and wrote about the unpredictability of the sport. Jonas might still go on to have a successful international career and play a lot of matches, for she has all the time in the world. Even if Goswami doesn't play another game, her greatness will be forever etched in the echelons of cricket.
But try telling that to Jonas or Goswami; for those two nights - three weeks apart - united them in a way neither would have wanted.