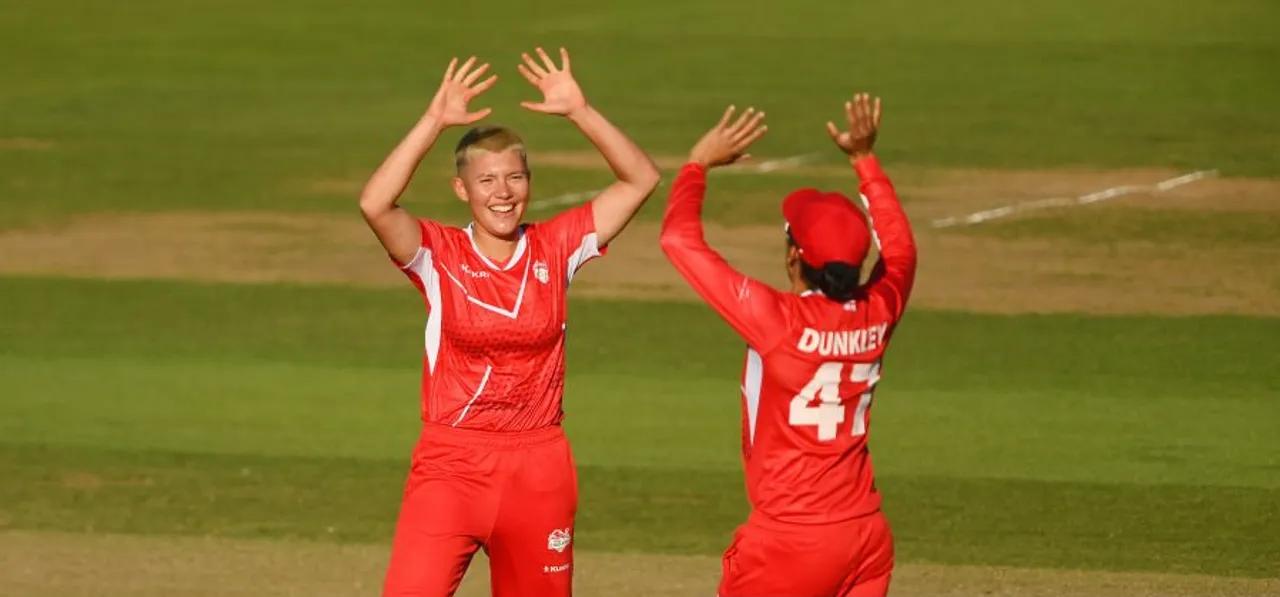 Issy Wong is only 20 and still growing as an individual as well as a cricketer. But she has already made her presence felt in the international arena, having made her debut in all three formats during the multi-format series at home against South Africa in June-July this year.
Even before making her debut, Wong made a name for herself with her exploits on the England domestic circuit. Be it in the now-defunct Women's Cricket Super League (WCSL), the Rachael Heyhoe Flint Trophy, the Charlotte Edwards Cup, or while playing for Birmingham Phoenix in The Hundred. The tearaway fast bowler – who has been outspoken about her ambitions to become the first to hit 80mph in the women's game – has also played in the Women's Big Bash League (WBBL), representing Sydney Thunder in the seventh edition. In the upcoming season, Wong will be seen in purple for the Hobart Hurricanes.
Having already accounted for big wickets like that of Laura Wolvaardt, Wong will be looking to add on to that during the India series. Although she sat out during the
first match
of the series, with her ability to extract pace and bounce from any kind of surface, Wong will come into the picture sometime during the series.
Ahead of the series, in a virtual media interaction facilitated by India broadcaster
Sony Sports Network
, Wong spoke to
Women's CricZone
and others about her bowling, influence of Katherine Brunt and Lisa Keightley, The Hundred, playing with Smriti Mandhana, and much more.
Excerpts:Q: You made your international debut across formats in 2022. According to you, which format suits your playing style the most?
I don't know. I enjoyed Test cricket and the role I was given in that side to bring a bit of energy and try and make things happen. Yeah, I really enjoyed that. But at the same time I love the pace of T20 and I love I guess the rhythm that comes with ODI cricket. So in terms of which suits me most, I'm not too sure. I think it probably depends on what's going well for me at the minute.
ALSO READ: Sarah Glenn records career best figures as England thump India in series openerQ: After an indifferent Commonwealth Games 2022, a senior bowler like Katherine Brunt has been rested for the series. Now everybody is talking about the new bowling sensation, that's you. How big or important is the series going to be for you personally?
I think it's (just) another series of international cricket. And, I've only been involved in two. It's another opportunity to put on an England shirt and go and play the sport that I love. So from that point of view, it's really exciting. There's going to be a big hole left by Katherine, but it's an exciting opportunity for all of us younger guys to step up and fill that hole.
It's not going to be one person who fits into that hole because she's a massive part of this team and everything she has done over the last decade. And so it's going to take all of us coming together to work out how we're going to operate without her. But we've got some exciting bowlers in this group. I've got no doubt that we'll be able to fill it.
Q: India have a very formidable batting line up. Is there any particular battle you are looking forward to or any particular batter that would be a great wicket for England in the series?
I think I'm looking forward to bowling at Smriti (Smriti Mandhana).
lucky enough to play with her at Sydney Thunder. I think we got on relatively well, but she sent me around the park a bit at Edgbaston in the Commonwealth Games. So yeah, look, she's a world class player. We've seen what she can do for India, in BBL, and in The Hundred for Brave (Southern Brave). She is a world class performer and will always be one of the biggest wickets.

ALSO READ: England and their quest to be the best could do with some adventure

Q: What are your thoughts on this edition of The Hundred and how was it different to the last edition? Because there were record attendances and although the winners were the same, your team had a few good matches?

I think this year it kind of certainly (for the women's game) accelerated. Even on last year, you mentioned the record attendances. We had 15,000 watching every single one of our games at Edgbaston and that's 15,000 people watching domestic cricket in in England. That's fantastic. If nothing else, The Hundred has really provided women's cricket in our country with that platform and that platform is so important in order for the game to grow.

In terms of the competition, obviously we had a really strong start and then fell away a little bit. But I think there's a lot of learnings coming from that. We experienced how to win close games and then we experienced how to make games close. I think that's all kind of experience that you can pull on (from) that whatever form of the game you play and whatever team you're representing, to actually get over the line in games and in some games, not get over the line. But I think you learn as much in them as you do in the ones where you do.

Q: Lisa Keightley is obviously stepping down as the coach after the series. You made your debut under her. How havs your experience been with her and has there been any advice from her side which really helped you?

She has been great obviously. She, kind of, brought me into the side. But I have been around for quite a while before that. I guess (the things) learned under her coaching being part of this team has brought my career on steps. And steps I think if we look back to two years ago when I joined them for the first time in the bubble in 2020 to now, it's probably an unrecognisable cricketer and maybe an unrecognisable person as well. But look, she has been class. This team has achieved a lot under her over the last few years.

She's given me some feedback I didn't want to hear at the time that I needed to kind of move my career on. And then recently, she has given me a bit more good news and gave me three international debuts. So I'm very thankful for that.

Viewers in India can catch all the matches of India's tour of England live on Sony Ten 1 and Sony Ten 1 HD. The matches will also be live streamed on the Sony Liv website and app. The LIVE coverage for the second T20I on September 13 will start from 10:30 PM IST