The ICC Women's T20 World Cup 2020 in Australia draws closer every day. As of Friday (August 30) there are only 175 days left for the teams to prepare. With Australia having pulled away from the rest of the pack, the remaining top seven teams look to finalise their squads, develop new plans and strategies and make sure they are ready to challenge the might of the hosts.

Meanwhile, in one little pocket of the world, eight teams will fight it out for the remaining two places in the mega event next year. The Women's T20 World Cup Qualifier begins in Scotland on Saturday (August 31). Eight teams, divided into two groups of four, will play 20 matches in the space of eight days (only five of which are match days), with the finalists qualifying for the T20 World Cup.


Matches will be played in two venues— Arbroath United Cricket Club and Forfashire Cricket Club— with each ground hosting two games a day. All 10 fixtures to be held at Forfashire CC will be live streamed by the ICC, including the final on September 7. An all-women umpiring team, consisting of Sue Redfern, Claire Polosack, Jacqueline Williams, Lauren Agenbach, Eloise Shridan and Kim Cotton will officiate through the tournament.

Women's T20 World Cups come around once in two years. They are often the only chance the fringe (associate/ affiliate) teams have to compete with the more established nations. Unfortunate as the situation is, these are opportunities they crave— for exposure, chances to learn and improve, and also showcase their talent to the world— because it gives them something to look forward to.

It's an emotion that was summed up quite perfectly by Sindhu Sriharsha, captain of USA.

"Two years of good cricket— that is so much for the youngsters coming up there (in the USA)," she said shortly after her team had secured their place in the global qualifiers. "We wanted to do it for the youngsters over there. (It) gives them so much more to look forward to … I think that's great for us."

It is in this backdrop that these eight teams will take the field on Saturday - in an effort not only to reach the top two and book a place in the main event, but also an attempt to play in a manner that will make the rest of the cricketing world sit up and take notice.

While the gap amongst the top eight teams continues to grow at a rapid pace, the same can't be said at the lower level. Where Bangladesh and Ireland were once runaway favourites in global qualifying events, the likes of Thailand, Scotland and Zimbabwe have begun to lift their standards and challenge that dominance more consistently.

Looking at the 2019 edition of the Women's T20 World Cup qualifying event, the two groups stack up nicely with Bangladesh set to face Scotland, PNG and USA in Group A, while Ireland are with Thailand, Netherlands and Namibia in Group B.

At first glance, one would think the top four would be easy to identify— Bangladesh, Ireland, Thailand and Scotland. However, based on current form, this looks to be one of the most open qualifiers there have been so far. Ireland's recent slump, and Thailand's amazing run seem to have thrown Group B wide open, while USA and PNG— who have their fair share of talent and experience— may fancy their chances against an unpredictable (and fairly young) Scottish side.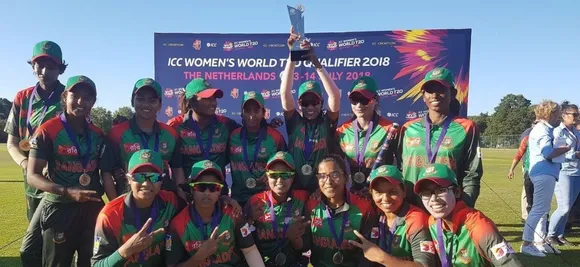 As the top-ranked side in the competition, Bangladesh look set to defend their crown. ©ICC
Defending champions Bangladesh come into the tournament as the top-ranked team. Despite the
absence of Rumana Ahmed
 they have put together a strong squad. Of course, there were a couple of surprises— most jarring, the axing of Panna Ghosh, who took a
five-for in the final
of the previous event— but the squad is largely unchanged from the one that competed in the T20 World Cup last year. With
Salma Khatun
at the helm, as always, Bangladesh travel with a strong spin unit— Khadija Tul Kubra, Nahida Akter, Fahima Khatun and Shaila Sharmin in their ranks.
They will be pushed by Scotland— the other high-ranked team in Group A— who have an exciting group of players to bank on. The Bryce sisters— Kathryn and Sarah— aside, the hosts can count on the likes of Priyanaz Chatterji, the medium pacer, Katherine Fraser, the 14-year-old off-spinner, and Lorna Jack, the top order batter, to put in steady performances.
Over the last couple of qualifying events, Scotland have fallen agonisingly short of the final, finishing fourth in 2015, and third in 2018. They will be hoping to go one step further at home.
Team no. 3 in group A, PNG are another that have been around the tournament for several years. Although unable to consistently push the higher ranked teams, some of their players have gained a great deal of experience rubbing shoulders with the superstars of the game. Ravina Oa, who has played in the ICC Global Development squad and been part of the Women's Big Bash League rookie program, is one such example.
Despite their ranking of 37, USA could possibly be the surprise package of this tournament. With three players of Indian origin— all of whom have competed in the Indian domestic circuit, and even played for some representative teams (Sriharsha has played for India A, while Shebani Bhaskar has represented an Under-23 South Zone team)—who have experience of playing high-level competitive cricket, they could rattle, if not topple, a few of the teams.
In the other half of the competition are Ireland— ranked no.10 in T20Is, Laura Delany's side will be keen to shake off their recent indifferent form. Still searching for adequate replacements to fill the gaps left by their
legendary quartet
— Isobel Joyce, Cecilia Joyce, Ciara Metcalfe and Claire Shillington— Ireland have also been faced by injury setbacks that have added to their woes. However, the
the return of Kim Garth and Eimear Richardson
in the recent Quadrangular series will give them much hope.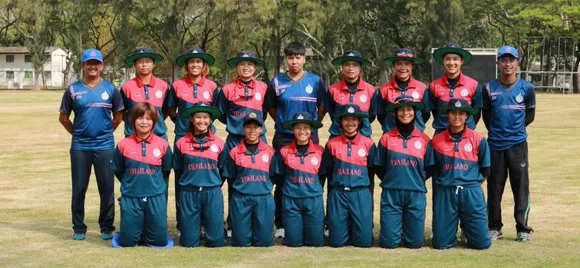 Fresh off a 17-match winning streak, Thailand will challenge Ireland and Bangladesh for a spot in the top two. ©Cricket Thailand
They will face tough competition from Thailand who have quietly played their way into a into a leading position in this competition.
A team that has flown under the radar since being awarded international status, Sornnarin Tippoch has led her side to 12th in the ICC T20I rankings. They recently created a world record, notching up
17 T20I wins in a row
, beating Australia's record of 16 wins. It was a run that lasted between July 2018 and August 2019. One that was
broken at the hands of Scotland
.
Unlike Bangladesh and Ireland, Thailand do not yet have a team consisting of superstars. They are a group of players who have put in combined performances and reaped the rewards. They are without doubt a force to reckon with at the associate level, and will now want to test their skills against the more established teams. After all, a place in the World Cup beckons.
Netherlands and Namibia, although flying under the radar will want to show how much they have improved since the last event. Sterre Kalis, the 20-year-old batter from Netherlands who until recently held the record for joint-highest score in T20Is— an
unbeaten 126 not out against Germany
— is one of their up and coming stars.
Namibia on the other hand, will want to make sure their stint in the qualifiers is a memorable one. Handed a lifeline following the
suspension of Zimbabwe
, Yasmeen Khan, their captain, has stressed on the fact that Namibia don't want to just make up the numbers— they are there to compete and learn.
All eight competing teams will come into the tournament with their own little goals. For USA and Namibia— both of whom are making their first appearances in the Women's T20 World Cup Qualifier — they could be as simple as competing with the top teams and learning as much as they can. Even if neither registers a win, but manages to push one of the others close, they can consider it a victory. A bit of a 'nothing to lose' attitude will certainly make these teams more dangerous than they already are.
For PNG and Netherlands, teams that have been around the circuit for a while but failed to keep up with the development of Scotland, Ireland and Bangladesh, they will want to prove
that they have the ability and talent to beat these higher-ranked sides.
With Thailand, Ireland, Bangladesh and Scotland, all vying for a realistic place in the top two, their goals will be much different. Anything less than a top two finish will likely leave them heart-broken.
The teams have all been in Scotland for the last 10 days getting used to the 'foreign' conditions. Following a
round of warm-up games
on Thursday (August 28) they will now set their sights on the main event.
Dreams on the line, world, here they come!