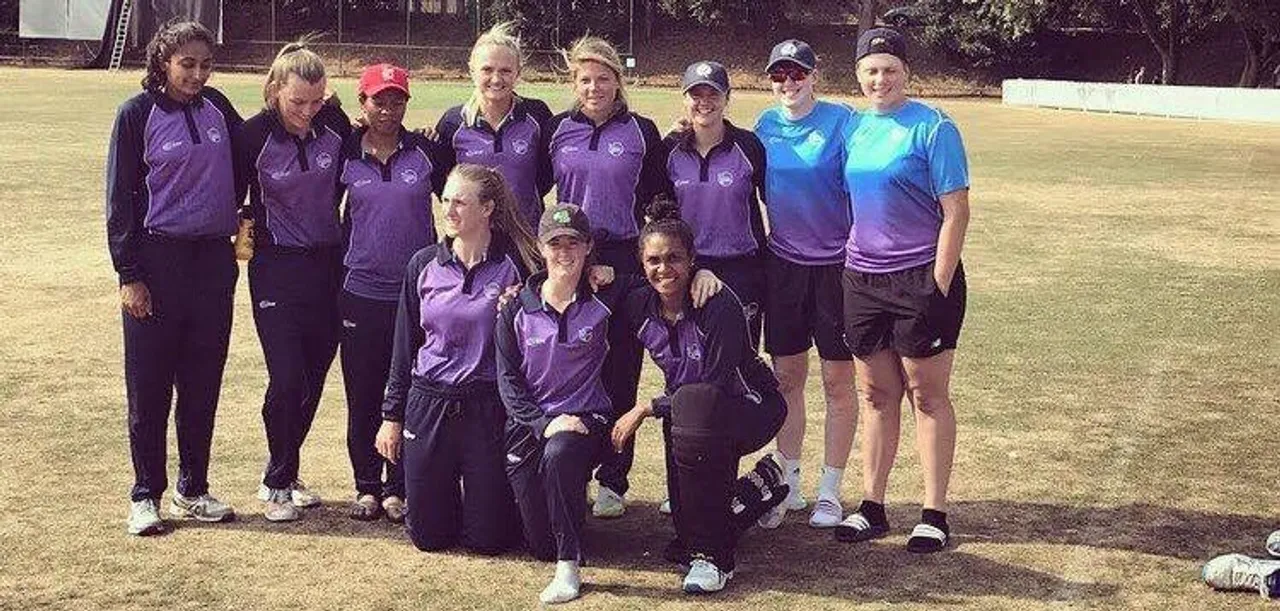 Women's Global Development Squad (WGDS) convincingly won the 5 match series by 3-2 against Women's Super League teams as part of their warm-up fixtures.

In the first two matches in their fixtures, WGDS beat Surrey Stars by seven wickets and two runs respectively on Tuesday 17 July.

In the first match, Surrey Stars chose to bat first after winning the toss. Dane van Niekerk (35 from 33 balls) started off really well and made a second-wicket partnership of 74 with Marizanne Kapp (44 from 41). Aylish Cranstone tried her best to carry the momentum forward with her 23. But Ravini Oa picked up three wickets of Stars. UAE off-spinner Esha Oza scalped van Niekerk's wicket while Lucy O'Reilly bagged two wickets. Because of their brilliant bowling and fielding, Surrey Stars put up 134 runs on the board.

While chasing, van Niekerk picked up Sterre Kalis early. After that, Sarah Bryce and Gaby Lewis started building partnerships. Bryce scored a blistering 45 off 28 and captain Gaby Lewis scored a quickfire 88. After that, Kathryn Bryce and Lewis made an unbeaten 50 from 36 and helped their team to win over Stars with 2.4 overs to spare. Dane van Niekerk scalped 2 wickets while Hannah Jones picked up the wicket of Esha Oza.

In the second match, WGDS won the toss and choose to bat. Gaby Lewis made an unbeaten 77 off 51 balls. Shauna Kavanagh's 20 off 21, Kathryn Bryce's 17 off 9 and Babette de Leede's 12 off 6 helped WGDS to put up a decent competitive total of 160 from 20 overs.

In reply, Bryony Smith started off really well. She scored 22 but after her dismissal Stars fell into trouble. Dunkley and Grace Gibbs added 64 runs in their run-chase. In the last over, when 9 was needed off 4 balls, Ravini Oa kept her cool and WGDS claimed their second victory of the day by two runs.

 

Loughborough Lightning beat the WGDS in both the matches on 19th July (Thursday).

WGDS won the toss and chose to field first. Lightning skipper Sophie Devine smashed 54 off 26 balls with three sixes and six fours. Her opening partner, Rachael Haynes scored 18-ball 22. Georgia Adams too played a blistering knock of 47 with a six and three fours. By the end of the 20 overs, Loughborough Lightning put up a mammoth total of 197.

In reply, WGDS lost their openers very cheaply. Gaby Lewis and Shauna Kavanagh tried their best to accelerate the innings. They scored 27 and 31 respectively. Esha Oza scored an unbeaten 20. But Odedra's 3-wickets haul and Kirstie Gordon's 2-wickets helped Lightning to win over WGDS by 36 runs.

Loughborough Lightning won the 4th match against WGDS. Elyse Villani was the captain for Lightning this time around. They won the toss and chose to field first.

WGDS openers started off really well this time. Heather Siegers made a quickfire 20 off 6 with a six and 3 fours. But she didn't stay long as Devine picked up her wicket quickly. Sarah Bryce scored 19 off 21 balls before Gordon picked up her wicket. Lewis couldn't play well and went for 10. Kavanagh tried her best and hit 31 off 39 balls and Babette de Leede scored an unbeaten 30. WGDS managed to put up 144 by the end of 20 overs.

While chasing, it was easy for Lightning. Rachael Haynes smashed a dazzling 60 off 26 balls with 4 sixes and 6 fours. Glenn scored a blitzy unbeaten knock of 53 off 40 with 2 sixes and 5 fours. Odedra picked up Haynes's wicket and Villani was dismissed for 11 by Ravina Oa. Adams' unbeaten 8 off 6 helped her team to claim a seven-wicket victory of the day.

 

In the 5th and the final match, WGDS beat Western Storm by five wickets on Friday, 20th July. After winning the toss WGDS elected to field first. Ravina Oa handed over the first breakthrough to her team by taking up Rachel Priest's wicket for a duck in the very first over. Heather Knight too went for a duck in the next over. India's in-form opener Smriti Mandhana too couldn't perform well and soon Storm reduced to 4/3.

Western Storm struggled to score as wickets fell at a regular interval. Naomi Dattani and Alice MacLeod both dismissed for ducks and Storm scored only 6 runs with the loss of 5 wickets. Sophie Luff made 46 from 52 deliveries before Oa picked up her wicket. Anya Shrubsole and Amara Carr made 18 and 16 respectively before Silk scalped both their wickets. Western Storm managed to score 105 by the end of 20 overs.

Silk and Oa both bowled really well and ended their spell with figures of (3/14) and (3/16) respectively.

In reply, WGDS lost Heather Siegers very cheaply. Anya Shrubsole gave her team their first breakthrough by taking Siegers in the first over. They struggled too while chasing. Sarah Bryce and Kathryn Bryce both failed to build a strong partnership. They made 12 and 13 respectively. Same happened with Gaby Lewis and Shauna Kavanagh. They scored 15 and 17 respectively. Sterre Kalis scored 12 and with the help of tail-enders WGDS won the final match with four balls to spare. Knight, Shrubsole and Freya Davies scalped 2 wickets each for Western Storm.

Western Storm will begin their Kia Super League campaign against Yorkshire Diamonds. Surrey Stars will face Southern Vipers in their first match and Loughborough Lightning will play against Lancashire Thunder on Sunday 22 July.