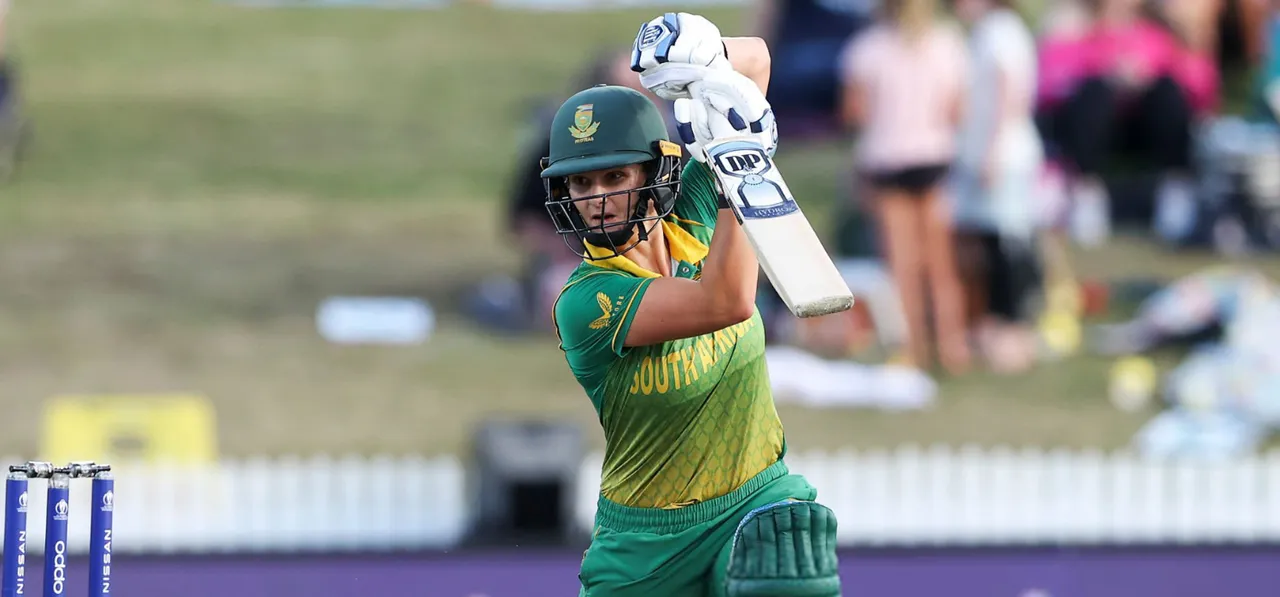 For South Africa, 2022 World Cup campaign ended in one of the most heart-rending ways as they lost to the defending champions England in the second semi-final by a mammoth 137 runs.
Although the Proteas failed to break the semi-final hoodoo yet again, some of the most enthralling performances in the event came from their camp. 
From Shabnim Ismail steaming in and making the batters hop like gazelles to Marizanne Kapp stealing the show with both bat and ball, the event also allowed us to witness the rise of Sune Luus - the batter, who scored 270 runs batting up the order.
But if there was one Protea who made our hearts skip a beat, it was Laura Wolvaardt. While playing in her second ODI World Cup, Wolvaardt took up the mantle to be the best batter in the side and ended up achieving the same despite all odds.
Speaking on Wolvaardt's excellent run, West Indies' Britney Cooper told
Women's CricZone,
"She laid a strong foundation for South Africa consistently throughout the ongoing World Cup. She will continue to break records for the Proteas in the days to come."
South Africa's regular skipper Dane van Niekerk , who missed the World Cup due to an injury, also heaped praise on  Wolvaardt for her efforts during the World Cup and hailed her as one of the most consistent  batter out there in the international circuit.
ALSO READ: Marizanne Kapp's nerves of steel fuel unbeaten South Africa
"She is an ultra-professional. It was very heartening to see her get the kind of success she got in the tournament. She has worked really hard towards her game and that is why she is the number one batter in the world," said van Niekerk.
But what exactly sets Wolvaardt apart from the rest? Is it only her consistency? Certainly not. There is a lot more to her batting than what meets the eye.
The intent to fill the vast void 
Van Niekerk's injury was a massive blow for South Africa. In her, they not only lost a tactically brilliant captain but also a premier leg-spinner and a highly capable batter.
Van Niekerk - the batter plays with utmost responsibility and has been one of the pillars of the South African middle-order. In 16 matches that she has played batting at the fourth slot in ODIs between 2016 to 2021, van Niekerk has amassed 640 runs at an excellent average of 49.23, including one century and four half-centuries.
Wolvaardt realised the same and took it upon herself to make sure that the Proteas do not miss van Niekerk - the batter. She played with extra caution at the top and held one end together. Her circumspect approach at the top helped the batters down the order to breathe easy. Barring two games in the ongoing World Cup against the West Indies and the one against England in the semi-finals, the opposition wasn't able to get rid of Wovaardt before the 20th over. 
Eye-popping Consistency
There are a wide array of adjectives that you can throw to describe Wolvaardt - the batter. One of those is consistent. Playing in her first ODI World Cup in 2017, Wolvaardt amassed 324 runs at a staggering average of 64.80, including four half-centuries in seven matches. What followed was another dream run - in the 2022 World Cup. 
With 433 runs in the 2022 event, she is the leading run-getter and has scored her runs at an excellent average of 54.12. What is more intriguing is that her career graph is a template of consistency. Every youngster in the initial few years tries to find her feet in world cricket but on the contrary, Wolvaardt was making headlines right from the outset. 
She averaged 35 in her debut year (2016) and turned it around remarkably in 2017 as she raised it to 58.45. She averaged above 41 in both 2018 and 2019. Although she only played three games in 2020, her average skyrocketed to 58.50 that year. The year 2021 was slightly below par as per her standards but if you would have asked any other batter to trade places with her in that year then that person would not have even thought twice. She put together 440 runs in 2021 after featuring in 12 innings for the Proteas. 
And 2022 is yet again proving to be fruitful for her as she has racked up 604 runs in 12 games at an astounding average of 50.33.
ALSO READ:
Leading South Africa has always been a dream: Sune Luus
Improved strike rate
Every batter playing in the international circuit struggles with one facet of her game or the other and in most cases, there is stagnation in that department.
The only facet of her game that has seen her cop some criticism is her strike rate. But unlike others, Wolvaardt is moving heaven and earth and consistently improving to make her weak link her forte. In the 2017 World Cup in England, she piled all her runs at a decent strike rate of 68.21, and for a youngster playing in her first-ever World Cup, the figure wasn't bad either. 
But again Wolvaardt worked relentlessly hard towards that anomaly in her game and the result was there for everyone to see in the ongoing edition. Despite the extra responsibility of playing in the absence of van Niekerk, she improved her strike from the previous edition and brought it to 77.73. Her strike is still a work in progress but with the way she is raising her game, it will soon cross the 80 mark.
Battling a mistaken identity
When you are an opener, especially a young one playing ODI cricket with all the field restrictions in place, it becomes pretty easier to get carried away. But not if you are Wolvaardt. The 22-year-old did not hit a single six during the 2017 World Cup and repeated the same in the 2022 World Cup. Most people would look at that stat and paint a picture of Wolvaardt as someone who lacks intrepidity. 
But that's not the case. People often mistake her circumspection and prudence for lack of enterprise. She is well and truly capable of hitting the long ball but deliberately plays along the ground to give herself the best possible chance to cash in after she gets her eye in. 
Her strike rate is often a point of debate and a lot of critics perceive that she lacks the potential to play run-a-ball innings. But if you have looked at her outings carefully in New Zealand, then you wouldn't agree to it either. In the game against India, where the runners-up from the last edition had posted 274 runs on board, the Proteas needed to accelerate and Wolvaardt took it upon herself to do the same. 
She scored 80 runs off 79 balls at a strike rate of 101.26, including 11 fours. That knock of hers is a testimony to the fact that she can accelerate when the situation demands the same and can do it without taking unnecessary risks. It was her knock that ensured the Proteas were never behind the eight ball in the chase was pulled off in the end.
ALSO READ: What is Laura Wolvaardt?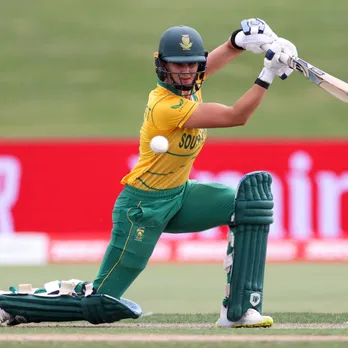 Laura Wolvaardt creaming a cover drive © Getty Images
Captivating cover drive
Batters are artists and when they are out there in the middle with their bats their wagon wheels look as engrossing as a tantalizing tapestry on the wall. In today's day and age when people are running in a race to get their products and innovative ideas patented, cricketers could also do the same if there was an option. 
While Australia's Meg Lanning is known for her expertise on the cut, India's flamboyant middle-order batter Harmanpreet Kaur has made the sweep shot her own. Similarly, Wolvaardt executes the cover drive like no other and she makes people doff their hats in awe every time she plays the shot.
Her ability to pick length quickly adds to her strength and being born and raised on the fiery South African wickets helps her in that regard. The moment she finds the ball in her zone everything else just follows. 
If you capture her playing the shot it won't only make you go weak in your knees but will also cause your jaw to drop thinking how can someone be so aesthetically ravishing while playing a shot technically so challenging. But that is the enigma of Wolvaardt.
She bends her back knee, leans forward to get to the pitch of the ball, keeps her head steady to make sure that her weight is evenly distributed, and tops it with a high-top elbow.
Transition in technique
Wolvaardt had a highly productive run during the 2017 World Cup. But there were areas where she had struggled. Her ability to find the empty spaces and rotation of strike after the opposition captains used to plug in the gaps haunted her throughout the tournament. In addition to that, she was never at ease while facing the spinners and was always in doubt about how to break the shackles.  
But leading into this edition, she worked really hard on her flaws and the difference was there for everyone to see. She was able to deal in singles and twos even after the end of the fielding restrictions. It made her play the anchor's role in a far better and more effective way.
Adding to that, she used her feet a lot more as compared to the previous edition to meet the ball on the full and negate the spin. She was never caught in two minds while playing the spinners and was quick to rock back on anything that was pitched short to her.
But what allows her to make such a swift adjustment? It's her head. Her head is always steady and she has made it a habit to play everything judiciously and right under her eyes so that she is in control of her strokeplay.  
With all the talks around her magnificent strokeplay and impeccable technique, one thing is for certain the 22-year old will rack up tons of runs for the Proteas in the coming days. 
And as some of the most accomplished readers of the game suggest, she is already a legend in the making. But there is one Protea who disagrees with these experts and has a varied standpoint on the same.
"Laura Wolvaardt is not a legend in the making anymore, she is already a legend," believes van Niekerk.