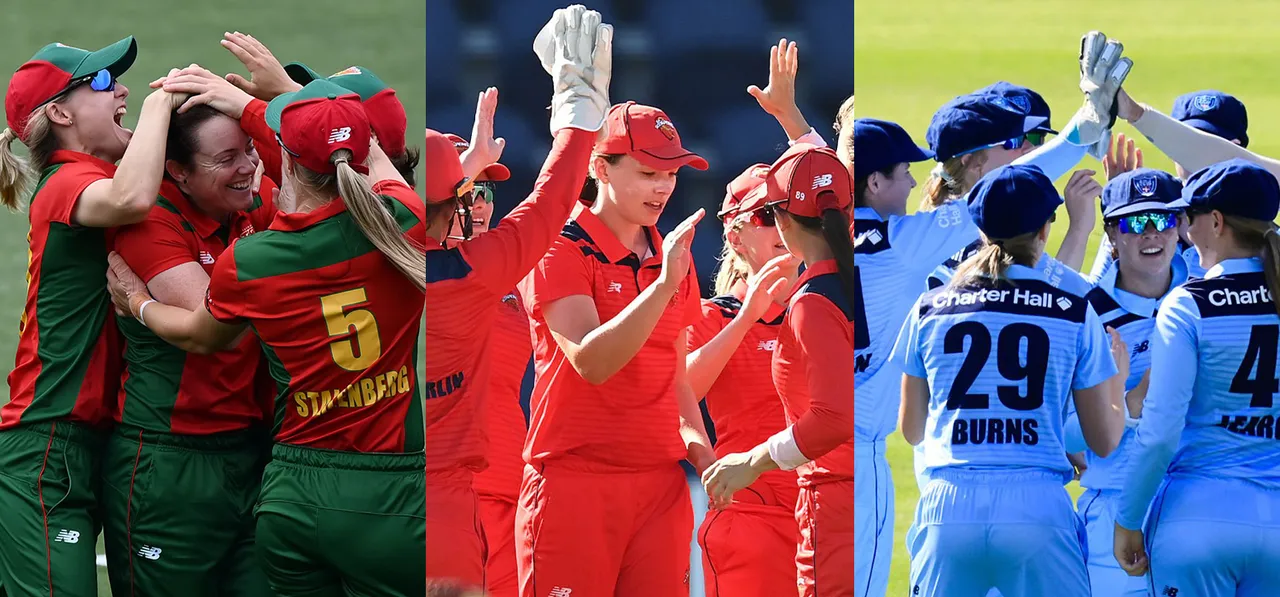 The defending Women's National Cricket League (WNCL) champions, Tasmanian Tigers, have announced the contract list for the 2022-23 season. The runners-up from the previous edition, South Australia Scorpions, and 20-time champions, New South Wales Breakers, have also announced their squads for the upcoming season. 
Tigers have recruited the 21-year-old Rachel Trenaman from New South Wales ahead of the season. The top-order batter will mark her return after missing the previous season due to an ACL injury. The defending champions have also added firepower with swing bower Clare Scott and a pair of young pace bowlers, Callie Wilson and Julia Cavanough. Chloe Abel, Rachel Priest, Emily Smith, and Belinda Vakarewa have missed out on the contract. 
Head coach of the Tasmanian Tigers female program, Salliann Beams expressed her views on the newly constructed squad. "I think we have a really good combination of youth and experience," Beams said. "Some of the names on our list are well known in our sport, so we know they can perform, but what's invaluable with that is the experience and knowledge they can pass on to the younger players."
Also Read: If you want to be successful, you got to see success: The rapid rise of Tasmanian Tigers
For South Australian Scorpions, the 21-year-old allrounder, Madeline Penna, has made a move from Australian Capital Territory (ACT) Meteors. She was amongst the top-10 run-scorers in the 2021-22 season of the WNCL, including an unbeaten century against Western Australia. Scorpions have also secured the services of local players, Ella Wilson, captain of South Australia's Under-19 squad, and the top-order batter, Paris Hall.
Penna will reunite with her Adelaide Strikers coaching staff, Luke Willimas and Jude Coleman. She spoke about that opportunity. "I'm very grateful to be joining the Scorpions and really excited to be working alongside Luke and Jude again," Penna said. "I can't wait to get to Adelaide, and I'm really looking forward to getting the chance to play alongside some of the Strikers girls. South Australia has a great squad, and I'm excited to see what we can achieve next season." 
After the announcement, Williams praised the latest additions to the squad and hoped for an even better 2022-23 season. "We're delighted with the additions that we have been able to make in Maddie, Ella, and Paris, and look forward to what each of them will bring to our squad. We are really pleased with the group that we have been able to build here in South Australia and are extremely optimistic about what we can achieve in 2022-23 and beyond," he said. 
Also Read: ACT Meteors announce 15-player squad for WNCL season; Ferling makes move from Queensland
After failing to make the final in two consecutive seasons, 20-time champions NSW Breakers have announced the squad for the next season with just one change. The 22-year-old Saskia Horley has regained her contract after missing out in the previous season. She will replace Rachel Trenaman, who has joined the Tasmanian Tigers squad. 
"I was in a weird spot and knew I'd lose my contract," Horley said.
"I wasn't surprised that it happened. I didn't take my chance at the Breakers for granted but it was all in my lap and I have now worked out I was probably a touch ungrateful for the opportunity. But losing my contract was the best thing that could have happened to me. I was suddenly outside the professional cricket 'bubble'. I worked at an RSL club until four in the morning, and I started a cricket coaching business. I had to work really hard," she continued.  
Apart from the Cricket Australia contracted players, Breakers have a list of talented players like the fast bowling quartet of Stella Campbell, Lauren Cheatle, Hannah Darlington, and Maitlan Brown. Veterans Erin Burns, Sammy-Jo Johnson, and Lauren Smith are also part of the Breakers squad for the season. 
Squads for the 2022-23 season of WNCL:Tasmanian Tigers:
Nicola Carey, Julia Cavanough, Maisy Gibson, Heather Graham, Emma Manix-Geeves, Sasha Moloney, Clare Scott, Hayley Silver-Holmes, Amy Smith, Naomi Stalenberg, Molly Strano, Emma Thompson, Rachel Trenaman, Elyse Villani, Callie Wilson.
South Australia:
Jemma Barsby, Sam Betts, Darcie Brown, Emma de Broughe, Josie Dooley, Ellie Falconer, Paris Hall, Brooke Harris, Tahlia McGrath, Annie O'Neil, Bridget Patterson, Madeline Penna, Kate Peterson, Megan Schutt, Courtney Webb, Amanda-Jade Wellington, Ella Wilson.
NSW Breakers:
Alyssa Healy (c), Jade Allen, Maitlan Brown, Erin Burns, Stella Campbell, Lauren Cheatle, Hannah Darlington, Ashleigh Gardner, Rachael Haynes, Saskia Horley, Emma Hughes, Sammy Jo-Johnson, Anika Learoyd, Phoebe Litchfield, Claire Moore, Lauren Smith, Tahlia Wilson