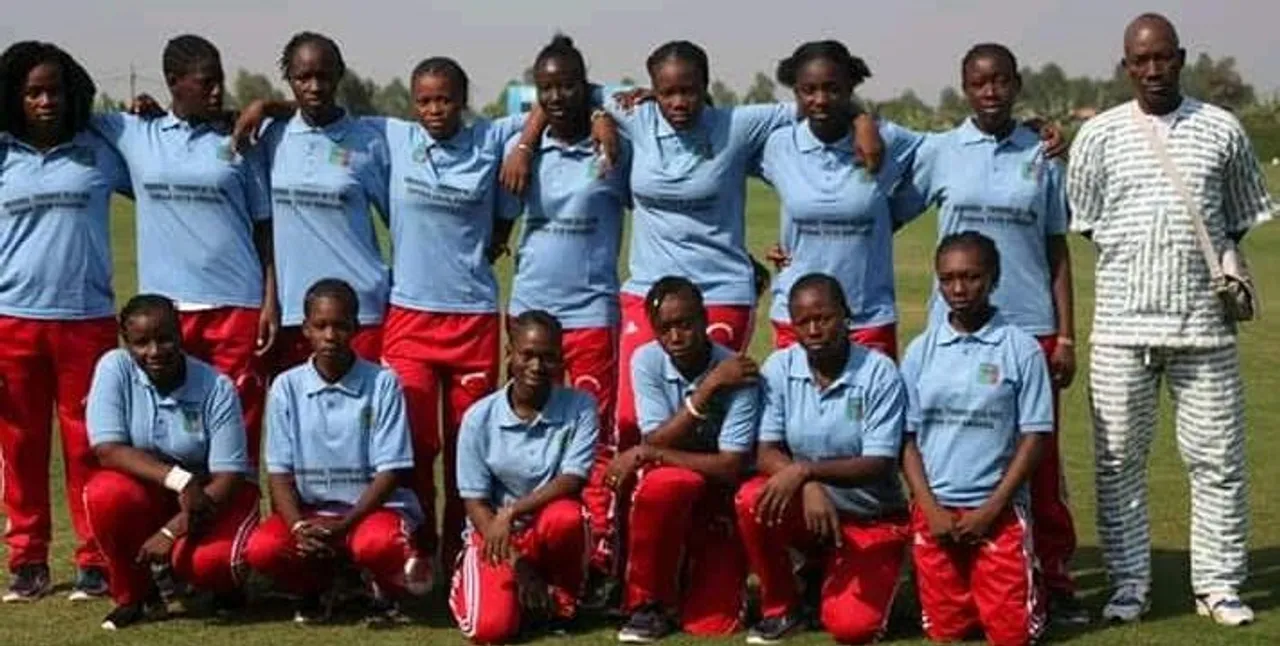 On June 18, Mali played their first international women's cricket match: a Twenty20 international against Rwanda in the Kwibuka Women's tournament in Rwanda. The excitement of their arrival on the international stage was short-lived. Mali was dismissed for six — a total that included nine ducks and a solitary run off the bat. It was the lowest ever total in T20Is in both men's and women's cricket. 
Cue the ridicule.
In the days that followed articles were splashed all over the internet describing Mali's 'shameful' performance. There were discussions as to whether the International Cricket Council had made the right call by recognising T20 matches between all member countries as internationals. 'Would this not dilute the performances of the higher ranked/ more powerful teams?' was the common sentiment. 
Mali, however, had no time to brood.
Over the course of the next two days they managed scores of 11 against Tanzania, and 10 against Uganda— thus recording the three lowest ever totals in T20Is. In the second of the two matches, they were chasing a mammoth total of 314. Their 304-run loss to Uganda is now the biggest margin of defeat in terms of runs in T20Is.
"After the first three matches, I heard some people in Rwanda say, 'Why did Mali even come?'" Kawory Berthe, President of the Federation of Mali Cricket (FeMaCrick), told Women's CricZone. "Even the girls heard it— it was quite hard to deal with. But after the way the matches went, in that kind of situation, I was expecting those comments. So I was not surprised."
After being crushed by Uganda, Berthe summoned a team meeting that evening. He wished to pull the team out of the tournament. "I told them I thought it would be better if we watched the remaining matches from the sidelines. We were being humiliated every day. I didn't think it was worth it."
Youma Sangare, Mali's captain, disagreed with Berthe. She convinced him to let the team play out the tournament. "'President!' she said," Berthe narrates, "'Before we left Mali, we knew we would be playing six matches. We can't pull out now. We have to play these three games and learn more.'"
Also Read: Mali all out for 6, but the true power of sport is not in the scorecards
"Youma convinced me that the tournament was like a school— a place where they would continue to learn, and not lose. They knew that they would not win any of the matches, but they showed so much heart. With heart and patience, you can always move forward. The team was so optimistic all through the tournament, and I really appreciate that."
Mali lost their final three games by margins of 216 runs (against Rwanda), 268 runs (against Tanzania) and 10 wickets (against Uganda), but they showed enough improvement to make clear that they were putting their learning to good use.
The beginning
In Mali, cricket is not even two decades old. 
In 2001, while he was still teaching English at an international school in Bamako, Berthe met with Violet Diallo, the British consul general to Mali at the time, who introduced him to cricket. After discussions with the Headmistress of his school, Berthe decided to contact Dr. Phil Watson, an Englishman, whose four children attended the school, to explore an idea.
"When I told Dr. Watson about our plan to start cricket in the school he jumped with joy," Berthe says. "He was so happy. He brought his equipment from home and taught us (the teachers) the game later that week. We loved it, and decided to share our experience with the students as well. They too enjoyed it."
After this successful initiation, Berthe and Watson decided to set up a body to "manage the spread of the game to other schools and other people." Thus, the Mali Cricket Association was established in 2003 for which Berthe was elected as President, while Watson was Director.
Gaining recognition from the Ministry of Sports was the tricky part. In Mali, only 'Federations' can get Government recognition, and to be considered a Federation, the game had to be introduced in at least three different cities from Bamako. Thus Berthe and co. began their work. They first went to Segou in 2003, then reached Sikasso in 2004, and finally Koulikoro in 2005. After three years of growing the game, the remodeled FeMaCrick became Mali's 25th sports federation, and was also accepted as an affiliate member of the ICC.
The barriers
"Cricket is really, really, really different from other sports (in Mali) and this is what the people are discovering," says Berthe."I do agree with them. Cricket is so captivating. It is so addictive. Once you get into a certain level, there is no way to get out of it."
Football is the most popular sport in Mali. It is played and followed avidly— often people's passion for the sport borders on obsession. There are football fields aplenty in the country. School, university, club and public fields are not hard to find, and equipment is also widely available.
With cricket, the story is the complete opposite.
"The biggest challenge for us right now is the lack of a ground. We do not have our own ground. For several years now we have been requesting the Ministry (of Sports) for help, but sadly no one has taken our request seriously. If it were football, things would be different."
Practice sessions and matches often take place on football fields or basketball courts that are rented out for the duration of a tournament.
"The second biggest challenge, I would say, is the equipment. There is not a single store in Mali where you can find a cricket ball, let alone bats and other things," Berthe continues. "I remember once I went to Nigeria to buy a ball! The ticket from Mali to Nigeria is something like $900 at least."
While Berthe has tried to employ local carpenters to make bats and stumps, this is only viable for junior cricket since it is played with a tennis ball. The local bat handles are "not flexible enough" to take the impact of the hard ball, according to Berthe. The only alternative they have is to order equipment online, which quite obviously ends up being very expensive.
Money is something FeMaCrick can ill afford to spend lavishly. After all they are running on a meagre ICC grant (in 2019) worth $16,000 for the calendar year, and otherwise depend mostly on donations.
"As the game doesn't have a lot of viewers it becomes hard to find one (sponsor). A sponsor is not a part of the culture in our country. We knock on many doors (for donations or sponsorship) but with very few responses. We have been managing somehow. Hopefully now, with many Indian companies investing in Mali these past couple of years, things will improve for us."
The road ahead
"As of now, in 2019, we have 19 teams competing in the regional tournament. Five of those are women's teams— three high school and two primary school teams."
Before the women's team headed to Rwanda in June, there was a regional tournament held between March and April. Based on performances in that competition, a 14-member squad was selected to represent Mali in the Kwibuka T20 tournament. Of the 14 players, only four had played in at least one international tournament before, while the remaining 10 left for Rwanda with precisely one competitive tournament under their belts— the same 15-over regional championship earlier in the year.
Since Mali has no 'senior' women's cricket teams, the selected squad was extremely young with only four players over 20. The youngest, Balkissa Coulibaly was 15.
While Mali's performances in the tournament were underwhelming, Berthe believes there is much good to be taken from the team's experiences in Rwanda.
"After the first couple of matches we sat together and talked about what we need to do. The team realised that they have to stay out there and try and learn as much as they can. In our second (round) match against Rwanda we batted out the whole 20 overs and scored 30 runs— our highest," says Berthe, the excitement evident in his voice. "So you see, these are the things I really appreciate about what the girls did. Yes, there were a lot of challenges, but they were optimistic and didn't get distracted from their goal to learn."
Despite the backlash Mali faced after their performances from sections of the media and many people within the cricket fraternity, Berthe is convinced that if his team is to improve they need to play more international cricket.
"I know a lot of people were unhappy with our participation and the scores and stuff, but let them think what they want, that will not deter me from my desire to spread the game to every single city in Mali. For that, we will have to play a lot of competitions. Yes, domestic cricket is a very good starting point, but we have to play international cricket as well. If I get another such opportunity, I will not hesitate to send my team again because that is how you are going to improve and also popularise the sport."
"When we were going to the airport there was a lot of noise— a lot of people watching. When we cam back (from Rwanda), with a (fair play) trophy, albeit for participation, there was even more excitement and encouragement. Imagine how we can build on that."
Berthe's passion shines through when he speaks about growing the game in Mali. He talks excitedly about university-level cricket that was started in 2014. "I think that is one of the most wonderful things we have done in the recent past. Many university students come from remote villages, and by introducing the game at university level, we can reach those places through these boys and girls. Often they have asked me for equipment so that they can go back home and play, and that makes me very happy."
With the limited resources at their disposal FeMaCrick, with Berthe at the helm, are going several extra miles to try and make their country accept and enjoy cricket. What they desire most for their players is incentive to stay in the game.
"The ICC often say we should focus on domestic cricket. Yes, we have to do that, but if for 10 years players see that they are not being invited to play international cricket, they will most certainly drop out. Where is the opportunity or incentive?"
Berthe is adamant that he will keep pushing Mali to participate in events like the Kwibuka T20 tournament. He has already spoken to the Uganda team about playing some cricket there as well.
While the rest of the world continues to outrage over the sanctity of cricket statistics, Berthe is now back to looking for sponsors, organising workshops for coaches, and in his own words, "creating a road map for the development of cricket in Mali."