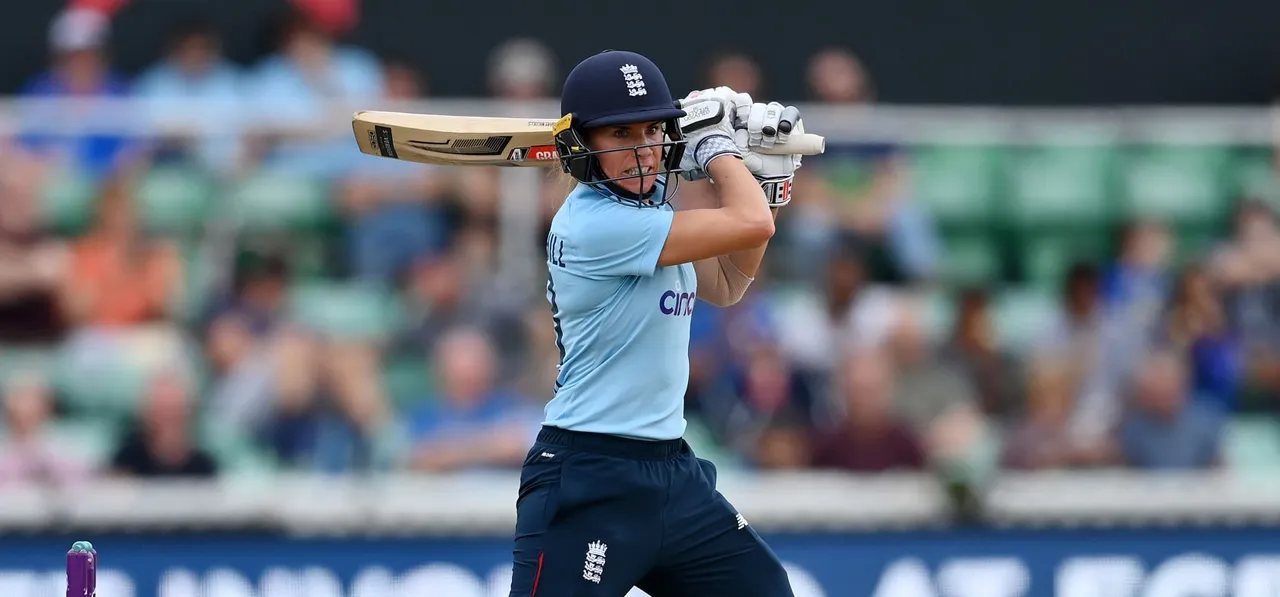 In an era of child prodigies and teenage superstars, Lauren Winfield-Hill is an oddity. She was a late bloomer by her own admission, making her international debut just before her 23
rd
birthday.
31-year-old Winfield-Hill didn't start taking cricket seriously until she went to university. But the progress from there was rapid, it took her only a few months to progress from the England Academy to the national side in 2013.
Since then Winfield-Hill has seen it all - getting dropped from the T20 World Cup, losing her opening slot as well as her place in the side, being part of the World Cup-winning team in 2017 – in a topsy-turvy career. She kept going back to domestic cricket to put in the hard yards and came back after every setback. She also formed a successful partnership with Tammy Beaumont at the top, which was instrumental in England winning the home World Cup.
In a freewheeling chat with
Women's CricZone
ahead of
World Cup 2022
, Winfield-Hill talked about how she started playing cricket, the World Cup triumph, her partnership with Beaumont, and her tenacity which helps her to pick up the pieces and fight back when things aren't going well.
Q: How did you take up cricket and when did you start taking it seriously? What was it like getting called up to the England Academy Squad in 2013?

I didn't really start taking cricket seriously until I went to university and I was on the MCCU Academy when I was at Loughborough University. It was great because it meant that I could spend half my time with my studies and half the time training in the academy. And that was sort of the first time and I was like 21-22, I didn't really take cricket seriously before that.
I was one of those late bloomers in terms of getting on to the England Academy program. Some of the girls that I've grown up playing with are on it like (when they were) 15, 16 years old, whereas I wasn't quite as young. But then that transition from England Academy to England was pretty quick. I think I was only on the academy for about six months properly until I got called up for England. So I probably took a while to get to that stage. But then that jump from (the) academy to England level was quite a quick one.
ALSO READ: When I play cricket, I always smile, that is my motto: Amanda-Jade WellingtonQ: You made your international debut in 2013, just before the professional era. Can you describe the experience of making your international debut? Then you became one of the first 18 players to get central contracts with England, how did it change your career?

It was good timing; it meant I didn't have to get what you call a real job and go and use my degree. It was great, to be honest. I never expected to get called up as quickly as I did. I think there was me, Nat Silver and Tash Farrant called up on that same trip and all debuted on similar days.
It's a nice thing that girls growing up now genuinely see it as a professional avenue in front of them, whereas for us, it was just a natural evolution of you and amongst it was playing for England. And then it was, ok, now you're going to become professional and (it was) just sort of (being at) the right place at the right time.
Q: You were omitted from the T20I squad for the T20 World Cup in 2016. How frustrating was it and how did you overcome it?

The way the game is now, and how the standard of international cricket is, it's going to be tough at times and you are going to go through waves of form, in and out of selection. There are very few players who are who consistently perform and never get dropped. I'm one of those people that I've been in and out throughout my whole career. But I guess the real strength of mine is that I am very resilient and very determined. So, if I get knocked down, I will probably have a few sobs and get emotional about it, then pick myself up and go again and try and get back on the horse again, train, and prove people wrong.
I have managed to do that quite a few times throughout my career, but I think it's one of those things where you are just hungry to try and succeed and try to do better. It hurts at the time. But you never want to admit it, but the selections and things like that are always fair. I've been on both sides of it. I've been selected in for players and I've been on the other end of it where you are the player that's been dropped and at the time, you might feel it's not fair. But if you truly reflect on it and look at your performances; they're probably not where they're needed to be. It's one of those things where it always hurts, but it's always fair.
Q: Your knock of 123 against Pakistan in 2016 was a breakthrough in your career. How did it change your career as a player?

Any time you post a big score like that, it's a bit of a breakthrough in your career. It was sort of the changing of the times with a few senior players retiring and the new coach wanting to go in a new direction. There was quite a lot of pressure on us youngsters at the time; you are getting rid of some greats like Charlotte Edwards. You've got to make sure you've made the right decision and these youngsters know what they're doing.
Everybody came out and hit the ground running with that series. Me and Tammy both got hundreds. Heather (Knight) got a big one. The players were under the microscope to take this new team forward and replace the players who have gone before us. It's one of those things where if you make a significant contribution like that, it always gives you a big boost in your career and gives you a bit of longevity.
ALSO READ: I want to be the player who finishes matches for Pakistan: Aliya RiazQ: Talking of Tammy Beaumont, you formed a successful partnership with her at the top of the order in England's triumph in the 2017 World Cup at home. Can you generally describe the campaign?

It was amazing. I think that's why we're so excited to sort of play in this World Cup, We've got such fond memories of 2017. It's always different when it's on home soil, but it was one of those things where it felt like it was just meant to be for us. There were lots of times when we had games where we probably had no right to win and we won. Just to play in front of a packed-out crowd like that at Lord's, it'll never happen again in our lifetime with World Cup cycles. It was truly special.
A large part of that group is still together here with an opportunity to defend it. I think that's what makes it special because you've got those emotions that you had in 2017 and a core of players who are going to have an opportunity to try and defend it and keep it in our hands.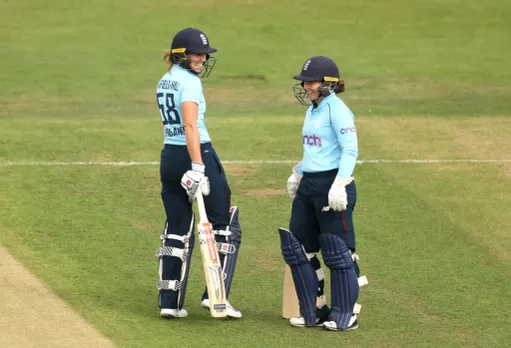 Tammy Beaumont and Lauren Winfield-Hill of England in conversation (Photo by Alex Pantling/Getty Images)
Q: You also shared a successful partnership with Tammy Beaumont at the top in T20I cricket – including that record-breaking 147 run stand in Bristol. You two have opened the batting in all three formats, how do you see your partnership with her?

We have played a lot of cricket together and we have really good chemistry as a batting partnership. We know each other's game really well. We can drag each other through tough periods and enjoy some nice periods of the game together. We communicate really well. I think there's  quite a lot of trust built up there because we have spent a lot of time together playing over the years.
We generally had some pretty good partnerships at the top and set the game up really well. It's something that's been quite important for us as an ODI team, especially just to set a really good foundation. When we've had really good success in ODI cricket, I think that's probably been quite a crucial part of it, making sure that we set the game up and make sure that you've got that ten overs to explode at the back end.
Q: England will be looking to defend the title in New Zealand, how much do you think the game has changed from the seminal day at Lord's in 2017?
I think everybody has evolved individually, I think what we've done really well is we've got a lot of new additions to the senior core that remains. There is a core group of senior players now that have played a lot of cricket together. But there's that real fruitful addition of lots of youth as well. You've got the likes (of) Sophia Dunkley, Maia Bouchier, Sarah Glenn, Charlie Dean, Freya Davies; Kate Cross wasn't around at the 2017 World Cup. What we've managed to do is we've kept a core together. But we have some really exciting additions as well.
I think the game has evolved a lot. The skill has gone up. You know, people are playing with a higher tempo. I think a big thing that's changed is the fielding. It's a lot more athletic game (now). I also think things like the surfaces we are playing on now, the pitchers have got better, which obviously creates a better game as well.