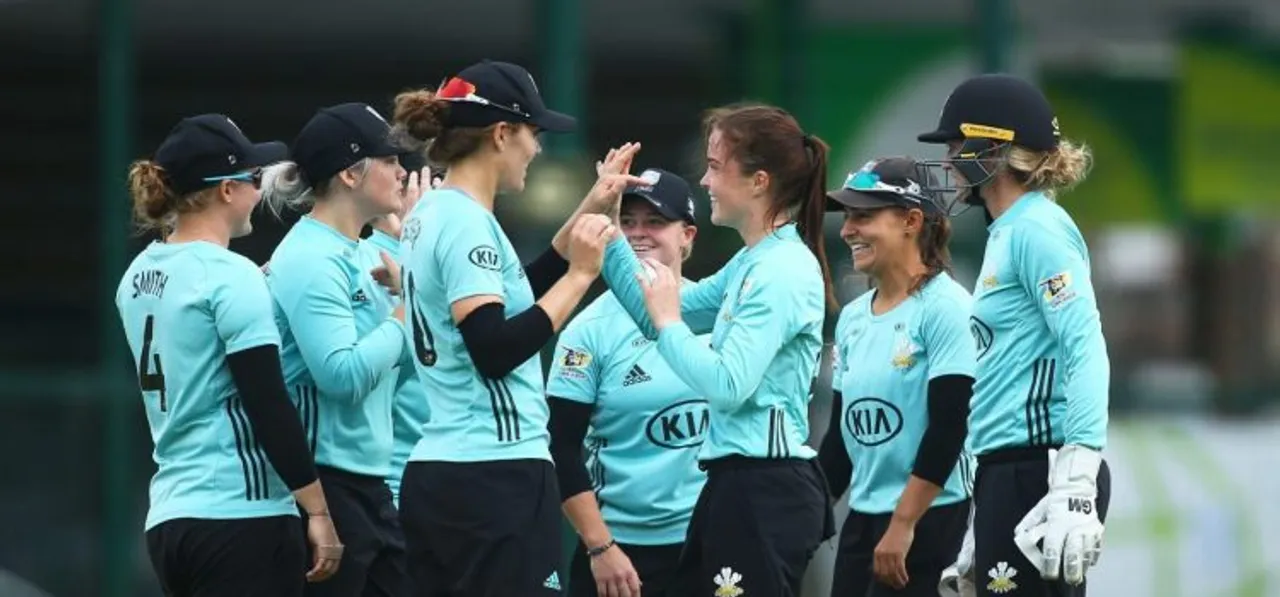 Match Preview:
Surrey Stars vs Western Storm
Date:
21 August 2019
Venue:
County Ground, Taunton
The law of averages is something often spoken of in cricket. When it comes to the toss, poor decisions, bad luck, and sometimes a winning streak, it is said that eventually, the law of averages always catches up with you.
Big tournaments are about peaking at the right time. If a team is able to shake off a couple of early losses, or suffers a slump of form in the middle of a tournament, yet finds a way to sneak into the knock out stage, that is often the team that is most dangerous, because that team has the said 'law of averages' on its side.
In the 2018 edition of the Women's Cricket Super League, Surrey Stars were that team— the one that snuck into finals day by the skin of their teeth, and eventually went on to demolish the opposition on that day.
A year on, Natalie Sciver's team are in a similar position. Following their washed out match against Southern Vipers, Stars have crashed to their
third straight defeat
, falling to fourth on the points table, seven behind Southern Vipers who are third.
In a quick turnover, following their nail-biting loss to Yorkshire Diamonds, Stars will face Western Storm— a team on the other end of the spectrum— at the County Ground in Taunton on Wednesday (August 21).
Storm are the only unbeaten team in the tournament so far, with seven wins out of seven. They have found ways to win, and dominated most matches with both bat and ball. On the odd occasion that they have struggled, Storm have found heroes at different turns.
Although it appears like they have a mountain to climb, Stars can take heart from the fact that they have beaten Storm four times in their last five encounters— twice chasing down targets in excess of 150. With their backs to the wall, Stars will be hoping that the law of averages evens things out for them. They desperately need a win, and one against a rampaging Western Storm will do their confidence a great deal of good. 
Key Players:Fran Wilson

With the likes of Smriti Mandhana, Rachel Priest and Heather Knight in their ranks, Fran Wilson has often flown under the radar for Storm. Her contributions through the course of the season read six innings, 194 runs at an average of 48.50 and strike rate of 131.97, including two half-centuries. She has twice guided Storm through tricky chases—
against Lancashire Thunder
and
Southern Vipers
. Even in Storm's
previous game
— their seventh win of the season that came against Vipers— Wilson contributed an even 50, and shared a 115-run partnership with Knight.
Aside from her ability with the bat, Wilson adds great value in the field. Arguably one of the finest fielders in the world, Wilson is often seen lurking behind square on the off-side early in the innings, after which she patrols the boundary. Quick across the ground, with rapid reflexes and a safe pair of hands, Wilson saves a large number of runs for Storm. Her contributions will continue to be vital if Storm are to maintain their unbeaten streak. 
Marizanne Kapp
Marizanne Kapp has not yet hit her best form in the WCSL so far. Early in the tournament, she put on a fast bowling master-class
against Lancashire Thunder
, hooping the ball away from the batters, and getting the odd one to cut in. So far, it is most likely the spell of the tournament. Although she has only taken three wickets, Kapp has been miserly through the course of the season. Her tournament economy rate of 4.64 is the third lowest of the season, and the lowest amongst those who have bowled more than 10 overs.
Also a handy batter, on Tuesday (August 20), Kapp played a wonderful little innings to keep Stars in the game after they had collapsed to 52 for 4 within nine overs. Her unbeaten run-a-ball 39 included a massive six over square leg that showcased her power, while a scoop that followed pointed to a wonderful awareness of the field. Kapp's allround contributions will be key to getting Stars' campaign back on track. After all, the defending champions will be keen to protect their crown. 
Conditions:
Traditionally, conditions in Taunton have suited the batters whilst also providing some help for the slower bowlers. On a clear day, with no rain forecast, a flat surface and a quick outfield, one can expect a fast paced game on Wednesday. 
Squads:Surrey Stars:
Natalie Sciver (c), Laura Marsh, Sarah Taylor, Bryony Smith, Mady Villiers, Amy Gordon, Aylish Cranstone, Gwenan Davies, Grace Gibbs, Eva Gray, Hannah Jones, Rhianna Southby, Marizanne Kapp, Lizelle Lee, Dane van Niekerk.
Western Storm:
Heather Knight (c), Anya Shrubsole, Fran Wilson, Freya Davies, Dani Gibson, Ellie Mitchell, Claire Nicholas, Sophie Luff, Naomi Dattani, Amara Carr, Sonia Odedra, Alex Griffiths, Smriti Mandhana, Rachel Priest, Deepti Sharma.