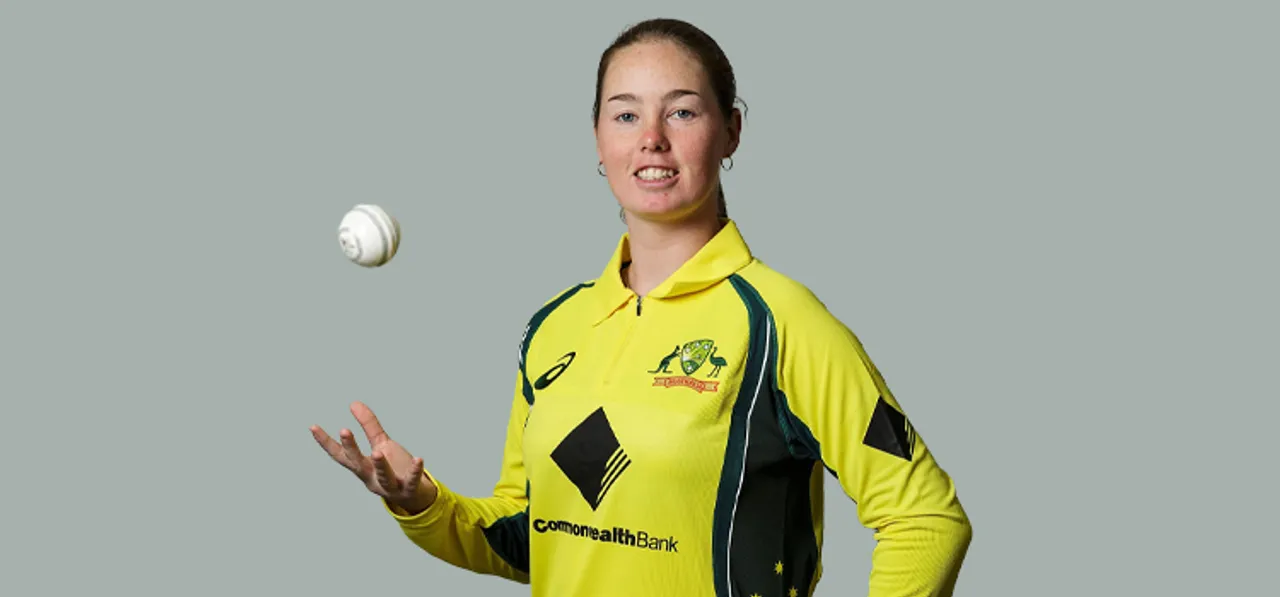 Amanda-Jade Wellington made her international debut in 2016, at the age of just 17. With her very first delivery, she took the wicket of Mignon du Preez. At that moment, a long cricketing career seemed to be on the cards for the youngster. But, it has not been all smooth sailing for the young leg-spinner. 
Despite being in and out of the Australia squad from time, she has managed to stay around the fringes, making a solid case to become a regular member of the current Australian team, which is arguably the greatest of all time. After not being in the Ashes squad, Amanda made it to the squad for the World Cup 2022 in New Zealand. 
In an exclusive interview with Women's CricZone, Amanda opened up about her recent WBBL form, her dream debut, her famous ball of the century and how she keeps herself motivated in tough times. 
Q: You have been quite a consistent performer in the WBBL for the past three years. What would you say has been the secret to your success?
Ans: I don't think there's any secret. I think it is just the way I am as a leg-spinner. The way I sort of encourage batters to go after me with my flight and with the amount of turn I get. I think I am quite a different leg spinner than everyone else. But as a spinner, you have to recognise that you are a spinner, you are going to get hit sometimes. You know, you are going to get wickets here and there.
T20 cricket is so hard, you can bowl a lot of good balls one day and get hit for runs and bowl terribly one day and get five wickets or whatever. But I think what has worked for me over the years is my consistency. I have gradually improved each year. Every year, I am bowling less balls down the leg side, bowling less extras each year. And I guess, I am always asking that question from the batter's point of view, making them play more often. 
Q: Heading into the 2021 season of the WBBL, did you do anything differently? Your numbers were even better than previous seasons. 
Ans: For me, it was more to do with my length. I talked about it in the last few games about my long ball. I struggle bringing back my length. I brought in the long ball where I bowl at stumps and my length automatically comes back a bit. So, it is about bowling a bit shorter and having batters run at me. But, it is also about attacking the stumps a bit more. I don't think a lot has changed over the years, but it is just the length which has been crucial. 
Q: Did someone speak to you regarding your lengths or did it come naturally to you?
Ans: It was about having the conversations with my bowling coach and also understanding that a lot of bowlers use the long ball. Like Lisa Sthalekar used to bowl it a lot during her cricket career. I was having trouble with my length and I thought it could be something I will implement in my game. And in the end, it actually worked quite a bit. For me, it is probably easier to bowl a long ball than a ball which is short in length. 
Q: Let's talk about your international career and that ball to Mignon du Preez. What are your memories of that moment and that day? We know how players can be nervous when they are making their debuts for their country, but your story did have a fairytale beginning.
Ans: Ah! I was so nervous even after getting picked. It was out of the blue. I remember telling my mum and dad, and they were jumping up and down, hugging me. They came down to Coffs Harbour and I had my best friend there as well. I had so much support back home. 
I was so nervous. I was talking to myself and literally saying 'just bowl how you normally bowl in WNCL. Just do your thing'. But I couldn't believe it (on getting a wicket off the first delivery). My best friend actually said the day before that she would laugh if I got a wicket with my first ball and we were sitting later and reminiscing about that. 
Q: Let's talk about spin-bowling. Who do you really enjoy watching as a spin bowler and who has been the most influential in making you a top quality leg-spinner? 
Ans: When I first started, it was my father who taught me and obviously I would watch Shane Warne here and there. I remember watching him on Youtube, watching all his highlights. But then growing up, I had a stint with Shelley Nitschke. She did a lot of work with me throughout my career and I couldn't be more thankful to her. She took a no-bullshit motto with me, which some players don't like, but I am someone who likes honesty. 
Q: Why did you choose leg-spin bowling? What drove you towards it?
Ans: Well, I was younger, I was so silly. I once did a monkey flip and broke my wrist, both of them at the same time. I was still playing cricket and I got approval to do that as well. But when I bowled during the game, I bowled a few leg-cutters. And I could see it move quite a bit. And then, I sort of had an interest in how the ball was moving. Then I headed on to choose leg-spin. I knew Shane Warne was a leg-spinner and I just kept watching him and tried to perfect his bowling in the backyard. I just wanted to be like him. 
The more and more I did, the more I enjoyed it. So, I knew it was hard. And it is something which is hard to perfect. I think I get so much joy in trying to get it right. Seeing how leg-spin is an art. I am a perfectionist and try to do things to my very best. So, I am trying to get perfect at leg-spin, I am not there yet but I hope I get there someday. 
Q: Your only Test wicket so far is sometimes credited as the 'ball of the century'. Talk me through that ball and what are your memories of that moment. 
Ans: I just didn't know. I mean after the game I found out how big it was. Once the clips started coming out, people started talking about that here and there. It has been so many years and people still talk about it. I always get compared to Shane Warne, I couldn't thank everyone enough for doing that. But I couldn't be like him even if I wanted to. The way he spins the ball, the way he bowls, the way he plays the game with so much aggression and how he goes about it is incredible. 
But, during that day, that ball, I remember we were in a situation where we needed a wicket. I was just trying my best to hit those rough patches and get us wickets. But when I bowled it, I thought it was going to be a bad ball and it was going to land on the leg stump and not where I wanted it to. And then, it just spun back and hit the top of off stump and we celebrated. And I remember watching it on the big screen, it was quite something. 
Q: Let's talk about the Ashes. You were obviously disappointed at not getting picked as you wrote, "No matter what happens in your life, always face it with a smile" on Twitter. How do you handle the emotions in a situation like this? And, I ask this question because I think cricketers and even regular people can learn something from such experiences. 
Ans: In the past few years, my mental side has improved quite a lot. People often talk about how physical cricket is. But, honestly, I think it is such a mental game. I always look at the positive side of things, when I play cricket, I always smile. That is my motto. For me, I am obviously disappointed at not being picked for the Ashes. But I got a really good opportunity to play for the Australia A team. A lot of girls would be aspiring to do that. 
And for me to get a chance to represent my country is incredible. You know, I am going to take this opportunity with both hands and hopefully perform. If it doesn't go according to what I thought, that's fine, I am still going to smile and play for my country, just know a lot of people would want to be where I am and just be grateful that I am here. 
*A few days after this interview was recorded, Amanda was named in the World Cup 2022 squad of Australia.