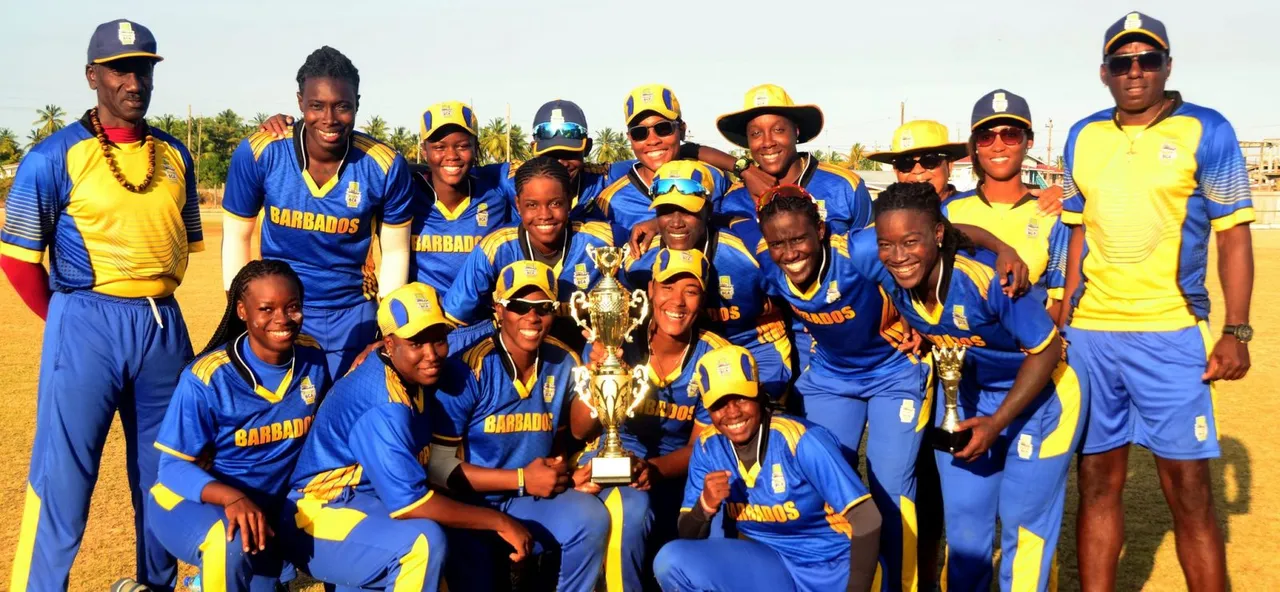 West Indies' domestic season will kick off with the Super50 Cup and the T20 Blaze regional tournaments, Cricket West Indies (CWI) announced on Friday (May 20). Guyana will host Super50 Cup matches from June 7 to 17, while the T20 Blaze event is organised from June 19 to 25. The top six domestic teams from the Caribbean, including the Leeward Islands, Windward Islands, Barbados, Guyana, Jamaica, and Trinidad & Tobago will participate in these tournaments. 
After a hiatus of two years due to the COVID-19 pandemic, the domestic will return with defending champion Barbados taking on Guyana at the Guyana National Stadium on June 7. The three venues – Everest Cricket Club, Enmore Cricket Ground, and the Guyana National Stadium will host the Super50 tournament. There will be five rounds of the one-dayers, with each team facing the other once. The Guyana National Stadium will host the T20 leg of the domestic competition entirely. 
Also Read: Hayley Matthews: Leader of the pack
Jimmy Adams, CWI's Director of Cricket, highlighted the importance of these domestic competitions for West Indies cricket. "We are delighted to see the return of the women's regional tournament on our annual calendar as it is a crucial component of our cricket in the region," he said. We are also pleased to have our international players in action on home soil playing with our regional players."
Adams applauded the performance of the West Indies team in the recently concluded ICC World Cup in New Zealand. "Our women's game is showing improvement, as was demonstrated with some good performances during the ICC Women's Cricket World Cup in New Zealand earlier this year. Ideally, we want to see a further demonstration of that progress as we look to upcoming bilateral series and international events."
"Very importantly, the regional tournament will serve to identify players who could potentially graduate to our international squads in the near future," he concluded. 
Full match schedule:Super50 CupRound 1: Tuesday, June 7
Leeward Islands v Windward Islands at Everest Cricket Club
Barbados v Guyana at Guyana National Stadium
Jamaica v Trinidad & Tobago at Enmore Cricket Ground
Round 2: Thursday, June 9
Trinidad & Tobago v Guyana at Everest Cricket Club
Leeward Islands vs Barbados at Guyana National Stadium
Jamaica vs Windward Islands at Enmore Cricket Ground
Round 3: Sunday, June 12
Barbados v Windward Islands at Everest Cricket Club
Jamaica v Guyana at Guyana National Stadium
Leeward Islands v Trinidad & Tobago at Enmore Cricket Ground
Round 4: Tuesday, June 14
Jamaica v Barbados at Everest Cricket Club
Trinidad & Tobago v Windward Islands at Guyana National Stadium
Guyana v Leeward Islands at Enmore Cricket Ground
Round 5: Friday, June 17
Jamaica v Leeward Islands at Everest Cricket Club
Barbados v Trinidad & Tobago at Guyana National Stadium
Windward Islands v Guyana at Enmore Cricket Ground
T20 Blazeall matches at Guyana National StadiumRound 1: Sunday, June 19
Leeward Islands v Windward Islands 
Barbados v Guyana 
Jamaica v Trinidad & Tobago 
Round 2: Monday June 20
Trinidad & Tobago v Guyana – 10am
Leeward Islands vs Barbados 
Jamaica vs Windward Islands 
Round 3: Wednesday, June 22
Barbados v Windward Islands 
Jamaica v Guyana 
Leeward Islands v Trinidad & Tobago 
Round 4: Thursday, June 23
Jamaica v Barbados 
Trinidad & Tobago v Windward Islands 
Guyana v Leeward Islands 
Round 5: Saturday, June 25
Jamaica v Leeward Islands
Barbados v Trinidad & Tobago 
Windward Islands v Guyana