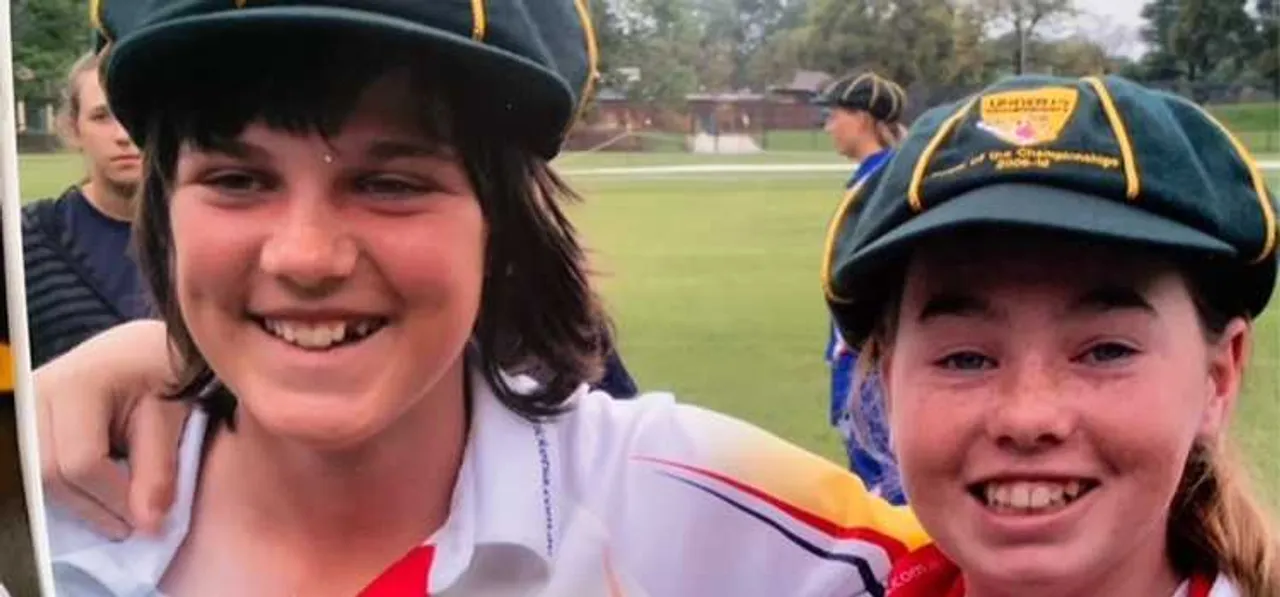 It was a contest between Trans-Tasman rivals at the picturesque Basin Reserve in Wellington. After pummeling their neighbors to reach 269 in the first innings, Australia had reduced New Zealand to 73 for six in just the 20th over. Hayley Jensen walked in to bat at no. eight with the hosts needing to climb a mountain to avoid a loss. She lasted all of one ball:
Bowled Wellington, Caught McGrath. 
That wicket was years in the making. Two best mates from South Australia, who grew up playing together, combined to take Australia closer to their 100th ODI win against New Zealand.
Earlier in the day, McGrath made an impact with her fourth ball. A length ball kissed the outside edge of Maddy Green's bat and Alyssa Healy caught a dolly to give McGrath her first-ever wicket against New Zealand. 
Wellington's mother, Heather, will tell you this is how it has always been. 'Wello' has always followed 'T-Mac'. 
"Amanda is two years younger than Tahlia. She played Under-12s for four years and Tahlia did it for three. When Amanda started playing the Under-15s, Tahlia was already there. When Amanda made her debut for the Scorps (South Australian Scorpions) in 2012, she had a friend there for a year," Heather told Women's CricZone.
Just like most Australian cricketers, the pair started their journey in junior cricket. Heather recalls hose early years - traveling around, watching matches with Tahlia's grandparents, and seeing their children show plenty of promise.  "When the girls were younger and we went away on trips for games, those were the best days. It was like one big family. The kids would have a good time playing cricket and parents had a good time as well. Like us, Tahlia's grandparents have been by her side for as long as I remember."
ALSO READ: Tahlia McGrath's three acts
"South Australia were not very strong the junior levels. But, I remember, they were playing New South Wales (NSW) and Amanda took her best-ever figures, 7 for 20 and Tahlia took two wickets. And then they lost the game. It was a very close game. 
"Then, there was another game. We had never beaten New South Wales or Queensland and we absolutely pummeled them. Again, it was Amanda and Tahlia. And it was like, these two are going to go places," she remembered.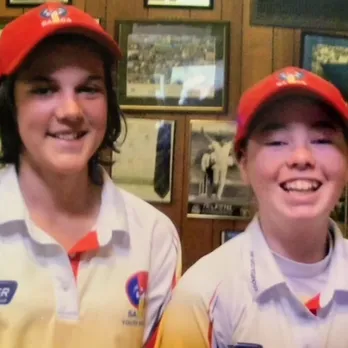 Young Amanda and Tahlia. © Special Arrangement
True to that prediction, the pair, earned their maiden call-ups to the Australian team in 2016 for a five-match series against South Africa at Coffs Harbour in Queensland. It was before the fourth ODI that Heather received an exciting call: "We got a call from Amanda and she said 'I am going to make my debut'. We hopped in the car and drove for 23 hours straight to watch her debut. Tahlia's grandparents also made the 23-hour trip with us. We were all there to see them make their debuts for Australia."
Australian legend Alex Blackwell handed cap no. 131 to Tahlia. In a heartfelt speech made for the cap presentation, the vice-captain said, "I vividly remember this tall young kid playing for South Australia. You have changed a lot in a short amount of time. You have taken your opportunities for South Australia and you have become a world-class player, who is ready to represent their country. Captain Meg Lanning echoed those sentiments while handing cap no. 132 to Amanda. "You have come through the ranks and really performed well for the Scorpions as well. You thoroughly deserve this opportunity and we are all looking forward to playing alongside you and Tahlia."
A serious back injury kept Tahlia away from a spot in the 2017 World Cup team and Amanda could only play in a league game against New Zealand due to a fractured finger. Four months after the unsuccessful World Cup campaign, the pair made their Test debut at the North Sydney Oval. They made an impact, with Tahlia taking three wickets and scoring 47 runs, while Amanda bowled that famous delivery to send Tammy Beaumont back on day four.
2018 was particularly hard for both of them, with Amanda being dropped from the national squad and Tahlia battling back issues once again. Their Women's Big Bash League (WBBL) team, Adelaide Strikers, came agonisingly close to their maiden title in 2019. Amanda scored a brilliant half-century and Tahlia took important wickets of  Maddy Green and Grace Harris, but they couldn't stop Brisbane Heat from lifting their second trophy.
While Amanda was still away from the national setup in October 2020, Tahlia found her place in the Australian playing XI against New Zealand. Playing in her first ODI after three years, she clobbered the Kiwi bowlers to score 29 off just 11 balls. The following year she solidified her place in the Australian team with Player of the Series awards in the multi-format series against India and England.
"It's like one of your own kids growing up," a proud Heather told Women's CricZone. "I have known her for so long and watched her go up: division after division, team after team. It's very special to watch her grow from a young age. She is like another daughter to me. They all get along so well. It's like one big family we have."
ALSO READ: When I play cricket, I always smile, that is my motto: Amanda-Jade Wellington
The World Cup in New Zealand presented them with the opportunity to don the green and gold together for the first time since October 2017. Tahlia missed out in a game against Pakistan as Amanda made it to the playing XI for the first tie since March 2018. Fittingly, Tahlia was the first one to know about this.
"I am rooming with Tahlia McGrath. I shared the good news with her. She was so excited for me," an emotional Wellington said in the press conference. "She is a fantastic player and also an amazing human being. I consider her one of my best friends. We have played most of our cricket together and to have her by my side since the debut is pretty special as well. I am so proud of her. To see her come out on the big stage and perform consistently is amazing."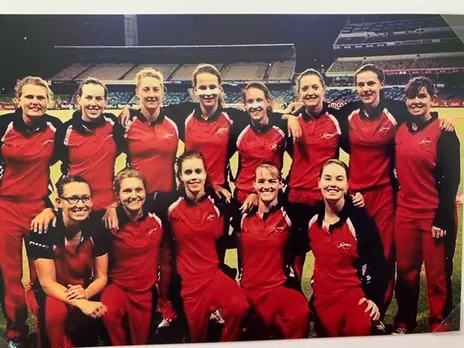 South Australian Scorpions © Special Arrangement
The league match against New Zealand was special for the duo not just because they played together for the first time in four years, but also because all four South Australians in the squad - Wellington, McGrath, Darcie Brown and Megan Schutt - were part of the playing XI.
"The South Australians are close to each other. They know their game very well. That good old South Australian bond is tight," Heather said of the relationship between the players.
The youngest of the lot, 19-year-old Brown reflected on the special occasion in the press conference. "Yeah, it was super cool. So it just felt like we were back in South Australia just hanging out. Yeah, I think TMac mentioned that all four of us were playing and - I'm not sure how long it's been since four South Aussies have played in the Australian team. But, I guess that gives credit to back home and the programs that we've got now, and yeah, super proud to be a South Aussie."
ALSO READ: Darcie Brown: Not just another tearaway fast bowler
The soft-spoken Tahlia summed up her journey with Amanda aptly. "We have played together for a very long time. Wello was a nine-year-old playing in my first state team. We made our debut together. We spoke before we went out in that New Zealand game that the last time we played together (for Australia) was that 2017 Test match. It was nice to take the field with her and to have four Scorpions out there as well. It was pretty special to step on the field with such close mates."
Australia have cruised through the league stage in the World Cup. They have made changes in the playing XI according to conditions and opposition. No one knows when Wello and TMac will play together for Australia again, but for now, they have a memory from this World Cup, which will forever stay with them.