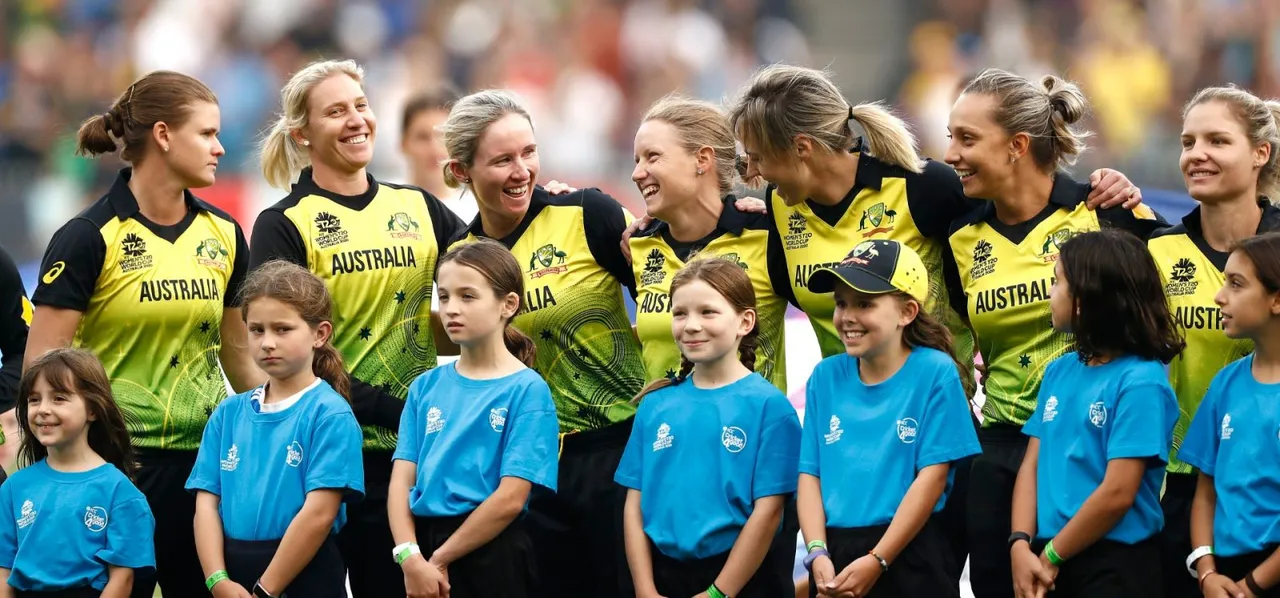 Australia's ICC Women's T20 World Cup 2020 campaign got off to the worst possible start with a loss to India and batting collapse against Sri Lanka. Having come into the tournament as runaway favourites, they were suddenly in danger of being knocked out in the group stage. However, as they have often done, the hosts found a way – their batting coming together in the group game against Bangladesh – eventually cruising to a fifth T20 World Cup title.
One of the key contributors in that turnaround was Beth Mooney. The left-hander, who had come into the tournament in terrific form, found her rhythm with an unbeaten 81 against Bangladesh and never looked back. She finished with a total of 259 runs, including a 54-ball 78 not out in the final, and was fittingly crowned Player of the Tournament, to cap off what was, personally, an incredible home summer.
Having allowed the significance of the team's achievements, in what has been spoken of as a watershed moment in the history of women's cricket (and women's sport) around the world, to sink in, Women's CricZone caught up with Mooney to look back at what she describes as an "awesome" tournament. She speaks freely about dealing with the weight of expectation, the effect of losing two key players, the fear of being knocked out in the semis, and Matthew Mott's support.
Excerpts:
Just how much was on the shoulders of the team with the MCG final
waiting there for you, with a World Record attempt, if you could get the job
done in the group stage?
We sort of knocked that on the head during the tri-series, talking as a group about how it was more excitement than pressure, especially leading into that first game. It was a bit of a different story after that, but we couldn't wait for it to get started because we felt like we had been talking about this World Cup since the moment we collected our medals in the Caribbean: all eyes were on the tournament here with the marketing and media to support us on the way. So, we just wanted to get on with it and stop talking about it.
ALSO READ: Beth Mooney credits Mott for incredible run of form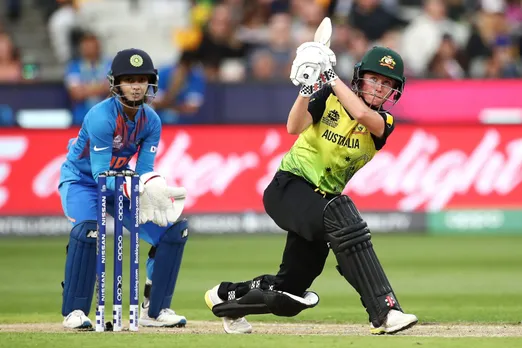 Then you lose Tayla Vlaeminck on the cusp of the tournament. It felt like that took a pretty big toll on the group with her expected to play a major role?
That was a big blow. It didn't get talked about a whole lot (within the) group, but we knew that she was a huge part of our plans against certain teams. In that tri-series, she troubled some of the best players in the world like Heather Knight, Shafali Verma, Smriti Mandhana and Nat Sciver. And as a team, we were just sad for her. She has had a torrid run with injuries so to go out literally the day before the first game... She didn't want to get the scan done because she knew what it was going to say. It was sadness for the person more than the athlete.
In the opener against India, the batting didn't show up beyond Alyssa Healy. What went wrong?
For me and Alyssa at the top, it's about taking the game on and I didn't execute what I was trying to do. It didn't worry me because I was due a low score at that point and I knew we had the batting after me to make a real statement chasing 130-odd. But it went a bit pear-shaped. Playing so much Big Bash, we were always confident until we lost it. But the conversations we had when we walked off were that it was always going to be hard in that game at the Showgrounds against India; it was a completely different wicket to the one we had practiced on and it had deteriorated. We spoke about it as a group and we knew it was always going to be tough and knew we had to get the next couple right.
How do you prepare for a unique challenge like Poonam Yadav?
It's pretty difficult! Going into that game, I spent an hour in the nets getting someone to throw the way she bowls and Rach (Rachael Haynes) and Meg (Lanning) did too. We knew our plan against her, with everyone having a different approach – I wanted to come out and mitigate her wrong 'un and get to her on the full. But she's a very clever bowler despite bowling really slowly, she is subtle with her variations.
It is interesting hearing other people watch her who don't play a lot of cricket. My sister's girlfriend actually said during the game when we were losing those wickets 'I just don't like the way the ball dipped.' No-one in cricket would ever say that, but for someone watching, the ball was doing something completely different.
ALSO READ: Nothing will beat that night: Megan Schutt
And at the WACA, the collapse looked to be on again. How stressful was
that?
I was the third wicket to fall, so when I was walking off, I was just
thinking 'you're an idiot. You have just gone and made it so difficult for your
teammates to keep us in the World Cup. You've played the dumbest shot of your
life.' I really gave myself an uppercut walking off the field. But once I got
off, I made a conscious effort to make sure I am supportive; and who better to
be in that situation than the captain and vice-captain who had gotten us out of
the s**t many times? Probably the first ten overs of that game, my brain was
thinking 'how are you going to answer all of these questions about bombing out
of the World Cup on home soil and losing to Sri Lanka.' Your brain spirals.
That's internal dialogue, so you have to make sure you are doing everything you
can to be supportive and calm. Once Meg and Rach got into the partnership I
knew we were going to be fine, after the initial 20 minutes when there was some
panic and stress.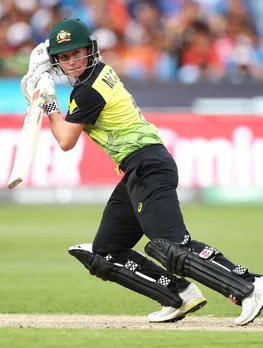 How good was it for Meg to back the batters in at Canberra and bat
first, giving you the opportunity to really get into the tournament and set
that game up with you and Alyssa?
Motty (Matthew Mott) was great with that, we had a meeting with the batters where we sorted ourselves out and shared what we were thinking. The chat after that was making sure any time we walked out there as a collective, we had to take an opportunity to make a statement and really remind the rest of the world that we mean business. Yeah, we had a couple of scares; we are the sort of team that bounces back to show what we are made of. I think that game showed that we talk about being ruthless, that's what it was against Bangladesh. We also knew Canberra was a good wicket – you get value for your shots – so to take pride in hitting in the 'V', to play nice cricket shots, because we knew on that surface and on that outfield we didn't have to force anything. Genuine cricket shots were going to get us the runs we wanted.
After a couple of low scores how much of a relief was it for you getting
runs there and building some confidence ahead of the elimination games?
It was massive for me. Usually, a couple of low scores in T20 (and) nobody bats an eyelid, but as soon as it is in a World Cup there is a bit of background noise about whether it is too much for me or whatever. I was very clear in my plans and processes but hadn't executed that. I knew I was hitting the ball really well so I just had to wait for a day for it to click and it did against Bangladesh and I was off and running.
ALSO READ: T20 World Cup 2020 - setting the tone for the decade
It was all on the line again against New Zealand, an opponent you know so well. Far from the MCG, it was down the road on a Monday afternoon at the Junction Oval in front of a far more modest crowd. Did the sudden-death nature of your mission kick in then?
If you talk to anyone in the group that game was one of the biggest of
our careers. We knew that getting out of the pool stage was always the most
difficult challenge. We have played in a lot of semis and finals so we know how
to perform on that stage, but we had to make it there. The few days leading up
to that game, I slept less than ten hours in two nights; it was awful. I was
stressing the whole time about that game and making sure we got over the line. And
obviously, coming (up) against Amelia Kerr and Maddy Green, I am good mates
with them so, the reality was any of us could end up devastated. So, that game
was very stressful.
You played an important innings to make sure the team didn't lose
wickets in clumps, and batted through to the 18th over for
another half-century. Does your role revert to that when Alyssa Healy doesn't
make runs - trying to bat through the innings as you do so often in WBBL?
If Midge (Healy) gets out it is all about making sure that whatever I am
doing is making it easier for whoever is up the other end. But I wasn't that
happy with the innings, I walked off thinking I'd chewed up too many balls and
should have just thrown my wicket away, but thankfully Rach and Pez (Ellyse Perry)
got 40 odd from the last four or five overs to get us into a commanding position.
It is certainly not my mindset to bat 20 overs it is about taking the game on.
Your bowlers backed you up and got the job done – you were through to the semis. But what was it like realising Ellyse Perry wouldn't be fit to play in those huge finals?
Similar to Tayla, everyone was just devastated. When someone has had an impact on the sport like she has you just want her to be part of the biggest days. There was no talk that we couldn't win without her. It was all around the fact that everyone was really sad because you know every time she plays she has this never say die attitude that was what cost her with her injury in the end. We always knew she would play that New Zealand game, but it was just another blow. At that point, we were wondering if there was any danger of anything going right for us in the World Cup or was someone out to get us?!
In keeping with that theme, you would have realised pretty quickly that the semi-final was under serious threat of being washed out. How did you guys keep calm?
I looked at the forecast earlier in the week and said to Maddy and Amelia that it didn't matter who won that game because whoever did wasn't going to get on for the semi-final with it set to pour down in Sydney. I went out to lunch with Molly Strano and we got caught in this downpour halfway walking to lunch and were running the streets of the Sydney CBD getting soaked. I remember saying to Molly there was no way we were playing when seeing the water flowing down the street. Our game was only six hours away. At that point, I went back into my room and pretended it was sunny, so when we got on the bus thankfully they had the sponsors logo on the window so we couldn't see anything and how ridiculous the rain was. I don't normally eat before a game because it is too stressful, but I had a toasted sandwich and a cup of tea because I didn't think we would play and I was trying to work out what the hell I was going to do with my weekend. What was I going to do? I didn't want to go to the MCG, but all my people were down there. It was pretty dire.
ALSO READ: Beth Mooney keen to keep getting better
But you got on, somehow! It was a bit of a battle with the bat against
South Africa. To what extent did that preparation hamper the batting? Also, did
you realise you were only nine minutes away from the game getting called off
anyway?
Yeah, we did, but also, we had spoken to the ground staff and knew it
was going to rain at the break and stop eventually. So, there was no talk about
batting a particular way thinking it was going to be only ten overs, but the
wicket changed as the game wore on and the ball got wet. When you bat second,
you maybe have a slight advantage with Duckworth-Lewis so I was surprised when
they were chasing only 98. But three hours earlier we thought we were no chance.
Then your bowlers stood up and did an outstanding job. It must feel good
being in a team with so many dependable and experienced operators?
We are lucky in this team with the amount of talent we have and the capacity to execute under pressure is second to none. Semi-final of a World Cup; not chasing that many - the ability to execute the way they did and for our fielders to come to the party as well, throwing their bodies on the line, that was another example of the way we want to be remembered: the character and spirit and fight we show when wearing the Australian shirt.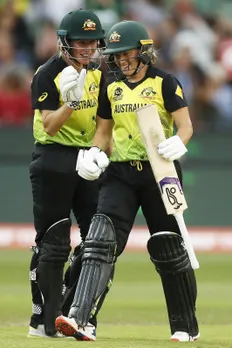 With all the drama behind you, it was off to the MCG where there was a massive crowd. By the time you walked out to open the innings, did you feel liberated knowing it was just the cricket now?
Exactly that. We were just grateful for the opportunity. There were probably more days during that World Cup than there weren't when we thought we would be at the MCG. So, for us it was about enjoying the moment and showing the world what we had. Obviously, sometimes adversity brings groups together and that certainly is what it did for us. I think the opportunity to go out there in front of that many people and show the world what we had and show each other what we were made of and enjoy it together were the things we spoke about. Three days earlier we were no chance of being there.
ALSO READ: A woman in a man's world - Christina Matthews
After watching Katy Perry, Alyssa took Deepti Sharma to all parts in
that first over when she missed her length a few times. It looked as though the
two of you had really settled into the occasion while India were caught up in
it a bit?
Yeah, that's exactly how it felt. When going out to bat I said to Midge 'how awesome is this? It's amazing.' I said to a lot of my teammates through the night, 'what am I doing out here? I am nobody! I am just wanting to bat a bit and play some cricket and 86,000 people are watching!' But then after Midge hit that first four she walked down the wicket and said 'mate, they are so nervous. We have got this game, they are so nervous, they don't know how to deal with it.' With this once in a lifetime opportunity, we could feel the support in there from the people. You see and hear about it but to feel it was different. Then take a moment to enjoy it made us happy – we wanted to enjoy and show people we enjoy bringing (them) joy. It was never about laughing at the opposition, it was about laughing at how unbelievable it all was.
You batted through the innings again, as you have so often for Brisbane
Heat. It was almost the picture-perfect backbone innings, accelerating as you
went?
Definitely. I have been lucky in this team to be supported the way I have been by Motty, the coaching staff, and the selectors. I am one of these people who is a bit self-deprecating but they were really happy with the total and the way we got there and Midge's innings and my capacity to help people out at the other end. So, you wouldn't dream of that ten years ago when I was deciding to play for Queensland, I thought I would just play as a hobby, not play in a World Cup final in front of 86,000 people and contribute to a win.
You were named player of the tournament having scored more runs than any player – man or woman – in a T20 World Cup tournament. How did that feel?
When you put it like that, it probably hasn't really sunk in yet, to be honest. Maybe in a couple of years or ten years or when I retire when I look back at my career, I will be able to give myself a pat on the back. I'm not the sort of person who deserves the accolades; Motty has been a big part of that – believing in me when nobody else did. He thought I could be one of the best batters in the world and gave me more opportunities than anyone else has, and values me as a human and as a cricketer. You reap the rewards of your investment and that's what Motty has done with me. So, it is probably more his award than mine, to be honest.