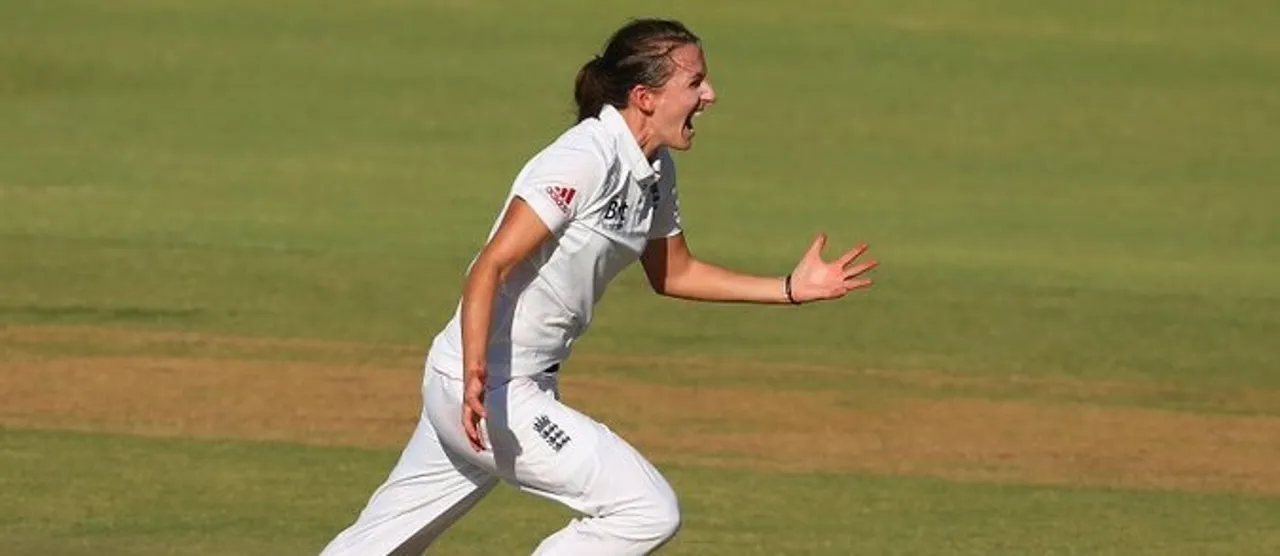 England seamer Kate Cross is confident that they have the depth in their bowling attack to take 20 wickets in four days against India in the upcoming Test match, which will begin on Wednesday (June 16).
Speaking to the media ahead of the fixture, Cross said that although she cannot comment on the team combinations, the seamer feels that they have got the depth in the bowling attack to do well against India.
"I am not sure what the team is going to be," said Cross. "If you have got a Test match, you need your bowlers to stand up and take 20 wickets in four days. Obviously, we have got the depth in the squad to be able to do that."
Cross felt that whenever England has played against India, it has been a great contest. "We saw that
in 2014 at Wormsley
. It was the first time they played Test cricket in a long time. The fact that they beat us just goes to show that we are not going to take anything for granted in this format," she said.
Recalling their previous encounter in 2014, a match that she was a part of, the seamer said that England were "a bit naive" to go into that Test match thinking they have played more Test cricket than India.
"It was probably a good leveller for us. They came out and played really hard-fought cricket and beat us quite convincingly. It just goes out to show that even if you play the format a lot, there is still nothing that you can take for granted."
ALSO READ: Not much of a difference between red and white Kookaburra balls, says Harmanpreet Kaur
On their preparation in the lead up to the upcoming Test match, Cross said that they do not have much in the schedule to prepare for red-ball cricket in general. However, with the series starting with the Test match this time, she feels that they could focus on the format better.
"We played a three-day game a couple of weeks ago. It's a shame that it was rain-affected. We got an opportunity to play an intra-squad game against each other and just get a feel for what red-ball cricket looks like. Obviously, (it is) very different from the white ball game. I think we really enjoy it. When we get the opportunity to do it, we try to brace it as much as possible because we know we have got one opportunity to play a Test match and still want it to be a good spectacle for people to watch."
When asked about the competition within their seam attack to secure a place in the playing eleven, the 29-year-old was quite candid about it. "I'm not gonna say it is exciting because it's not," said Cross, adding, "it is always a worry when you have got people working hard to get your spot. It is great for the team and the environment."
"I think it just goes to show how important those
regional contracts
are and the Rachael Heyhoe Flint Trophy that obviously started last year. The fact that Tash(Natasha Farrant) was able to have performances in that tournament and get selected and come over and play in New Zealand."
ALSO READ: Elated Emily Arlott credits Central Sparks and domestic setup for her England selection
Cross believes that shifting from County cricket to international cricket could not be easy sometimes.
"Now, the transition has gotten easier. It is great for the likes of Emily Arlott. She has put her hand up in the RHF Trophy in the first few rounds, and she is here with us this week. I think it just goes to show the depth that is available in the country and a lot of people knocking on the door."
She seemed impressed with Arlott and Farrant's performances in domestic cricket and the practice sessions. "Emily is a tall fast bowler, which we don't get to see often in the women's game. She hits a lot in those hard lengths, which is exciting. She has obviously got that extra bit of pace. Tash is naturally good at swinging the ball and offers something different with the left-arm option. So it is exciting to have those options in the squad."
On whether there is extra stress to do well in Tests as they do not play enough, Cross said that there is always pressure when England play Test cricket. "I think it is just the fact that it is a rare occasion where we are conscious of the fact that we want to play well. We obviously want to win. That is the first and foremost thing we want to do."
"It is actually about learning in four-day cricket while we play it. We have played a little bit more of it, but that is at the domestic level. If we play more at the international level, it will be better because we will be more used to the format," she concluded.