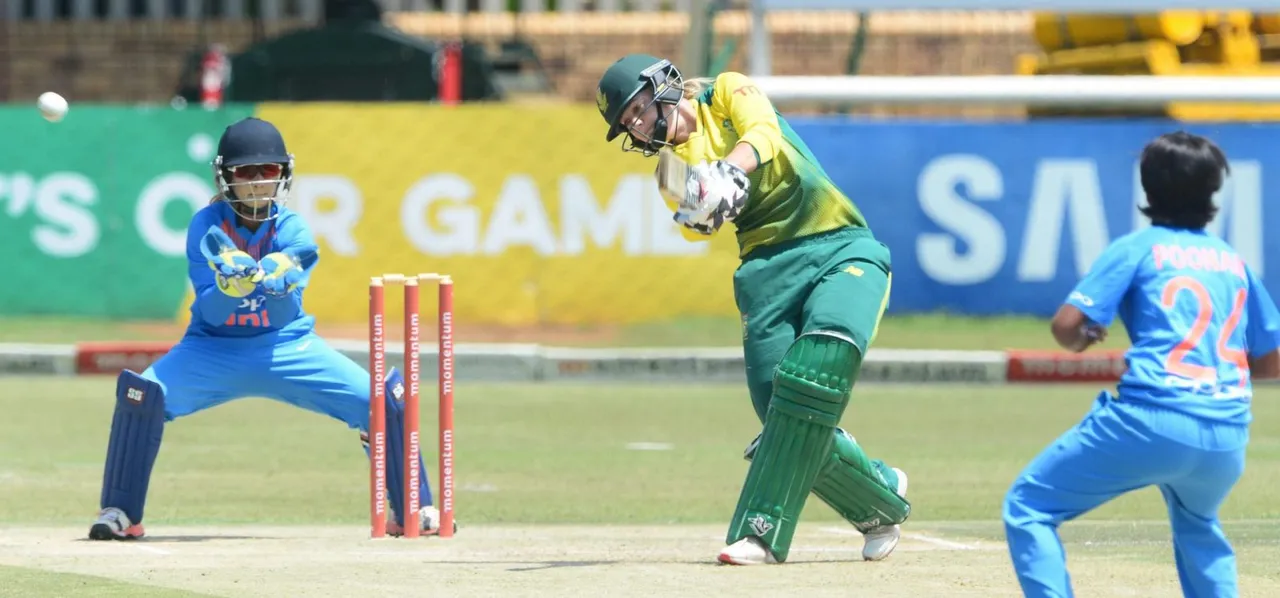 "We definitely want to be the ICC Women's World T20 2018 winners – if that's not what you strive for then I don't know what you're playing for," wrote Dane van Niekerk for ICC (International Cricket Council).

Never thought that life would be like this, van Niekerk shared, "Sometimes I have to pinch myself. When I started playing amateur women's cricket, I thought my life would look a certain way, and that image wasn't great, to be honest. But now, with the life I'm living, there's such a big difference from what I thought it would be - night and day."

As Women's Cricket has come a long way and finally they are getting the much-needed attention. Captain shared, "When women's cricket started in South Africa, it was very much amateur. Now the environment is a lot more professional. And not just in our country; in world cricket, the women's game has really moved at a rapid pace."

"Recently, leagues that popped up have changed the dynamics altogether, and it's become a lot more competitive, a lot more exciting. There are bigger hits and quicker bowlers, certainly not something we saw as much when things started."

Talking about gender equality, she wrote, "There's a lot of talk in sport around the world about how it is for the women versus the men. We've always been realistic, and parity is what we've wanted more than anything. The ICC has been brilliant; it has made it impossible for cricket boards to not move ahead with the times. For the headboard to take women's cricket so seriously is so important."

"Even at Cricket South Africa, since Thabang Moroe (CEO) has come on board, I see a massive difference in the way we've been treated. All we want is for one person to believe in us, and thank goodness that person is the CEO. I have to credit him; since my first meeting with him, he's been pro women's cricket. That's what you need, you need a leader to back a team like ours." She added.

There are few new faces in the squad while talking about them, she expressed, "Professionalism isn't just about your national team though. Before our tour to the West Indies, I heard that Shabbi (Shabnim Ismail) and Aya (Ayabhanga Khaka) weren't going to make it. It was obviously a shock, I'm not going to lie; you always rely on your big names, and here we had four debuts in one game."

"But Masabata Klass has put up her hand and Marizanne (Kapp) has taken on that leadership role and she's done that really well. And then you have someone like Tumi (Sekhukhune), who looked like she'd played for 20 years in her first game. That's the testament to the programme in place, which then gets the pipeline pumping. This is definitely the best batch of juniors we've had, I'll put my head on the block for that one."

"That being said, I'd like to see us win a lot more games than lose. It's sometimes disappointing considering the potential we have in this side, and I think we owe CSA a lot more than the results we've shown."

Confident captain shared, "We definitely want to be the ICC Women's World T20 winners: if that's not what you strive for then I don't know what you're playing for! But as captain, I want to see this group grow as a unit, like a family. With the young ones coming in, I want them to know that they are welcome within the side, it's like a home and they are welcome within this home."

"And now we have the first ever standalone Women's World T20 in the West Indies, and what a milestone it is for our game. It's up to us to bring some good cricket to the tournament. CSA have been a leader in women's sports overall in our country, and we are very privileged."

"We also know it's very important for us to try and push for more parity in other sports - we've been following the Banyana Banyana, the women's soccer team, and the media attention they've been receiving has been brilliant- and I hope I can see that in every other sport in the near future." She further added.