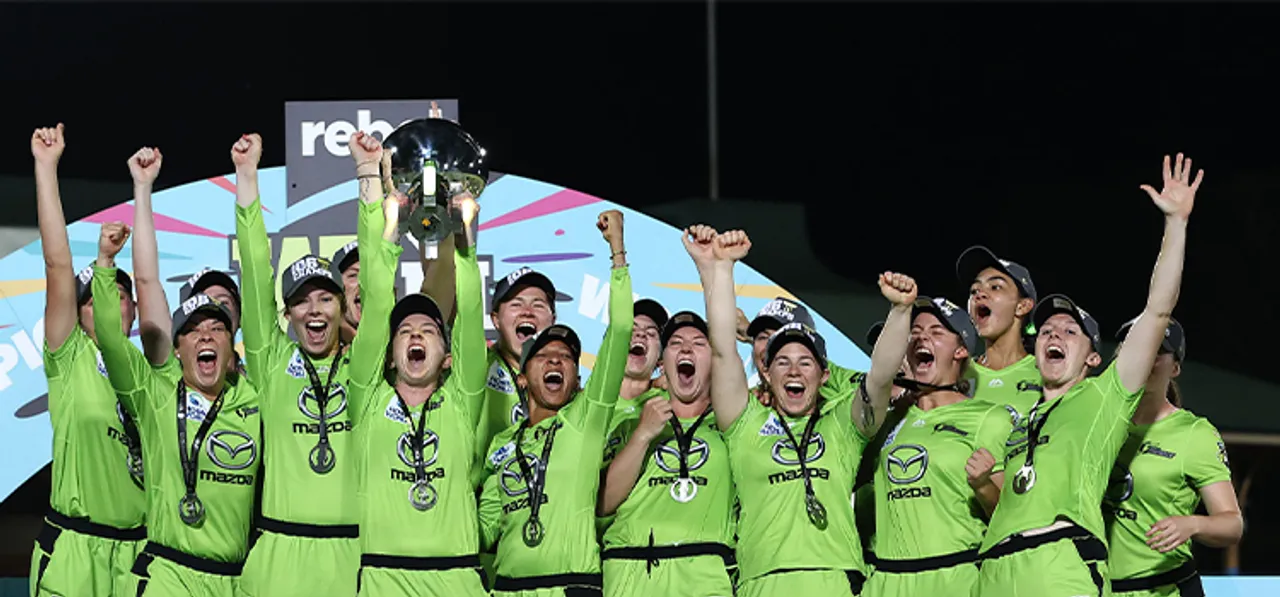 Cricket Australia has announced that the first 20 games of the seventh edition of the Women's Big Bash League (WBBL07) would be moved to Tasmania due to border restrictions and public health conditions. Earlier, the tournament was supposed to begin in Sydney before moving out of New South Wales.
Now, the matches will be played in Hobart and Launceston, at Blundstone Arena, University of Tasmania Stadium and Invermay Park. The first 12 matches will go on as per the original schedule, but the timings for the next eight games are rescheduled.
Cricket Australia General Manager for the Big Bash Leagues Alistair Dobson said that the facilities and public health record in Tasmania would make it an ideal place to begin the season. "Each year, the WBBL07 brings together the best players from around the world, including players from our world champion Australian team, for a world-class, family-first cricket festival."
ALSO READ: Knight wary of workload even as England start favourites against resilient New Zealand
"We know the Tasmanian public will come out in force throughout the season to see many of the world's best in their own backyard. The League, Clubs and all players are committed to putting on a safe and successful season. We look forward to providing great entertainment for our fans, whether they be watching on TV or in the stadium."
Dominic Baker, Cricket Tasmania Chief Executive Officer, said that they are thrilled to play a part in ensuring the season gets away.
"Following on from us hosting the first of the BBL hubs last year, we know this is something we can do and do well. We know Tasmanian cricket fans can't wait to come out and see some of the world's best female cricketers in action."
The board has reaffirmed that the League would continue to keep an eye on the public health conditions, state border restrictions and their effects through the course of the tournament. Details regarding the availability of tickets will be updated soon.
Revised Schedule of first 20 matches of WBBL07:
Oct 14 - Sydney Sixers v Melbourne Stars, Blundstone Arena
Oct 16 - Melbourne Renegades v Hobart Hurricanes, Blundstone Arena
Oct 16 - Sydney Thunder v Adelaide Strikers, Blundstone Arena
Oct 17 - Perth Scorchers v Brisbane Heat, Blundstone Arena
Oct 17 - Hobart Hurricanes v Sydney Sixers, Blundstone Arena
Oct 19 - Melbourne Stars v Hobart Hurricanes, Blundstone Arena
Oct 19 - Brisbane Heat v Perth Scorchers, Blundstone Arena
Oct 20 - Melbourne Renegades v Adelaide Strikers, Blundstone Arena
Oct 20 - Melbourne Stars v Sydney Sixers, Blundstone Arena
Oct 23 - Sydney Thunder v Sydney Sixers, University of Tasmania Stadium
Oct 23 - Perth Scorchers v Melbourne Renegades, University of Tasmania Stadium
Oct 23 - Adelaide Strikers v Hobart Hurricanes, Invermay Park
Oct 23 - Melbourne Stars v Brisbane Heat, Invermay Park
Oct 24 - Sydney Sixers v Melbourne Renegades, University of Tasmania Stadium
Oct 24 - Perth Scorchers v Sydney Thunder, University of Tasmania Stadium
Oct 24 - Adelaide Strikers v Brisbane Heat, Invermay Park
Oct 26 - Melbourne Stars v Sydney Thunder, University of Tasmania Stadium
Oct 26 - Hobart Hurricanes v Brisbane Heat, University of Tasmania Stadium
Oct 27 - Sydney Thunder v Melbourne Renegades, University of Tasmania Stadium
Oct 27 - Hobart Hurricanes v Melbourne Stars, University of Tasmania Stadium