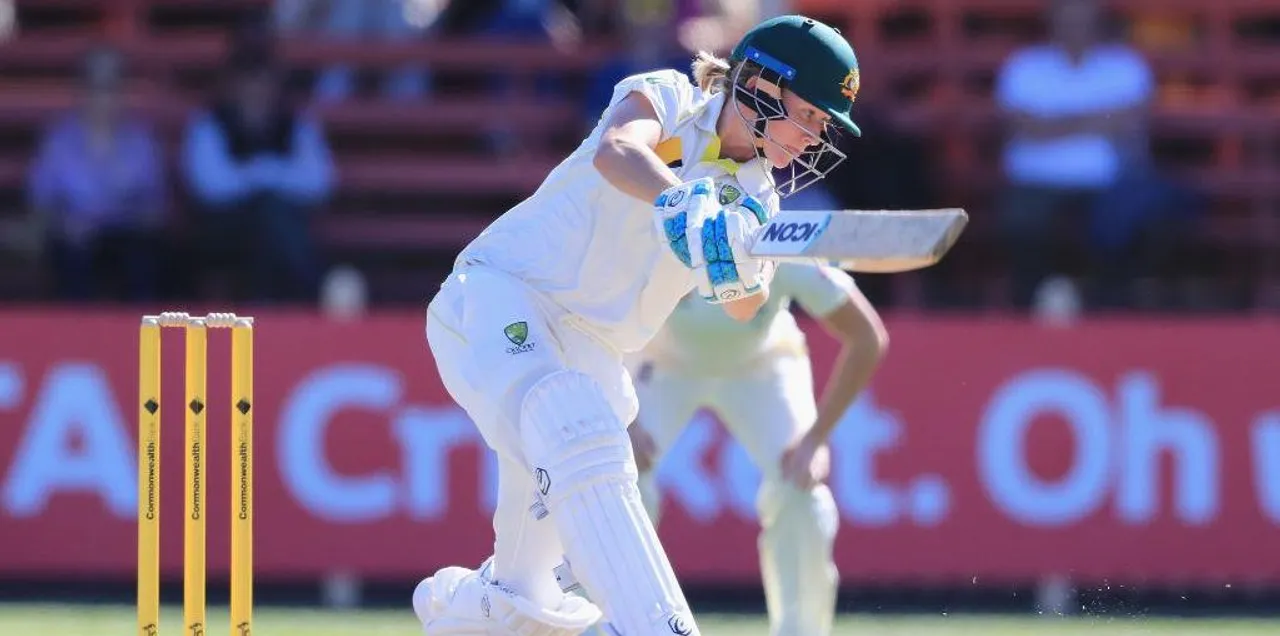 By any standards, Beth Mooney's innings to help Brisbane Heat
win the WBBL title
in January was nothing short of heroic. Fighting nausea and dehydration and struggling to breath in intense heat, Mooney put together a match-winning 65 in Sydney while backroom staff ran on at frequent intervals with water and ice. Yet, she is quick to deflect attention from any mention of her own performance. "I'm just really happy I could contribute," she told 
Women's CricZone
of that final. It's a constant theme of our conversation.
This weekend, during the Ashes Test Match at Taunton, Mooney became the fifth batter to pass 50 in Australia's first innings. Her runs came as Australia pushed past 400 to
set up the declaration
.
The 25-year-old went into the Test in optimistic mood after Australia swept the ODIs 3-0. "Heading over here, we really wanted to make a statement. We've had a tendency in the past of getting 2-0 up in a series and dropping the last game in both T20 and one-dayers. We always speak about that towards the back end of a series, making sure we nail it and play almost the complete game and have the complete package in all three facets. I thought we did that really nicely
, well
set up by Pez
in the bowling innings."
"It was nice to get ahead of the game a bit and get three decent wins on the board. The first one was a bit shaky, but the next two were really good and it's really pleasing to see how much we're improving game to game."
Mooney underlined the value she adds to this Australian middle order in the
second ODI
at Leicester where her innings of 43 not out guided Australia to their target of 218 from a precarious 158 for 6. She shared a crucial unbroken seventh-wicket stand worth 60 runs with Jess Jonassen.
"The
first game
we wanted to win that a bit more convincingly and unfortunately, we didn't do it," she reflects. "But it gave the lower order a chance to win a game and they did a really good job."
"Coming into the second game, if I found myself in that situation again I knew how important it was to make sure I made a statement and made sure I was the one out there given the opportunity, so I was pleased we got over the line in the end. The top order had a rare failure in the second game and the middle order came to the party. Pez again got 50 odd, so it makes my job easier coming into the middle order."
Mooney clearly relishes the cut and thrust of an Ashes battle, contributing knocks of 86 and 117 not out in the T20I-leg of the series at home in November 2017. It was somewhat of a breakthrough year for the left-hander as she was named T20I player of the year and emerging player of the year.
"It's (the Ashes) just always a really competitive time. You're never sure when you've won it and England are a very competitive side, so you always know that you're going to be in for a fight against them. It's good hard competitive cricket, so everyone gets really excited especially when the Test comes around and we get to put on the whites."
That century in the last Ashes series and receiving her Baggy Green have been the personal pinnacles of her career, but she adds quickly that she has been part of some "really cool team successes" as well.
"I'm probably more about that sort of facet of the game and making sure I can contribute to the team's success rather than (produce) individual (performances)."
Beth Mooney in action. ©WBBL
Her fierce competitiveness was clear in that WBBL final against the Sydney Sixers, a triumph of sheer willpower over adversity.
"That was a big day for us for the Brisbane Heat. But I think as an elite athlete or anyone that competes at a high level, you just end up finding a way. There's another level you can go to. I just remember when I was out there batting, saying to Kirby
, who I had a decent partnership with, that whatever happens we're going to win that game. I just made sure I concentrated when I had to and had a blow when I didn't need to."

"It was pretty stifling heat. Obviously, it's been well-documented I wasn't feeling great, but that partnership in the middle there really put the foot down against the Sixers, so it wasn't all me. It's obviously easier when you're batting with someone who can help you out and knock for singles and twos. It was a great day for us and I'm just really happy I could contribute."

Having struggled to find a permanent spot in the team in the first couple of seasons, Mooney has now become an integral part of this Australian side. She is excited by what they have achieved so far with a World T20 title at the end of last year and the Ashes almost secured. She believes more is to come.

"We've probably just all found our roles a bit better and really nailed that down. We get well looked after with some brilliant resources and facilities and coaching and it's a bit more autonomous now. Everyone has had to find a way to get what they need and everyone has worked out what their role is. The scary thing is that this group can still keep getting better, everyone individually and as a team. So, I'm looking forward to the next twelve months, with hopefully some more success with this group."

She has relished the opportunity to play another Test match this week and have a second opportunity to don the Baggy Green.

"It's just an extra special couple of days for us. We don't get to do that very often in terms of the history of the game and in the female space, so it means a lot to us to be able to walk out there and do that and hopefully down the track there are more opportunities for us."

Now 25, it has been three and a half years since Mooney made her international debut for the Australia in a T20 against India at Adelaide. She is feeling comfortable in the international set-up but frames any future ambition around team success.

"When you spend a bit more time around the group, you get a bit more sure of yourself and obviously conversations you have with coaches around what your role is, so I'm pretty comfortable with where I'm at. My main goal is to just always be getting better and having an impact on and off the field. Making sure that I contribute to any success the team has in my own way and making sure I'm going out there enjoying myself too."

"It's hard to put a measure on what you want to achieve, because obviously you want to do really well. But sometimes you need a bit of perspective too. Yeah, just staying really positive and enjoying my cricket and hopefully that means that I can contribute."