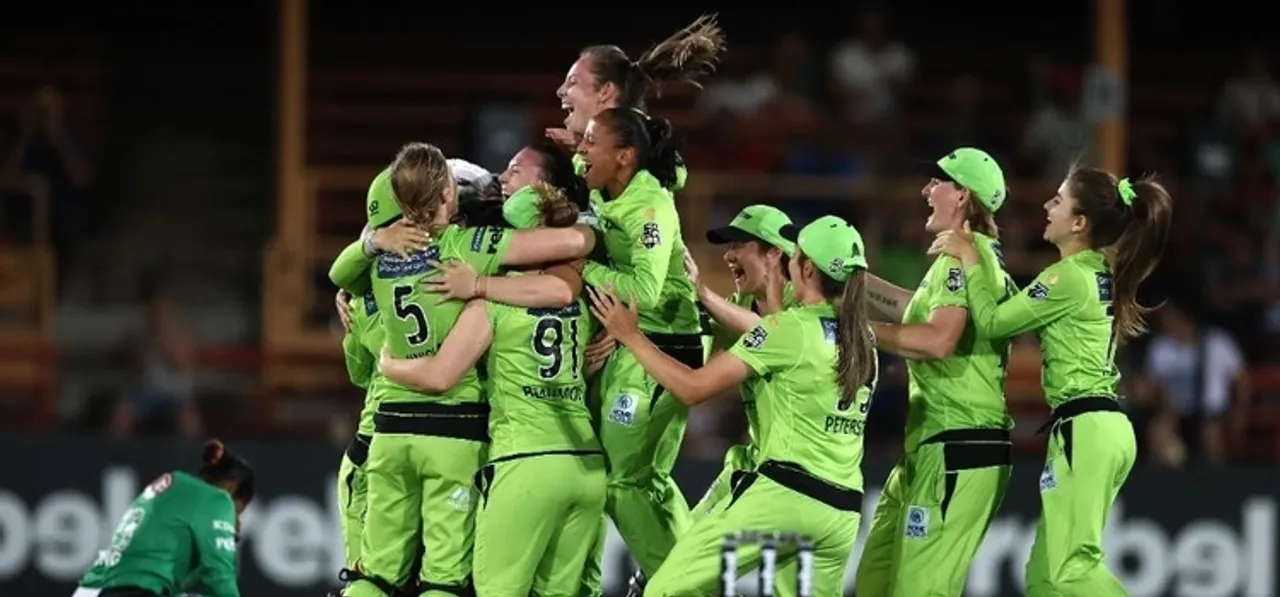 The seventh edition of the Women's Big Bash League (WBBL) will begin with runners-up, Melbourne Stars taking on Sydney Sixers at North Sydney Oval on October 14. The WBBL06 was played entirely out of a bio-bubble in Sydney due to Covid-19 restrictions, and WBBL07 will be played across venues in Australia. 47 out of 59 games will also be broadcast on television.
"We're also delighted to take the competition back to our passionate and loyal fans around the country provided it is safe to do so," Cricket Australia's head of the Big Bash, Alistair Dobson, said on Thursday (July 8).
"Like all sporting leagues, we remain conscious of the need to be flexible in response to the challenges of the pandemic. This schedule provides us with a number of options should we need to pivot, and the lessons of WBBL 06 stand us in good stead should we need to do so."
All eight teams will begin their campaign at the picturesque North Sydney Oval in an opening weekend. Sydney has been a place of choice for the opening weekend given the quick turnaround from Australia's
multi-format series against India
. The series will conclude at North Sydney Oval with the final T20I on October 11.
ALSO READ: Amanda-Jade Wellington re-signs with Adelaide Strikers for three years
The remaining fixtures of this edition's WBBL will be played at venues like WACA Ground in Perth, Junction Oval in Melbourne, Karen Rolton Oval in Adelaide and Blundstone Arena in Hobart. Redevelopment work at the Allan Border Field means Brisbane Heat will play their home fixtures out of Metricon Stadium on the Gold Coast.
The top four teams will face off in the semi-finals on November 24 and 25. The final of the seventh edition of WBBL will be played on November 27.
WBBL07 Fixtures:
14 October 2021: Sydney Sixers vs Melbourne Stars
16 October 2021: Perth Scorchers vs Brisbane Heat
16 October 2021: Sydney Thunder vs Adelaide Strikers
17 October 2021: Melbourne Renegades vs Hobart Hurricanes
17 October 2021: Sydney Sixers vs Sydney Thunder
19 October 2021: Adelaide Strikers vs Sydney Thunder
19 October 2021: Melbourne Stars vs Sydney Sixers
20 October 2021: Melbourne Renegades vs Adelaide Strikers
20 October 2021: Brisbane Heat vs Perth Scorchers
23 October 2021: Adelaide Strikers vs Hobart Hurricanes
23 October 2021: Melbourne Stars vs Brisbane Heat
23 October 2021: Sydney Thunder vs Sydney Sixers
23 October 2021: Perth Scorchers vs Melbourne Renegades
24 October 2021: Adelaide Strikers vs Brisbane Heat
24 October 2021: Sydney Sixers vs Melbourne Renegades
24 October 2021: Melbourne Stars vs Hobart Hurricanes
24 October 2021: Perth Scorchers vs Sydney Thunder
26 October 2021: Melbourne Stars vs Adelaide Strikers
26 October 2021: Hobart Hurricanes vs Brisbane Heat
27 October 2021: Hobart Hurricanes vs Melbourne Stars
30 October 2021: Adelaide Strikers vs Melbourne Renegades
30 October 2021: Sydney Thunder vs Melbourne Stars
30 October 2021: Perth Scorchers vs Sydney Sixers
30 October 2021: Brisbane Heat vs Hobart Hurricanes
31 October 2021: Sydney Thunder vs Hobart Hurricanes
31 October 2021: Melbourne Renegades vs Sydney Sixers
31 October 2021: Brisbane Heat vs Melbourne Stars
31 October 2021: Perth Scorchers vs Adelaide Strikers
5 November 2021: Hobart Hurricanes vs Perth Scorchers
6 November 2021: Melbourne Renegades vs Brisbane Heat
6 November 2021: Sydney Sixers vs Hobart Hurricanes
6 November 2021: Melbourne Stars vs Sydney Thunder
6 November 2021: Adelaide Strikers vs Perth Scorchers
7 November 2021: Sydney Thunder vs Brisbane Heat
7 November 2021: Melbourne Stars vs Melbourne Renegades
7 November 2021: Sydney Sixers vs Adelaide Strikers
9 November 2021: Perth Scorchers vs Hobart Hurricanes
9 November 2021: Sydney Thunder vs Melbourne Renegades
10 November 2021: Melbourne Renegades vs Perth Scorchers
10 November 2021: Sydney Sixers vs Brisbane Heat
13 November 2021: Melbourne Renegades vs Sydney Thunder
13 November 2021: Melbourne Stars vs Perth Scorchers
13 November 2021: Hobart Hurricanes vs Adelaide Strikers
13 November 2021: Brisbane Heat vs Sydney Sixers
14 November 2021: Brisbane Heat vs Adelaide Strikers
14 November 2021: Sydney Thunder vs Perth Scorchers
14 November 2021: Hobart Hurricanes vs Sydney Sixers
14 November 2021: Melbourne Renegades vs Melbourne Stars
19 November 2021: Hobart Hurricanes vs Melbourne Renegades
19 November 2021: Brisbane Heat vs Sydney Thunder
20 November 2021: Perth Scorchers vs Melbourne Stars
20 November 2021: Adelaide Strikers vs Sydney Sixers
20 November 2021: Hobart Hurricanes vs Sydney Thunder
20 November 2021: Brisbane Heat vs Melbourne Renegades
21 November 2021: Sydney Sixers vs Perth Scorchers
21 November 2021: Adelaide Strikers vs Melbourne Stars
24 November 2021: Semi-Final 1
25 November 2021: Semi-Final 2
27 November 2021: Final