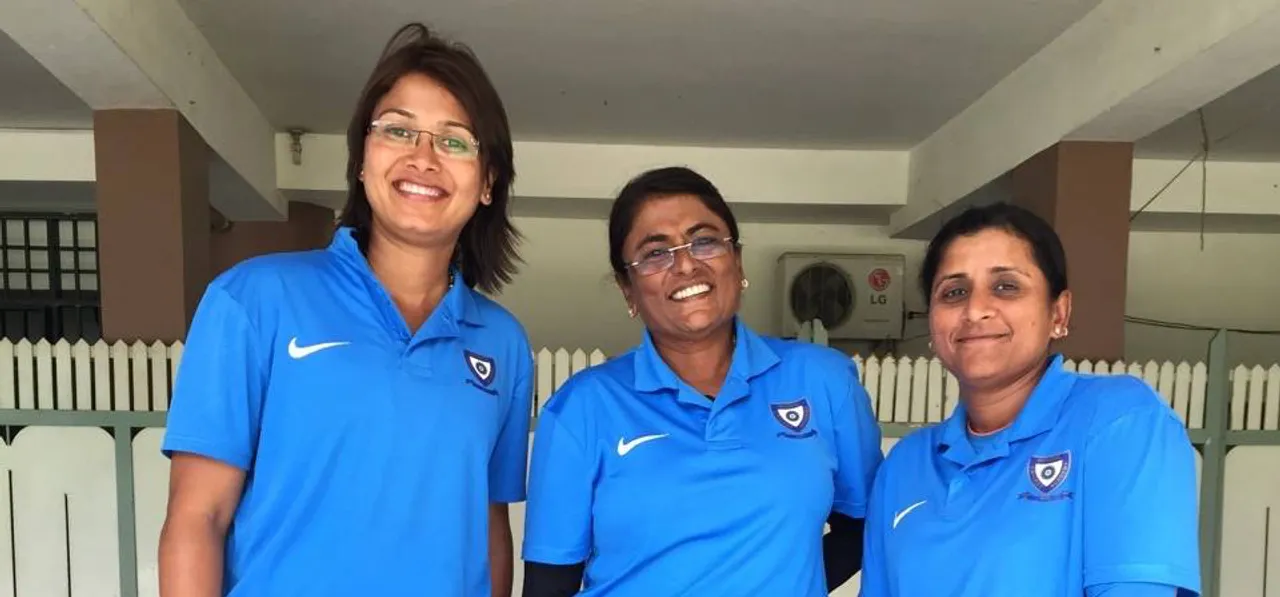 India had won all three games – two against Sri Lanka and one against Pakistan - before their final league outing in the 2006 Asia Cup, thereby booking their spot in the title-clash. The last league match was against Pakistan. Having comprehensively beaten their opponents in their previous games, India had little reason to change their team. Nooshin Al Khadeer, Neetu David, Varsha Raffel and Reema Malhotra were the spinners who'd featured in the competition till then, with a young Devika Palshikar waiting in the wings.
"I had thought that the Asia Cup would pass with me just as a spectator," recalls Palshikar in a chat with
Women's CricZone.
"Anybody would eagerly wait to make their debut. It was the same for me also. India was unbeaten in the Asia Cup and used to generally win games. Even that year, we had managed to win three games and had ensured a spot in the final. We just had to find out whether it was Sri Lanka or Pakistan to face us."
Save for any last minute injuries, players generally are told a night before the game if they're in the XI. Yet Palshikar, who made her debut in that clash against Pakistan on January 2, 2006, was not sure till about toss time.
"Nooshin was unwell and the call was to be taken only on the morning of the game. If she was to miss out only then I was to play," says Palshikar.
ALSO READ: 2021 – Taking lessons and hope from 2020
"I got to know that I was playing just before the toss and I, sort of, knew that if I wasn't going to play that match, definitely I wouldn't be considered just for the final."
The leg-spinner made sure her debut was a memorable one - etching her name in the record books. Palshikar first got Sana Javed stumped by Karuna Jain and then repeated the treatment to Humera Masroor. Armaan Khan was her third victim as the leggie finished with an economical three for 12 in her ten overs.
https://open.spotify.com/episode/1nuYQNNgJ1GM6FyDdzQoCC?si=WdEjkMTETcK-QayJn2X1Lg
Those are the best ODI figures by an Indian leg-spinner on ODI debut across gender to date. The feat helped India bowl Pakistan out for a mere 94 at the National Stadium in Karachi and the visitors then romped home to a ten-wicket win, thanks to an unbeaten 54 by Rumeli Dhar.
And yet, given that she hardly had time to process her selection on the morning of the match, Palshikar says that she was too happy to let conditions and the nature of the track cloud her thinking.
"I was too happy to worry about those things (weather and pitch conditions) given when I got to know about my debut. I only thought about grabbing the opportunity because getting selected used to be tough, given the quality of players in the set-up around that time… Neetu David and Nooshin – they were the best in business and were more than enough to win matches for India. And then there were the likes of Reema Malhotra, Priyanka Roy in the circuit and then Gouher Sultana was knocking on the door as a left-arm spinner."
ALSO READ: Picture Perfect: My memories of Mithali
"I don't think I thought about the conditions back then; I knew my strengths and limitations. I was a taller version of Poonam Yadav – I used to hang the ball in the air and it was up to the batters to get the measure of me. I played to my strengths and got those three wickets."
"And I think I grabbed that chance very well and that performance meant that I was considered for the final, too," she concludes
Palshikar played the title-clash against Sri Lanka a couple of days later that India won and returned with three more wickets for just 31 runs. 
You can read other Rewind stories here.