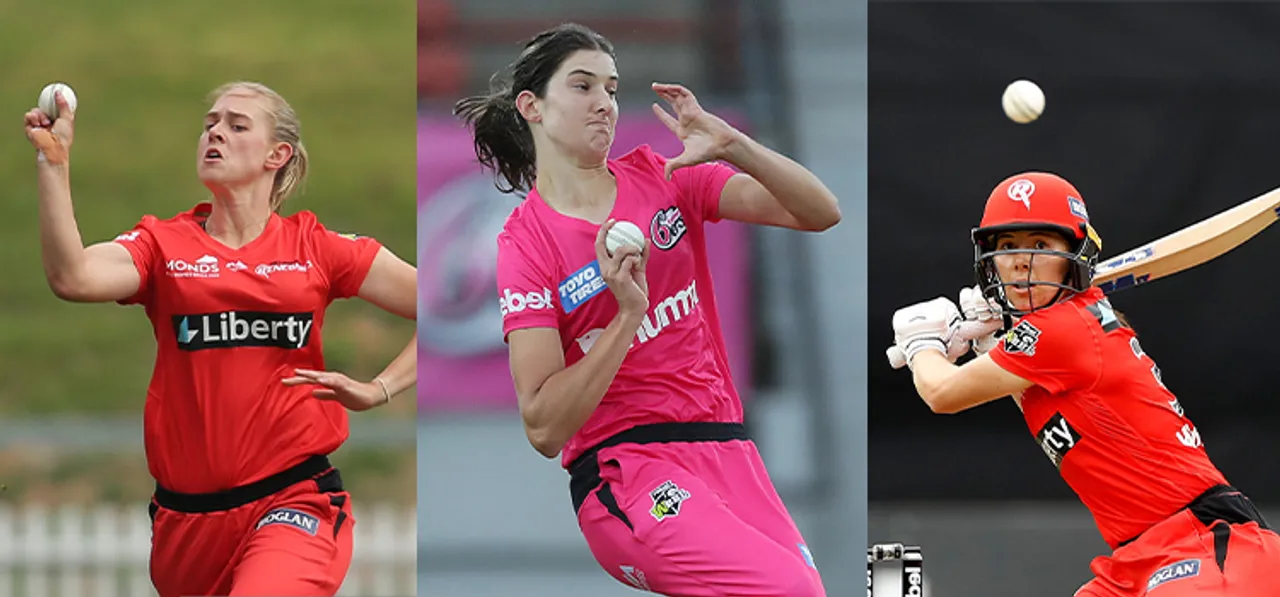 Georgia Wareham has just faced 25 balls in her T20I career so far – that's in the four innings she's batted in the 29 matches she's played. In the sixth season of the Women's Big Bash League (WBBL), she's already batted twice in two completed games, facing 41 deliveries and scoring 76 runs without being dismissed.
Having walked in with Melbourne Renegades at 73 for 4 with 26 balls left in their innings
against Perth Scorchers
on Saturday (October 31), Wareham struck 22 off just 14 balls, and helped the team post 105, which wasn't sufficient.
On Sunday
(November 1), yet again the Renegades found themselves in a hole at 46 for 4 in the 11th over of the 18-overs-a-side contest.
Wareham slowly got herself into the groove, rotating the strike smartly to settle in. She was on ten off 13 balls before hitting a massive six over long on off Hayley Silver-Holmes in the 16th over. That was just a sign of things to come.
The leg-spinner meted out special treatment to Stella Campbell, hitting her for two sixes and two fours in the penultimate over of the innings, before smashing 16 off Ellyse Perry in the final over to bring up her first WBBL fifty. 37 runs off the last two overs meant that Renegades finished with a competitive 119 for 7 on the board, a far cry from what it seemed before Wareham's blitz.
"Nice to get up the order and have a few more balls to face. (I'm) happy to do whatever role needed for the team," said Wareham speaking after the match.



Who bowls leg spin + makes 54* off 27 batting at No. 6?@GeorgiaWareham. That's who.#InningsBreak | #GETONRED pic.twitter.com/LVrHa0aEnX


— Renegades WBBL (@RenegadesWBBL) November 1, 2020
"I have put a lot of work into my batting over the off-season. So it's nice to have a little bit more time in the middle. We still have got a strong top order that can do the job for us."
ALSO READ: Samantha Bates, the six balls and the art of bluffing
Lizelle Lee, Sophie Molineux, Erin Fazackerley and Amy Satterthwaite have so far comprised Renegades' top four in WBBL06. Two of them – Fazackerley and Satterthwaite were undone by the young Campbell.
The right-arm pace bowler knocked Fazackerley's stumps out of the ground with a 112.8 kmph delivery while the delivery to dismiss Satterthwaite was a bit quicker – 113.4 kmph – which she hit to mid-on.
"We're seeing these young girls are given an opportunity to be full-time cricketers and they're pushing the barriers. I've watched Stella grow over the pre-season," said a beaming Alyssa Healy after the match. "She's been raring to go out there and just run in and bowl fast. We've been facing the brunt of it in the nets. It's just great to see them charging in and bowling fast. It's exciting for the future and the competition as well."
Campbell ran in hard and gave nothing away before Wareham took her apart in the final over. Her first three overs went for just 11 runs, before the leg-spinner hit her for 21 in the last.
Quite similar to Campbell – young and fiery – was another pacer in the Renegades' line-up, who received extensive praise from Healy – Maitlan Brown. The youngster has the ability to bowl full and swing it as well as crank it up and make life tough for batters. She received her
maiden call-up
to the national side ahead of the series against New Zealand earlier this year.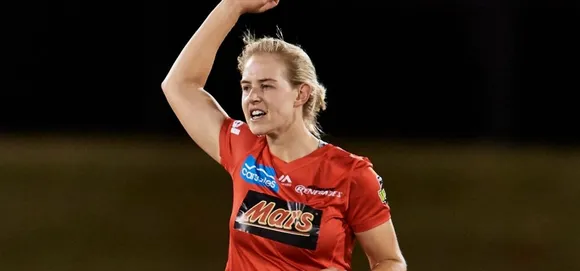 Maitlan Brown has impressed Alyssa Healy despite having a "yucky bouncer". © Getty Images
Brown has been wicketless in the three games she's bowled in so far but her control and economy rate have been impressive. On Sunday, while Healy was bludgeoning the other bowlers, Brown was tough to get away.
ALSO READ: Our bowlers adapted well to the conditions, says Katherine Brunt
"It's not too surprising to me," Healy said about the 23-year-old.
"You can see by the way she's running in. She's really charging in, running in fast and putting everything into each delivery. I was lucky enough to spend a little time in Brisbane during the Australian (New Zealand) series and I faced a lot of her during the quarantine period. She really impressed me with the new ball and I thought that she was going to get the nod for the one day series to cover Pez's (Perry) role with the new ball but obviously didn't fall that way. She impressed a lot of people in the nets, with her ability to move the ball and run in and hit the deck."
Such praise is not out of place. Brown bowled 12 dots in her 19-ball spell and gave away just three fours against the rampaging Sixers. Four of her seven balls to Healy, who smashed 60 off just 31 balls, were dots. No wonder Healy doesn't like the way Brown bangs it short.
"She bowls a yucky bouncer for a batter. It's sort of like a skiddy, slidy one that you feel like it's going to hit you in the head. She's a real talent (and is) great to see her get the opportunities to train at the elite level and I'm sure she's going to have a ripping time with both bat and ball."
Three under-24 players all doing well in a single match just bodes well for the WBBL as well as Australian cricket.