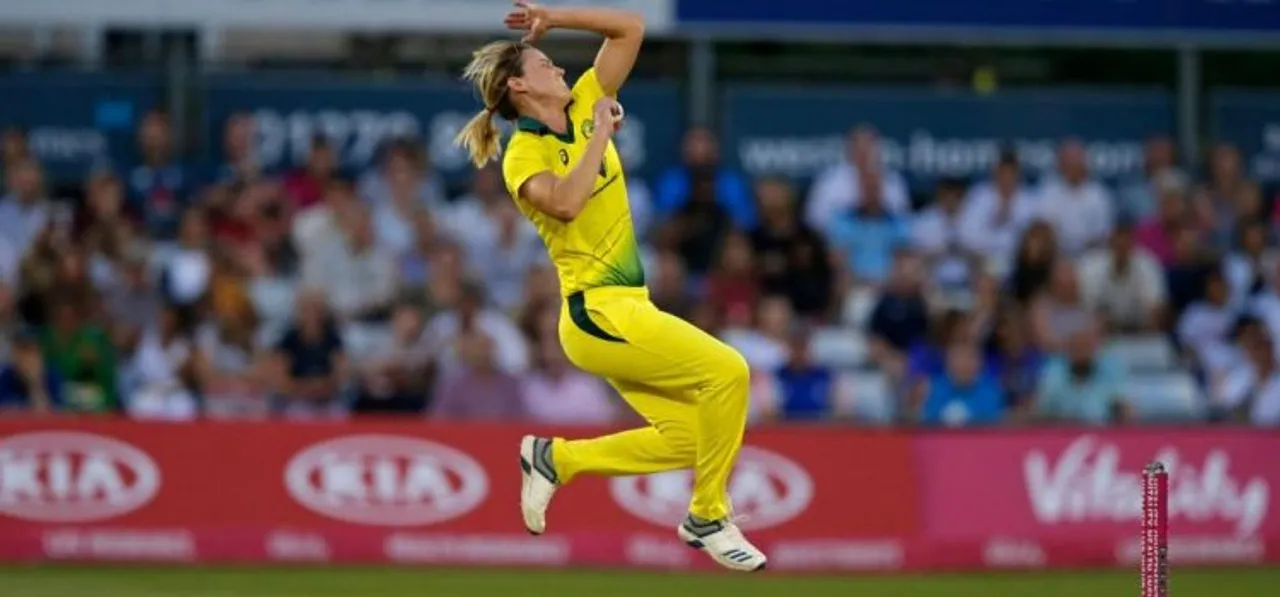 Ellyse Perry
has confirmed
that she is recovering well from her hamstring injury, which needed surgery, and is well on track for making a comeback when Australia are scheduled to play New Zealand
late September this year
. However, she sounded caution about rushing into action for the sake of it.
"I'm 15 weeks into what's about a 24-week injury," Perry told reporters over a video conference on Friday (June 19).
"I caught up with the surgeon a couple of weeks ago and he's happy with the progress so far certainly from a day to day perspective. Everything we're doing is going well so far. From a time-frame point of view, it would be lovely to be fit for the New Zealand series and at this stage it is tracking that way."
However, the performer that Perry is, she didn't want to just be on the field and not contribute. Being an allrounder, she said that she would want to perform and win games.
"Coming back from injury, there is a clear distinction in my mind between fit to play and fit to perform. As much as I wouldn't have liked to be injured, I'd say it is an opportunity to work on some things – the hamstring being a big factor, getting that better again. I don't really mind about if or if I don't play in those games. When I do play again, I want to be in a position to contribute and perform, not just be on the field."
ALSO READ: Does women's cricket need innovations to get more people interested?
Perry was injured in Australia's T20 World Cup clash
against New Zealand
, post which she had to
undergo a surgery
. However, after the World Cup final on International Women's Day (March 8), slowly and steadily all sporting actions were suspended owing to the COVID-19 pandemic. And as a result, Perry didn't miss many games apart from the
semi-final
and the
final
of the T20 World Cup.
"From a very, very selfish point of view, the timing couldn't have been better because I haven't missed any cricket and it's been nice to be at home focussing on rehabbing," said the allrounder with a cheeky smile. "Things are going well and touchwood I'll be back at the start of the summer when we start playing games here again."
Earlier in the week, as a part of the '
100% Innovations'
webinar of ICC's '100% Cricket' series, Sophie Devine and Jemimah Rodrigues had suggested reducing the length of the pitch and the size of the ball in order to get more people into the sport, apart from promoting the sport. Perry weighed in on the debate, saying innovations need to be brought in only if it's absolutely necessary.
"I'm always open to innovations and change within sport, that's one of the things that makes it so great," said Perry, who is the second-highest wicket-taker in T20Is with 114 scalps.
"But in saying that there have to be really legitimate reasons to do that. I'm not sure there is. One of the great things about women's cricket is that it's very nuanced and has its own particular brand and style. It doesn't need to be compared to men's cricket and can be appreciated for what it is."
https://open.spotify.com/episode/7fji2PZYGMgkzXoi8QSYcO?si=YiEKybGPSom8a-DgvydE4A
"Whatever that is, it will constantly evolve and change. That's why we love sport. I don't think automatically we need to talk about making balls lighter or shortening the pitch. I think there's far more to it than just the physicality of it."
Meanwhile, the financial effects of the pandemic have seen Cricket Australia resort to cost-cutting measures, which has seen 40 job losses. Graeme Hick, the batting coach of Australia's men's side was shown the door in the process, while the 'A' tours and CA XI games have also been paused. However, the board said that the Women's National Cricket League will continue in its current format and the Women's Big Bash League will have the same number of games as last year.
Perry was "very grateful" that the women's staff have not been changed yet and said that the move to
not prune domestic cricket
much, especially women's cricket, would benefit the domestic players as well as the national ones.
"It's nice to be able to maintain those competitions," she said. "I think certainly not just from Australian players' perspective but from the domestic players point of view as well. We don't play a lot of games as it is, so to be able to maintain the number of games we're going to play is crucial for cricket to keep developing for the women's players in Australia."
ALSO READ: You can be anything you want, if you have a vision for what you want to be: Christina Matthews
The financial restructuring also saw the exit of the then CEO of Cricket Australia, Kevin Roberts, which led to the appointment of Nick Hockley to the post on an interim basis. The allrounder, who won the Rachael Heyhoe-Flint Award as well as the Belinda Clark Award for the Cricketer of the Year in ICC's and Cricket Australia's awards respectively, said that the board is ready for a female CEO for some time now.
"I know Chris (Christina Matthews) is in discussions for the last round of hiring for the role. We've got a number of women working in high executive roles – Belinda Clark and Steph Beltrame to name a couple – and they are absolutely pivotal in the way we operate."
Recently, Australia's women's team topped the popularity charts by being the country's favourite sporting team, with the women's football team coming a close second. What's more, the top four spots were taken by various women's teams. This didn't come as a surprise to Perry.
"It is a great indication of just how successful and how important that T20 World Cup at the start of the year was," she said. "It doesn't surprise me that the number of those teams in that rankings is female teams or athletes because I think we're in a really wonderful sweet spot at the moment where teams are certainly gaining more recognition or are gaining exposure to the public but at the same time maintained the innocence or relatability."